How to Resuscitate a Drowning Victim in 1916
"It is a poor thing to look for reward, as it destroys the satisfaction of the deed; furthermore, the chances are that if your act was a really meritorious one, you will not get it."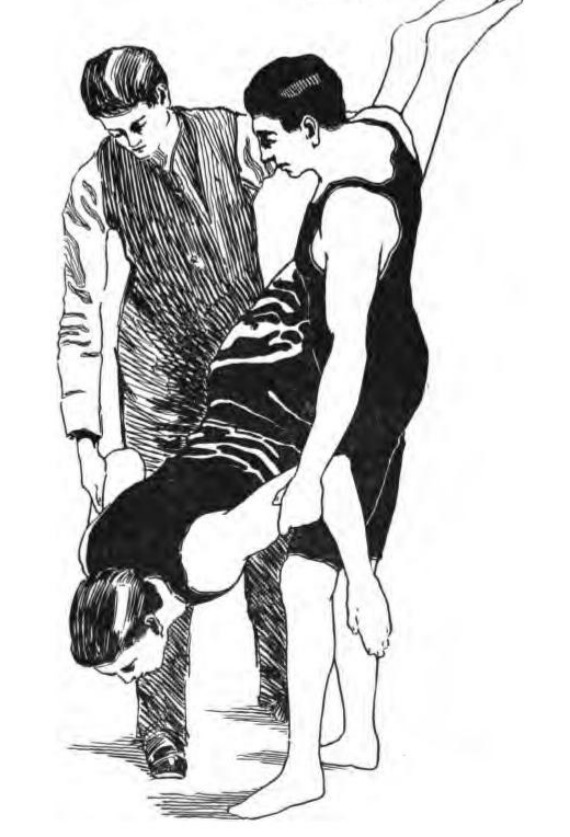 From Modern Swimming: An Illustrated Manual:
First, be quick; lose no time; every second counts in the race with death.

Second, loosen all clothing.

Third, lift the body between you, with the head hanging down ... Grasp it by the upper arms with a good hold and seize the front part of the legs with the hands by passing the arms between them.

Fourth, shake the body up and down two or three times so as to free the mouth and nostrils from slime and water.

Fifth, place the victim upon his back ...

Sixth, draw the tongue well forward and tie it with your handkerchief so that it will not fall back and block the pharynx, thus choking the individual and making all your efforts useless.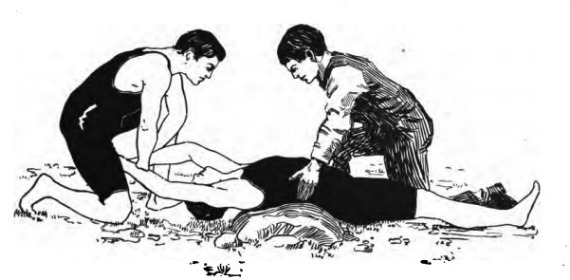 Begin artificial breathing, by taking hold of the forearms ... and drawing them up and back of the head. Have your assistant place his hands upon the lower sides of the chest and ... have him press the chest walls well in, releasing the pressure when the arms have reached their destination ... The arms should be moved with precision and regularity at the rate of from sixteen to eighteen times a minute.
As soon as respiration is natural ... give him access to all the fresh air possible. Do not talk or smoke around him.