Green Tea and Coffee Both Associated With Lowered Stroke Risk
Japanese adults who drank a cup of coffee or four cups of tea daily had a 20 percent reduced risk of stroke. Save time by drinking both at once?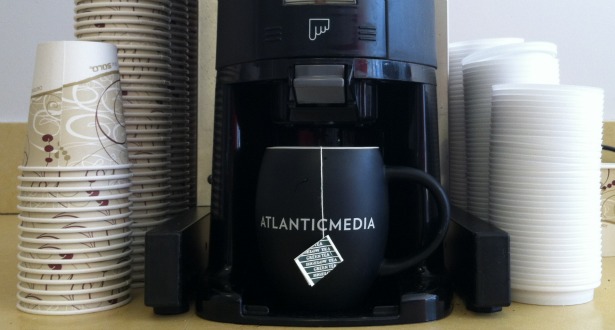 Adding coffee to a cup of green tea
It's finally here: "The first large-scale study to examine the combined effects of green tea and coffee on stroke risks."
This is according to Yoshihiro Kokubo, the lead author of a new study that followed over 80,000 Japanese adults for an average period of 13 years and found that, as we saw with coffee, those who drank increasing daily amounts of either beverage had an increasingly lowered risk of stroke.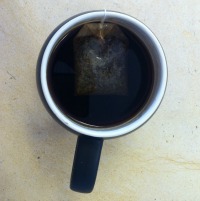 The participants, aged between 45 and 74 at outset, were equal parts men and women, and Kokubo's team controlled for factors like age, weight, diet, exercise habits, and alcohol consumption.
Compared to non-coffee drinkers, those who drank at least one cup daily had a 20 percent decreased stroke risk (caffeinated only, as "the Japinese do not drink the decaffeinated coffee"). Those who drank two to three six-ounce cups of green tea, compared to those who drank none, had a decreased stroke risk of 14 percent. Four daily cups upped their risk prevention to coffee levels: 20 percent.
Other types of cardiovascular disease were inversely associated with coffee and green tea consumption, too. Five or more cups of green tea corresponded with a 15 percent decrease in all-cause mortality, and a 26 percent decrease in dying from cardiovascular disease. The participants' risk of a blood vessel bursting and bleeding inside their brain (intracerebral hemorrhage) was reduced by 32 percent.
Greater amount of coffee almost didn't get a pass, as two cups or more appeared to be linked to increased risk of coronary artery disease. But after controlling for the effect of smoking, this association went away (neither coffee nor green tea were associated with a reduced heart-disease risk). This lets coffee off the hook and is yet another reason not to smoke, in case you needed one.
The obvious next step is to just start combining our green tea and coffee, for maximum benefit. Although for some reason they did not analyze the data for people who drank both coffee and green tea daily (am I the only one?), the authors do suggest that there might be an interaction effect - that the two combined could further lower stroke risk - although further research on this is needed.
For the fun -- and potential health benefits -- of it, I tried this out. My strategy was to brew the tea with boiling water, then add an equal amount of coffee, though I suppose it would have been possible to brew the tea directly into the coffee.
It tasted...bitter. I'm not sure why I was surprised by that. But it was't entirely unappealing. Almost an improvement on the Watergate's notoriously not-so-good coffee. And my heart feels great.