1. Talk a lot about how you're getting a bicycle desk.
2. Sign for the giant box when it arrives. Everyone in the office will gather. "What did you get?" "Oh, nothing, it's just my bicycle desk."
3. Talk a lot about how you have a bicycle desk.

FitDesk "assembly drawing" (left) and "explosion drawing" (right)
---
4. Open the box, see that assembly is required.
5. Some weeks later, assemble the bicycle desk.
6. Put Instagrams of the bicycle desk on Twitter and Facebook. On Foursquare, make yourself mayor of the bicycle desk.
7. Get on and ride it for about 20 minutes. Note that there is a built-in stress ball on a retractable cord, which is perfect.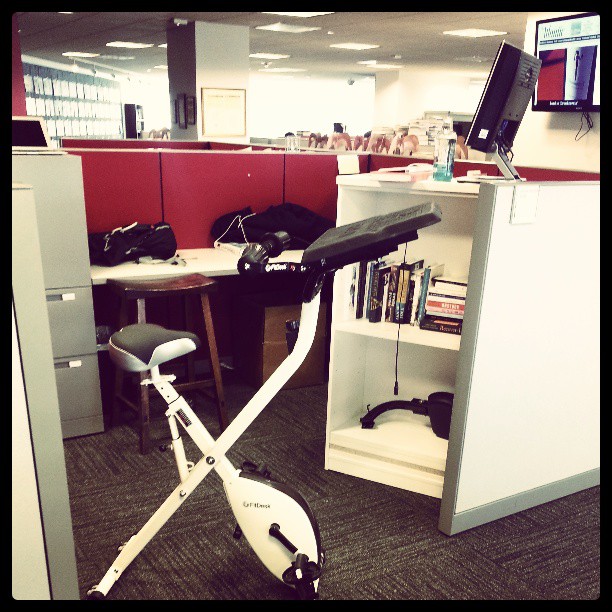 Full
8. Get a little sweaty, maybe too sweaty for work. Stop, but promise to ride it more in the future.
9. Ride it a couple other times, but get a headache trying to read and type. Even though it's stable, your head is never 100 percent motionless. Maybe it's just you.
10. Never really ride it again, but never fall out of love with the idea of it. Look at it lamentably several times a day. When people ask why you aren't riding it, be like, "Riding what?"
---
Related: