Fatsmack: What it Takes to Make Health Campaigns Stick
To compete against the soda companies on a relatively meager budget, a Boston diabetes campaign attempted to leverage the power of social psychology.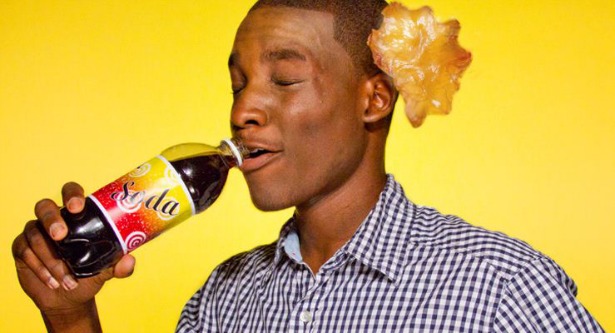 Boston Public Health Commission
Late last year, the sudden laughter of two wiry teens interrupted my thoughts as I waited for an orange line train. Around me, people leaned into the autumn breeze reflected off the Bromley Park HUD housing block and followed their stare to a blue poster on the wall.
I would wager most of us recognized the "Fatsmack" poster, which featured a startled black teenager from the chest up, getting the equivalent of an open hand slap in the face by a viscous, orange glob of fat. The model in the ad was carelessly dapper and drank a generic beverage labeled "sports drink." The poster, part of a citywide Boston Public Health Commission (BPHC) social marketing campaign, is meant to decrease sugary beverage consumption. But ever since the Fatsmack campaign began in September 2011, all I could do was question whether the ads would work -- can chortles create change?
The idea of social marketing first emerged in the 1950s after sociologist G. D. Weibe famously asked, "Why can't you sell brotherhood like you sell soap?" Today, social marketing has its detractors, but most assume it works because, well, marketing works. Surprisingly, many health-related social marketing successes have been in the international arena: Tanzania increased mosquito net usage from 60 percent to 90 percent in just three years and Sri Lanka even used social marketing to help eliminate leprosy.
In America, a continuing threat lies in non-communicable diseases such as Type 2 diabetes, the focus of Fatsmack. To avoid Type 2 diabetes, healthy eating and drinking habits are vital. BPHC can regulate artificial trans fats and educate on nutrition, but they can't make people to choose to be healthy. So, how do you make people choose to forfeit easy, unhealthy behaviors for healthy ones?
Marketing may be a good place to start. After all, marketing told people, "Just Do It," and "I'm Loving It." More importantly, people buy it, and they love it.
***
Despite education and laws (like New York City's recent ban on sugary drinks larger than 16 ounces), rates of obesity in America continue to rise, especially in low-income communities. Today, 35 percent of adults and 17 percent of children are obese. To combat this trend, BPHC diverted grant money from the Department of Health and Human Services to their communication department to start Fatsmack.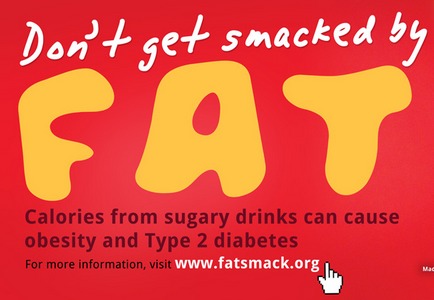 According to Boston city data, the priority was reaching minority teens. They focused primarily on "13 to 19-year-olds of color, with the target being more skewed towards males," said Ann Scales, BPHC's Director of Communications during Fatsmack. "They play basketball, football. The first thing they do is reach for a sugary beverage." This may not seem like a big deal now, but the health effects from decades of cumulative sugary drinks, such as Coke and Gatorade, can be profound.
In order to create a teen-appropriate message, BPHC logically hired the help of teenagers: the Youth Media Counsel was paid by the hour to provide guidance on the campaign. BPHC wanted something that would stand out to teens. "It had to be eye-catching and we had to make something that had the ability to go viral," said Yanik Ruiz-Ramon, Fatsmack's Multimedia Producer.
Where Fatsmack struggled was their budget. A corporate marketing campaign pays for focus groups, pilot projects, and market segmentation to develop an ad specifically for the target audience. This process can be expensive and, as the Fatsmack website points out, companies like Coca-Cola will spend billions for ads annually. Ruiz-Ramon and the Fatsmack crew, on the other hand, had only $100,000 for development, production, and distribution.
***
The real question with Fatsmack is whether teenagers internalize the squint-sized sentence in the poster's lower left quarter, which reads, "Calories from sugary drinks can cause obesity and Type 2 diabetes."
Ruiz-Ramon said it himself: "They have to watch it first, but then it's kind of a crap shoot if it's actually going to convince anybody to change their habits." Sometimes campaigns can even yield the opposite behavior than intended. The Personal Influence anti-drug campaign (which cost the U.S. government nearly one billion dollars) actually led to increased marijuana use in the target population -- an unfortunate corollary called the "boomerang effect." So, if simply giggling at the poster doesn't lead to behavior change, what exactly does?
Successful marketing needs a commitment and a promise. To display a commitment, messages need to be nearly ubiquitous. The first international health-related social marketing campaigns started in 1967 and many continue in some capacity today. Cardiovascular ads in Finland indicate that you need "up to ten years" to affect substantial behavior change. Ten years. Fatsmack ran only a little over a year before bike safety posters eclipsed it.
Good marketing must also make a clear promise about what the product will do for the consumer. Unfortunately, most American public health messages offer neither a well-defined nor quick service.
For a teenager, there are subconscious reasons why it is difficult to quit soda. Developmental psychology would suggest base rate neglect -- the teen's tendency to assume that because they frequently drink sugary beverages and are not currently obese, the risk of obesity is not actually present. Neuroscience points to immature parts of the prefrontal and parietal cortices, where self-regulation impulses arise in the brain.
In their conscious mind, if a teen avoids sugary beverages what is their immediate reward right now? Better health? Maybe. However, in a poster featuring a kid getting hit in the face by fat their reward appears to be not getting hit by fat; but that never happens in the literal sense anyway. Therefore, teens can freely laugh at the poster child without any fear of sharing his fat smacked fate.
***
Referring to the poster's single sentence about diabetes and obesity, Michael Siegel, a professor of Community Health Science at Boston University says, "It's too focused on health." This statement seems counterintuitive, but he is alluding more to the sentence's huge burden.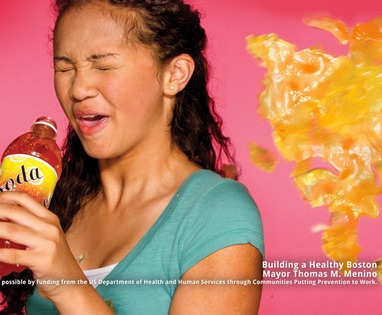 In Fatsmack, all the research and science of diabetes must be condensed into a poster -- a single sentence, even. On the other side of that dramatic funnel, the world opens back up into individual factors and social norms that dictate whether teenagers will stop drinking sugary beverages. Both of these complex worlds revolve around the poster. To make an impact, that sentence needs to be emotional.
The reason that public health messaging needs a visceral pull is that it typically violates a fundamental rule of marketing: it does not appeal to self-interest. Teenagers often base their self-interest on what their friends are doing, and their friends are drinking sugary drinks. Therefore, Fatsmack must capitalize on emotions to help counterbalance the poster's insinuation that a teenager should do something their friends don't.
In the teenager's mind, the thought that their current norm is bad triggers a ripple effect called cognitive dissonance. People generally don't like to think that they are doing something wrong, so they rationalize to diminish the sensation. In the case of Fatsmack, a teenager can choose to accept that their behavior is unhealthy or they can believe that Fatsmack overdramatizes the threat of obesity and diabetes. Cognitive dissonance can be used in marketing, but it is a slippery slope. If teenagers rationalize in favor of drinking soda it could result in the boomerang effect -- the opposite behavior from what BPHC intended.
Despite the obstacles, finding a message that aligns public health and individual behavior can be done. In 1998, Florida's Truth campaign featured rebellious teenagers laying body bags in front of a tobacco company's office to represent the people who die from tobacco-related illness every day. The Office of Tobacco Control paid for pilot projects and polled the target audience to confirm that teens identified with ad's guerrilla activism. A study in The American Journal of Public Health noted the Truth campaign successfully portrayed tobacco companies as "predatory, profit hungry, and manipulative." Here, Truth made the promise that by not smoking a teenager would be rebellious -- and it worked. Smoking initiation decreased in Florida.
***
Ruiz-Ramon believes there is anecdotal evidence that Fatsmack succeeded. The campaign was seen on buses, trains, and cable television. In the world of social media, Dr. Oz provided a large boost when he retweeted their message.
After all, Fatsmack isn't just offering a way to avoid diabetes and obesity. Consider the opportunity cost of diabetes. By changing their behaviors now, maybe teenagers can avoid the medication and testing and planning and time diabetes demands every single day. That is the promise of Fatsmack. On the other side of the poster, public health practitioners need to make a commitment to spreading this message, because it may help Americans choose to be healthy. That is the promise of social marketing.