Doctor, Not Chaplain: How a Deeply Religious Surgeon General Taught a Nation About HIV
The late C. Everett Koop chose to fight the AIDS epidemic at its 1980s outset, despite resistance from the conservative base that brought him into the office.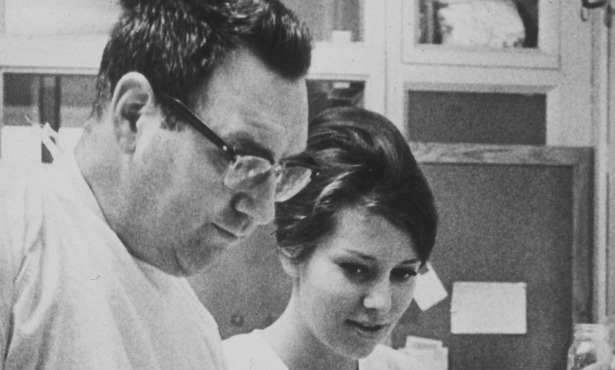 1962 [AP]
His 6'1" stature, gray mustache-less beard, booming voice, the gold-braid and epaulettes of his vice admiral's uniform gave C. Everett Koop the appearance of an Old Testament prophet. Many noted the likeness during his tenure (1981-89) as the most influential surgeon general in American history, and in the years afterward as an outspoken opponent of the tobacco industry.
Dr. Koop died at his home in Hanover, New Hampshire on February 25. He was 96.
Dr. Koop -- "Chick" to his friends -- answered President Reagan's call to become surgeon general, even though he had no public health training and was already in his sixties, legally too old to join the U.S. Public Health Service he would be leading.
To be sure, Koop brought a reputation for boldness, first evidenced when he became surgeon in chief of Children's Hospital in Philadelphia shortly after finishing his residency. When Reagan nominated him, 35 years later, Koop had stellar credentials as a pediatric surgeon. In one of the thousands of complex operations he performed, he separated conjoined twins connected at the heart, knowing that only one child could survive.
As a deeply religious Presbyterian and the author of a book opposing abortion, Koop also brought the evangelical Christian credentials Reagan wanted to reward the religious right wing that had helped elect him.
Liberal Democrats in Congress worried Koop would use the surgeon general's bully pulpit on public health issues as a de facto church pulpit to push a conservative religious agenda on the nation. Senate health committee chairman Ted Kennedy held up Koop's nomination in the Senate. Representative Henry Waxman, chairman of the health subcommittee, strenuously opposed him in the House. Public health groups, women's and gay rights groups and medical associations lobbied against his appointment.
The New York Times called him "Dr. Unqualified." The Boston Globe argued that the "fanatical" Koop was a "dogmatic Christian fundamentalist with the kind of tunnel vision that limits bureaucrats of any ideological stripe." But after eight long months, he was finally confirmed.
As the political drama played out on Capitol Hill, a far bigger and deadlier drama was just beginning, as the first cases of AIDS were reported in the summer of 1981. Young, formerly healthy men in Los Angeles, New York, and San Francisco suddenly began to get sick and quickly die from pneumocystis carinii pneumonia and Kaposi's sarcoma, infections that preyed on people with a weakened immune system.
For his first four years in office, religious conservative politics swayed the nation's health chief away from addressing the growing AIDS crisis. Without a cure or vaccine, and with mounting public hysteria, Koop in 1986 was finally authorized to report on the epidemic.
When Koop set out to write his report, no one knew what, exactly, he would say. Evangelicals and gay groups alike, then the key advocates for people with AIDS because so many of them were gay men, were nervous.
"We were desperately afraid when he took on doing the report," recalled Trust for America's Health executive director and George Washington University health policy professor Jeffrey Levi, who was then the government relations director for the National Gay and Lesbian Task Force. "It's hard to understand how desperate those of us who were affected by the epidemic were for the validation by a mainstream public health official."
It was, after all, in 1986 that conservative commentator William F. Buckley, Jr. called for the tattooing of every gay man and injection drug user. Other conservative Republicans talked about quarantining HIV-positive people and "rounding up" all gay men.
But Levi and other advocates for people with AIDS were pleasantly shocked by the man who met with them. Instead of a religious zealot they expected to "go berserk" about homosexuality and promiscuity, Levi said, "We were totally unprepared for the nature of the conversation because it was so positive and so forthcoming."
Levi says the Surgeon General's Report on Acquired Immune Deficiency Syndrome was "as transformative as all the obits are saying."
While he was preparing the landmark report, Koop and his wife lived in the surgeon general's official residence on the campus of the National Institutes of Health, in Bethesda, Maryland. Two hundred feet away was the office of Dr. Anthony Fauci, director of the National Institute of Allergy and Infectious Disease and the government's most visible HIV/AIDS scientist. Fauci became not only Koop's personal physician and friend, but his tutor on the epidemic as well.
"He would come home from hearings downtown as things started to accelerate with HIV," Fauci told me. "As he was walking home he had to pass my office. Around 7:30 at night, he would come knock at my door. He would say this thing about AIDS is very troubling, and I want to make the right impression on public awareness. He got it in his mind that we as the federal government need to be explicit about this -- oral and anal sex, commercial sex. He was hell-bent on doing it. When it came out, it shocked a lot of people because of its explicitness."
Dr. Koop wrote in the report's foreword, "At the beginning of the AIDS epidemic, many Americans had little sympathy for people with AIDS. The feeling was that somehow people from certain groups 'deserved' their illness. Let us put those feelings behind us. We are fighting a disease, not people ...The country must face this epidemic as a unified society. We must prevent the spread of AIDS while at the same time preserving our humanity and intimacy."
Said Fauci, "He was deeply driven by principle when it came to public health, not by any ideology."
"Principled" is a word you hear frequently from those who knew Dr. Koop. Georgetown University law professor Tim Westmoreland, counsel to Rep. Waxman's health subcommittee at the time, said Koop "was quite possibly the most principled person I've ever met in my life." He added, "Sometimes that would drive me crazy. There was an occasion when I needed him to be in a Senate meeting with senators to talk about this tobacco legislation. He said he couldn't be there because he was giving a high school graduation speech and he was unwilling to break his promise."
Mary Beth Albright, a Georgetown-educated food and public health lawyer, was Koop's personal assistant from 1996 until she "officially" left in 2003. "I can count on one hand the number of times I had to cancel events for him," said Albright, "and those were for hospitalizations--not 'Oh, I'm sorry, I have to go talk to the senator.'" She added, "I think that was part of who he was. He treated everyone equally. I saw it firsthand. He treated every sick person as someone who needed help. I think you can find no better example of being a person of religion in public service. He took all the morality of his religion--but none of the moralism."
Koop's choice to stand foremost for public health and scientific rationality offended his fellow evangelicals in the Reagan administration who preferred to see AIDS as "God's punishment" for people of whose very existence they disapproved.
They were practically apoplectic with the frank, factual discussion of anal and vaginal intercourse, condoms and injection drug use in Understanding AIDS, the eight-page flyer Koop sent to every household in America in 1988.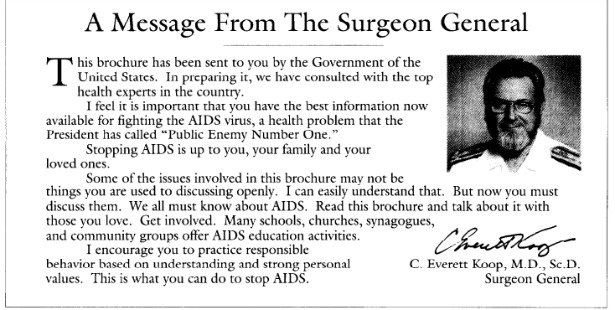 "Other than sending out tax forms, nothing like this had ever been done," said Paula Van Ness, who worked on the flyer in her role at the time organizing the HIV/AIDS education program at the Centers for Disease Control and Prevention (CDC) in Atlanta. "We had printing presses working 24 hours a day for weeks. Thirty-eight boxcars had to be deployed" to deliver the flyers to postal facilities. Unlike the 1986 report Koop wrote himself, many people--scientists at the CDC, even advertising pros from Ogilvy & Mather--participated in crafting Understanding AIDS.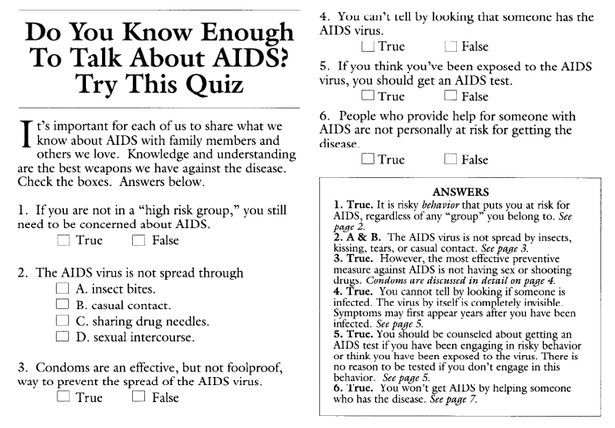 Ultimately, though, Dr. Koop was the frontman and had to take the heat. And it got hot as hell. Conservative critics lambasted Koop for refusing to join them in blaming people with AIDS for "bringing it on themselves." They were rankled by the flyer's insistence that, "Who you are has nothing to do with whether you are in danger of being infected with the AIDS virus. What matters is what you do."
Koop did succeed in at least chipping at the wall of evangelical resistance to Christian charity by focusing in particular on children affected by AIDS. In fact, said Paula Van Ness, Koop was motivated to speak out about AIDS after a personal experience convinced him. "He said he was watching TV with his grandchildren," she recalled, "and kept looking back and forth between the TV and his grandchildren -- and knew he had to do something."
Chip Lyons, president and CEO of the Elizabeth Glaser Pediatric AIDS Foundation, said Koop became a hero to the foundation's namesake after she saw him state in a television special on AIDS that HIV couldn't be transmitted by tears or saliva, debunking fallacies that unfortunately persist even today among a sliver of the population. Koop was the first person outside her friends and family to whom Elizabeth Glaser told the story of how she was infected with HIV by a blood transfusion while giving birth and unwittingly transmitted the virus to her son and daughter.
"I think his commitment to medicine on the one hand," said Lyons, "while allowing himself to be exposed to real-life stories, including Elizabeth's, gave him the determination and fortitude to speak out -- including about the impact AIDS was having on families and kids."
To critics of his choice to put medicine above moralizing, Koop was wont to say, "I'm the nation's doctor, not the nation's chaplain." Although it cost him support among evangelicals, Koop's principled stand won him a hero's embrace by congressional liberals and the advocacy groups that had initially opposed him.
Rep. Henry Waxman recalled apologizing to Koop for opposing his nomination -- and the gracious forgiveness he received in return. "I apologized to him," said Waxman, "because at first when he was appointed, the only thing we knew about him was that he was an anti-abortion activist and a pediatric surgeon. He said that apology was the most extraordinary experience he had in Washington. The two of us worked closely together."
An "unlikely messenger," Dr. Koop's was a "very Mother Teresa approach," said Nancy Mahon, global executive director of the MAC AIDS Fund and chair of the President's Advisory Council on HIV/AIDS. "He was first and foremost a doctor. He didn't allow any of the politics or hysteria change or mute his focus. And he gave the surgeon general's office the backbone it hadn't had previously."
"Dr. Koop was a hero to our movement," said National Minority AIDS Council director Paul Kawata, who in the late 1980s was executive director of a coalition of more than 600 community-based AIDS service organizations known as the National AIDS Network. "His leadership changed the way HIV was viewed in this country."
By his willingness to rise to the moment, to respond from his faith in God and his powerful belief in his calling as a doctor, as his fellow humans called out from their fear and suffering, C. Everett Koop changed the course of history. He also ensured that his honored memory will live on in history.