Where Bikes Are Everywhere for Everyone
How a bikeshare system made active commuting the most convenient way to get around Washington, D.C.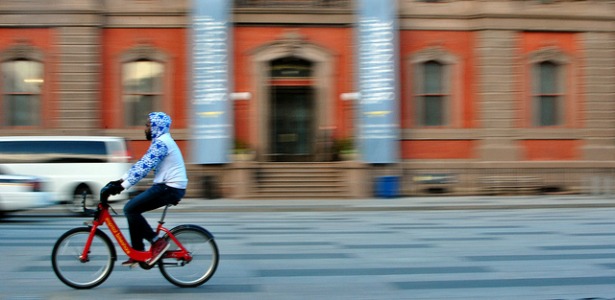 angela n./Flickr
On a chilly afternoon in late February 2011, bicycle advocate Gregory Billing stood at the corner of 15th and P Streets NW and witnessed Washington, D.C.'s growing bicycle culture in motion. From his vantage point, Billings could watch two of D.C.'s most innovative cycling infrastructure projects at the time -- the protected 15th Street Cycle Track and the Capital Bikeshare program -- interact.
"Over the course of two hours, the station went from completely full to completely empty," recalls Billing, an advocacy coordinator for the Washington Area Bicyclist Association (known by its playful acronym, WABA). "You can see how Capital Bikeshare truly is a transit option," he says. "You can't just have a station and a train car without the tracks. It works and these are the facilities that make it happen."
Billing's metaphor is a fitting way to consider the evolution of cycling in D.C. With Capital Bikeshare providing the stations and the "train cars," city planners have all the more incentive to deliver on the tracks side of the equation. The program's arrival jumpstarted the existing planning efforts set forth in the District Department of Transportation's (DDOT) 2005 Bicycle Master Plan . Since its unveiling in September 2010, the city has added dedicated bicycling lanes to several main thoroughfares -- Pennsylvania Avenue, 15th Street, and L Street, with M Street soon to follow -- and seen a 175 percent increase in overall ridership.
"They were moving at a pace where they would not have been done as fast without Capital Bikeshare starting," notes Chris Holben, DDOT Project Manager for Capital Bikeshare. Today, nearly 3.5 percent of District residents traverse the 200-plus miles of bike trails, protected lanes, cycle tracks, signed routes, and shared lanes on a daily basis. (To put this in perspective, back in 2000, only 1.16 percent of residents biked to work).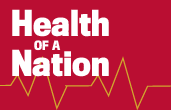 Medical providers, local communities, and the public wellness movement.
See full coverage
With 18,700 members, 1,670-plus bikes, and 3.5 million trips to-date, Capital Bikeshare has directly contributed to this growth, incentivizing city planners to work towards a safer and more accessible system. However, Capital Bikeshare's most valuable contribution to DC's transportation culture might be its ability to present biking as a legitimate mode of transportation. It caters to a wide array of potential riders, ranging from tourists, to casual bike commuters without wheels of their own, to committed cyclists who just want the added convenience and flexibility bikesharing offers.
"Just by existing and being so ubiquitous, Capital Bikeshare gives us an incredible advantage as a community," observes Daniel Hoagland, the bicycle education coordinator for WABA. The system sells itself in many ways and, in turn, effectively transforms riders into an advertisement for biking. "People like them and they're cool," Hoagland says. "It's a conversation starter. In terms of making bicycling a part of our popular culture, bikeshare is the solution. When it's accepted, that's when people can stop treating bicyclists like weirdos."
Not terribly long ago, D.C.'s bikeshare system was a fledgling project consisting of just 10 stations and 120 bikes. Dubbed Smartbike DC, this first attempt mimicked the European outdoor advertising model successful in cities like Paris, Barcelona, and Copenhagen. With insufficient infrastructure and too few bikes, this first attempt to cultivate a shareable fleet of bikes fell flat.
However, maybe the system really did have to fail in order to be successful. After Smartbike's initial flop, key players better understood what it would take to create a viable bikeshare program in the nation's capital. They also began to glimpse its true role: to better connect residents to their public transportation options. By further interlocking the system with bikes, public transportation might stand a chance against the perks of personal automobile usage. As the Sierra Club reports in "Smart Choices, Less Traffic: The 50 Best and Worst Transportation Projects in the United States," Capital Bikeshare slashed 5 million miles of driving in 2011 by eliminating the "first and last mile" problem that transit users frequently encounter.
With numerous stations in DC and Arlington (and new ones popping up every day, it seems), recent installments in Alexandria, and plans to expand into Montgomery County, the system is primed to further connect the Washington metro area transportation grid. Arlington County Capital Bikeshare Manager Chris Eatough explains how bikeshare ties into the overall transportation mission in Arlington County: to create and provide healthy, vibrant transportation options. "Commuters should have a quiver of options," Eatough says. "You don't have to ride a bike everyday. But people are more likely to give up their cars when presented with a unified transportation force."
Capital Bikeshare is also connecting neighborhoods in ways that haven't previously been possible. For example, take my row house on Capitol Hill, located smack dab in the middle of a "metro hole." Faced by a 15-minute walk to the blue/orange lines at Eastern Market and a 30-minute walk to the red line at Union Station, it's no wonder the neighborhood attracts young families no longer interested in living in the hub bub of neighborhoods like U Street, Adams Morgan, or Dupont Circle. Before I invested in a bikeshare key back in October, you couldn't pay me to trek all the way over to Adams Morgan on a weekend night (unless, of course, you paid me about $40 -- just enough to cover the various modes of transportation I'd need to make it to the other side of town). With a bikeshare key, my old excuses no longer apply.
As DDOT implements the final components of the 2005 Bike Master Plan, city planners are already setting their sights on the next wave of development. Titled MoveDC, the campaign will combine planning for everything from streetcars to bike lanes, and taxis to trains, into one master plan. With ambitious items such as weaning 75 percent of residents off of their cars in favor of public transportation in the next 10 to 15 years, bicycle ridership is sure to earn its place on the agenda.
Recommended
Capital Bikeshare has the ability to fuel and shape the end results of this round of transportation development. Techies and social media gurus have already taken advantage of the raw data outputs Capital Bikeshare provides on their website, creating Smartphone apps, interactive maps, and route finders. The ability to study overarching bikeshare usage habits can help identify gaps in the existing bike infrastructure and pinpoint future areas for improvement.
But for now, Capital Bikeshare's major success lies in helping us realize we don't have to go to superhuman lengths to incorporate a bit of exercise and environmental do-gooding into our daily routines. And who knows -- maybe one day our bikeshare stations will look like this.