Could the solution to data storage turn out to be the carrying capacity of our own genetic material?
Katratzi/Flickr
In an unexpected confluence of furtive love, lust, and nucleotides, researchers have proposed a new method for storing data: transforming information, including poetry, into DNA.
Only William Shakespeare could truly appreciate the scientists' choice of his own Sonnets to demonstrate their high tech prowess. It's a moment where some of the finest couplets and rhymes ever written literally merge with the basic chemistry of life, and 400-year-old lines of verse are translated into As, Cs, Gs and Ts.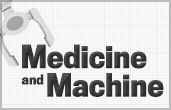 The evolution of health technology.
See full coverage
This comes as the challenge to store the tsunami of big data in medicine is taking on Shakespearean dimensions, with hard drives and magnetic tapes struggling to keep up.
The researchers didn't merely transpose English letters into genetic code. They made real DNA. Instead of coding for proteins, though, these info-molecules code for, say, the first two lines of the famous "Sonnet 18":
Shall I compare thee to a summer's day? Thou art more lovely and more temperate...
Transposed into DNA -- using a code devised by Nick Goldman and Ewan Birney of the European Bioinformatics Institute located near Cambridge, UK -- the first three words of this sonnet's second line read: