The Power of Choosing Resilience
Psychological conditions that are epidemic among urban homosexual and bisexual youth warrant conscious efforts to foster self-esteem, positive relationships, and social support.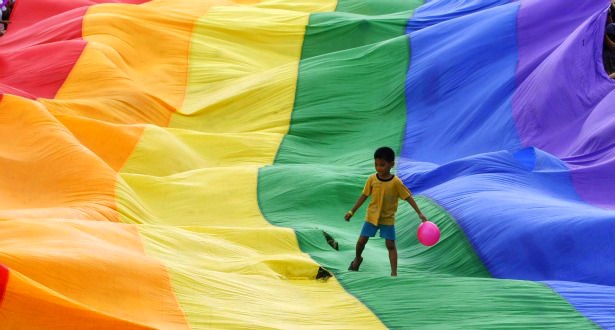 Aaron Favila / AP
"He would walk into a room and say a couple quick words and everybody would just forget their problems and smile. He had a gift."
Bud Hill was describing 15-year-old Jadin Bell, a popular kid with green-dyed hair and a supportive family in La Grand, Oregon.
Jadin died February 3, after being on life support since January 19. That was the day he hung himself from an elementary school play structure after being bullied by schoolmates because he was gay.
"He was different," said Hill, a family friend, "and they tend to pick on the different ones."
Two days after Jadin hung himself, President Obama proclaimed in his second inaugural address that gay Americans should finally be treated as fully human and equal citizens. As he spoke, Jadin Bell lay dying in an Oregon hospital, one of the inestimable number of young men whose "difference" marks them for ridicule and ostracism and, too often, early death by their own or another's hand.
If "it gets better" with age, according to the campaign started in 2010 after a rash of gay youth suicides, it isn't only because high school bullies are left behind to wallow in the filth of their own hatred. It's because, despite the tremendous odds stacked against us, most gay men are able to find the resilience we need to survive and thrive.
***
The day Jadin Bell died, a new study published in Pediatrics reported that although bullying drops as young people move beyond high school, young gay men are almost four times more likely than their straight peers to be bullied.
Other grim statistics show that driving young sexual minority people to the brink of despair has terrible consequences, as it did for Jadin:
Nearly eight out of ten LGBT middle and high-school students reported physical or verbal harassment in the Gay, Lesbian, and Straight Education Network's 2011 National School Climate Survey. This was actually an improvement over previous years.
Gay and lesbian teens are two to three times more likely than other youths to commit suicide.
They are five times more likely to miss school because they feel unsafe after being bullied because of sexual orientation.
At The Fenway Institute in Boston, Kenneth H. Mayer, the medical research director as well as a professor of medicine at Harvard, said that greatly improved HIV medical care has allowed researchers breathing room to focus on issues such as resilience and the reasons LGBT people face so many challenges. "From 1981 to 1996," said Mayer, "I don't think we caught our breaths by having to think about our own health, having our friends dying."
He said the research literature has made it clear that bullying, exclusion from the military and being forbidden to marry have consequences. "These send messages that they are not normal and right, and that has downstream consequences," said Mayer.
University of Pittsburgh medical anthropologist Ron Stall and his colleagues have identified four interconnected "epidemics" of psychosocial health conditions among urban gay and bisexual men, each magnifying the others: childhood sexual abuse, partner violence, depression, and drug use. Together, their insidious effects are called "syndemics."
"Something horrible is happening during adolescence to young gay men," Stall told me in a 2010 interview for my book Victory Deferred. "These young men don't understand what's happening to themselves. There's no community. Sometimes if the 'sissy boy' goes to dad to tell about getting beat up on the playground, he risks being beaten up by his dad. That kind of experience has got to be searing, and leaves scars on gay men."
The scarring manifests itself in still more startling statistics for gay men compared to non-gay people--including higher rates of anxiety, depression, alcohol and other substance abuse, and greater risk for HIV infection.
The Centers for Disease Control and Prevention (CDC) reports that in 2009, gay and bisexual men accounted for 61 percent of all HIV infections in the United States, and 78 percent of all new infections among men . Although new HIV infections were "relatively stable" among men who have sex with men between 2006 and 2009, the CDC says they increased 34 percent among young gay and bisexual men--mainly due to a 48 percent increase among 13- to 29-year-old African-American gay and bisexual males.
It's a popular assumption that gay men have such high rates of HIV and other sexually transmitted infections because of irresponsible hedonism. It's rare that even those of us at high risk consider that something deeper than pleasure-seeking may be what's really driving the urge to merge-at-all-costs, that maybe we are confusing "horny" with, say, depressed or lonely. Or that we have taken to heart the many messages we receive telling us that our "difference" means we are broken, unlovable and unworthy of an intimate relationship.
Gregory M. Herek, a professor of psychology at the University of California at Davis, and an internationally recognized authority on prejudice against lesbians and gay men, hate crimes and anti-gay violence, and AIDS-related stigma, said in an interview, "Certainly in the past, everybody was brought up with the attitude that homosexuality was wrong, a sickness, sin, that everybody who was gay or lesbian was a bad person. So being raised in that it's almost inevitable that almost all people have accepted or believed it."
But not everyone accepts or believes it. In fact fewer than ever do, and they have much to teach. "What I think is amazing," said Herek, "is how many people are doing fine and are mentally healthy, and leading whole and productive lives. How do they do that? Given all they're up against, how do they come out of it? The answer is resilience. If they've overcome this internalized self-stigma, they have more resources for overcoming this psychological distress."
***
As proof, Ron Stall in a recent interview pointed to his study of gay men's psychosocial health problems. Eleven percent of the 812 men reporting one problem had recently engaged in high-risk sex, as had 23 percent of the 129 men reporting three or four problems. The evidence of resilience among these men was in the fact that the overwhelming majority of them had not engaged in high-risk sex, even the men burdened with multiple psychosocial health problems.
Stall said, "We were able to show that guys who do the best job of resolving internalized homophobia [or self-stigma] are the least likely to have current victimization, substance abuse and compulsive [high-risk] sex."
He said such findings demonstrate that, to be truly effective, HIV prevention and substance abuse interventions need to build on gay men's resilience, to be "strength-based," rather than deficit-based. "We're so focused on risk factors to the point that we forget about resilience," he said. "It seems to me a smarter way to go would be to look at the guys who are thriving in spite of the adversities, how they pulled that off, see what the lessons learned are, and apply that to the interventions we already use and have developed."
In fact, the National Institutes of Health's LGBT Research Coordinating Committee in a January 2013 report recommended the institutes ramp up their research on resilience among LGBT populations, as they were advised to do in a 2011 Institute of Medicine (IOM) report commissioned by the NIH. The NIH committee said resilience should be studied to find out "how it develops, may protect health, and may buffer against the internalization of stigma and/or other negative experiences associated with sexual or gender minority status."
***
Before the first mention of 'the gay adolescent' in a 1987 Pediatrics article, Penn State University human development professor Anthony R. D'Augelli said, "the literature I read about 'homosexuals' described people who seemed to spring from nowhere, that is, they were never children or adolescents, and did not seem to have siblings, parents, or grandparents."
Writing in Human Development in 2012, D'Augelli said "this fractured portrait" has begun to be repaired, even shaded with greater depth and nuance, as more LGBT youth have 'come out' and more research has focused on them. He said this has supported a model of our development over the life span--and the understanding that "to talk about the development of their lives without focus on family, social, institutional and historical factors is fundamentally distorted."
Caitlin Ryan, who was a member of the IOM committee that developed the LGBT health report, is a clinical social worker with nearly 40 years of research and practice experience focused on LGBT health and mental health. In 2002 Ryan launched the Family Acceptance Project, based at San Francisco State University, after her groundbreaking work demonstrated that a family's acceptance is vitally important for LGBT children to become healthy and resilient adults--and that, contrarily, their rejection undermines health and dramatically increases their risk of attempted suicide.
The Family Acceptance Project has worked with hundreds of families from all kinds of ethnic, racial, religious and socioeconomic backgrounds, and developed educational materials to support them in learning to be supportive of their "different" kids. Ryan said the project has found their respectful approach to be met in kind. "Meeting families where they are," she told me, "we build on family strengths to show them what we've learned from our research, and help them understand that some of the ways they have treated their children have been putting them at risk."
The project has actually found that increasing family support reduces the young people's substance abuse, HIV risk behaviors, and suicidality. "This is exciting because these have been seen as intractable problems," said Ryan.
Aimed at young gay men, the MPowerment project is, technically, an HIV prevention intervention. The CDC-funded program isn't formally billed as "resilience-building". But co-principal investigator Greg Rebchook, an assistant professor at the University of California-San Francisco's Center for AIDS Prevention Studies, told me, "We don't start from a place where gay men are wounded, their wings are broken."
Instead, MPowerment uses outreach, drop-in centers and community-building efforts to strengthen young gay men's self-esteem, positive relationships, and social support. Using a "whole-man" approach, Rebchook said, "It's not just about condoms, but about all the factors that come together to affect their lives."
Although MPowerment is a subtly powerful way to buttress young gay men's resilience and health, its focus on "upstream" issues that drive behavior is new territory for government prevention funders. Rebchook said, "There is a lot of interest in my colleagues around resilience, but when you look at RFPs [requests for proposals], they are all about the health disparities in the community."
Stephen F. Morin, medical professor, chief of the prevention science division and director of UCSF's Center for AIDS Prevention Studies, told me that prevention program planners are focused on treating those living with HIV to reduce their infectiousness. But he said they will have to address the social drivers of behavior to ensure that HIV-positive clients adhere to their medication. "At some point they'll start to focus on substance abuse and mental health to get their goals met," said Morin.
Because San Francisco's gay demographics skew older--perhaps because of the city's high cost of living--gay and bisexual men in their thirties and forties represent the leading edge of new HIV infections in the city. A new approach to prevention aimed at these men but that doesn't "look like" prevention is the Bridgemen project.
Launched by the Stop AIDS Project in July 2011 and funded by the CDC, Bridgemen reaches out to men in what program director Frank Stenglein calls our "third life." He explained that after a first stage of making friends and having fun in our twenties, then building careers and settling down, men in this third stage ask themselves such questions as "What comes next? What am I going to leave behind me?"
Stenglein, forty-five, said gay men at this point in our lives--particularly those who don't have a partner--are at risk for depression, isolation and drug use. Through weekly and monthly meetings, events and community service projects, Bridgemen offers the chance to make new friends and talk about things in a safe space.
"By men being involved in their community," said Stenglein, "they are more likely to take care of themselves, their brothers and their community." The HIV prevention aspect, he explained, lies in building "a happy, healthier community that embraces each other and men who are taking care of each other, being responsible for each other."
Continuing to draw from, and build, resilience is also important for the health and well-being of gay men in the later years of midlife and into the older years.
Brian DeVries, professor of gerontology at San Francisco State University, says in a forthcoming book chapter that older gay men are more likely than heterosexuals or lesbians to live alone and have higher rates of mental distress. "The psychological weight of lives at the margins exact a toll on mental health, in turn jeopardizing physical well-being in an oscillating fashion," he writes.
But not all older gay men live under this weight. DeVries in an interview used the term "positive marginality" for the ways gay men and other marginalized people are able to find meaning and purpose simply in resisting our marginalization. "We have been excluded," he said, "and there are huge costs of that exclusion. But as a result we've had to find our own way, to find ways of interacting and being that are unlike ways that were modeled by our [heterosexual] peers and elders. We've created ways that fit us."
Besides redefining what "old" might look like or mean, DeVries said gay men of all ages have the choice to frame our personal stories in a way that truly accentuates the positive, eliminates the negative--and most assuredly does not mess around with "Mr. In-Between."
"In the stories we tell of our lives," said DeVries, "as gay men, as survivors, the victims story is one of discontinuity, how we're not what we 'should' be because of all these things. The victory story is one that sees the ways we can grow from them. It provides hope, direction, and allows you to learn from the experiences."
***
Robert M. Kertzner, a psychiatrist who shuttles between a research science position at Columbia University and a clinical professorship at UCSF, told me that interest in the resilience of gay men--and LGBT people generally--has increased in the last five to ten years because "resilience is no longer such an abstract proposition."
He said the push for same-sex marriage, the overturning of the military 'Don't Ask, Don't Tell" policy, and the revelation to the world of the variety of gay lives are examples of the "good things in our lives" that inspire hope. "These things challenged the general population," said Kertzner, "but also challenged LGBT people to think differently about themselves." Reminding one another of the progress already made toward full equality can "help people with the strengths and resources they need to develop resilience within themselves," said Kertzner.
Well before the recent uptick of interest in LGBT health, gay men were already drawing from our experiences of standing up to the people and circumstances that oppress us--discovering our own courage and strength, defining life on our terms. Some of us have drawn from our family and community histories, while others have had to find the courage to live boldly and with purpose by repurposing old skills to meet even severe new challenges.
H. Alexander Satorie-Robinson was president of the National Task Force on AIDS Prevention, when the nation's first prevention program targeting gay men of color was created in 1988. Lacking a full embrace in the mostly white gay community, and not very welcome in the black, Latino and Asian communities that reared the men it served, the Task Force "was a place of comfort," said Satorie-Robinson. Tapping into the cultural values of community, faith, family and a shared history of survival, he said, "we were recreating those places in our gay/bisexual image."
Even without empirical data, Satorie-Robinson said, cultural survival instincts were used and adapted to make a difference. "We came together, drew on our history, looked at what the people who had come before us were able to survive."
In John Killacky's case, the instincts he developed as a young dancer and marathoner pulled him through a long, grueling rehabilitation and enabled him to survive. That and a good man.
In his early forties and together with his partner Larry Connolly only a year at that point, Killacky one night had a kind of seizure as he and Larry were just going to sleep. An MRI at the hospital found a tumor involving sixty percent of his spinal cord. After surgery at Abbott Northwestern, in Minneapolis where the two men lived then, and ten days in the ICU, Killacky was moved to the ward for people with spinal injuries.
Killacky recounts how he was able to learn to walk again by using a mirror--as he'd once learned new dance steps. As a former marathoner, he had to learn not to focus on his pain or fatigue, but "always look at the horizon."
Today, Killacky, now director of the Flynn Performing Arts Center in Burlington, Vt. walks with a cane. The left side of what he calls "this bifurcated body" is still different from the right side. He still has extreme pain in one leg and on the right side of his pelvis.
And after seventeen years, he still has Larry. "I am very lucky," he said. "I had a partner who stayed with me through this. Often eighteen months after a traumatic incident, couples break up because it's not what you signed up for."
Although the many benefits of marriage are well-documented, most same-sex couples lack the legal and social recognition of their relationships that heterosexuals take for granted. This makes committed long-term relationships that endure in spite of the barriers all the more striking. It makes a relationship like John Killacky and Larry Connolly's astonishing.
For his part, Connolly told me, "I don't know how he would have done it [without a partner]." He said that both of them find great comfort in each other. "We find resilience in the marriage itself," he said.
Another Larry, Lawrence D. Mass, a physician in Manhattan and co-founder of Gay Men's Health Crisis, the world's first HIV/AIDS service organization, described how, besides his own long-term relationship, recovery programs have provided such strong support for his own health and well-being.
As both a longtime clean-and-sober participant in 12-step programs and medical director of addiction services at Beth Israel Medical Center, Mass said, "Recovery is this huge and infinitely valuable resource for resilience. Unfortunately it's not something that many people avail themselves of. You have to want it and seek it out. It's not something that can be force-fed as medicine."
Greg Herek, the University of California at Davis psychology professor and noted expert on LGBT prejudice, said, "The active voice is a really important part of it. [Resilience] is not something that happens; it's something people do." While there are more role models and more accepting non-gay people, Herek said, "It's something the individual has to do."
Ultimately we gay men choose -- like everyone, really -- whether we will recover from our addictions, tame the syndemic forces that can undermine us and live with resilience, or not.
But the choice is easier than putting it into practice. Which is why we have to understand it's not a one-time decision, but a lifelong series. Each time we choose, we decide whom we want to be:  victor or victim. Each choice to be victorious marks one more step toward that place; not over the rainbow, but here and now. Gay men become resilient when we choose not to listen to bullies, because we believe ourselves to be lovable.