Study: Violinists' Fates Resides in Their Left Pinky Fingers
Should we test kids' fingers before subjecting them to violin lessons?

Herwig Prammer/Reuters
Here's something you can try at home: Hold down the index, middle, and ring fingers of your left hand, then try to bend your pinky. Now try it again, but allow your ring finger to bend as well.
About 18 percent of people can do neither, according to a study in The Journal of Hand Surgery. But in a similar group of 90 professional musicians from "three of London's leading orchestras" (38 first violinists, 33 second violinists, 19 viola players), none lacked this ability, and all but two were able to bend just their pinky finger.
The two players who failed the first test have difficulty lifting up their ringer finger when their pinky isalready holding down a string: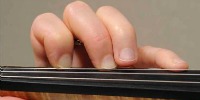 And their attempts to perform the tricky move of holding down the E string with their pinky while reaching for the G string with their ring finger "results not only in discomfort but bad technique."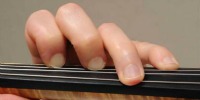 The authors hypothesize that this small movement may function as a type of "natural selection" for elite musicians, and suggest that perhaps kids ought to be tested for this ability before being handed a violin.
On the one hand, this is perfectly reasonable. In a similar vein, it's harder to play most wind instruments if you have an underbite, a long right arm is useful for the trombone, and, according to a band teacher who blogs about such things, an advantage with the French horn goes to children with "even teeth and lips that are firm and not too large."
It would be good if music teachers could use this knowledge to go easy on kids who aren't predisposed to the violin, instead of just telling them to practice more. And the authors begrudgingly acknowledge that "not everyone needs to reach a professional level to get enjoyment from their playing." After all, even if you can bend your pinky in precisely the way required by the instrument, you're probably never going to become a concert violinist anyway.