Violence and Mental Illness in Middletown, Connecticut
A stabbing, a shooting, and an uneasy relationship with the mentally ill haunts a city.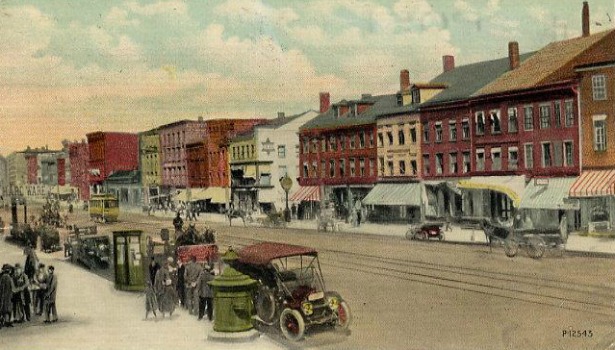 Main Street, Middletown, 1912 [Wikimedia Commons]
On May 6, 2009, a man walked into the Wesleyan University bookstore and fatally shot Johanna Justin-Jinich, a 21-year-old student. She, a girl he had been obsessed with ever since a friendly acquaintanceship turned sour two years earlier, was pronounced dead at Middlesex Hospital. Stephen Morgan, the shooter, was able to walk away from the scene.
The larger shooting spree that he had planned for the Wesleyan student body (he referred to it in his journal as "The Jewish Columbine") did not come to be, but for the day and a half that Morgan remained on the lam, we -- Justin-Jinich's classmates and peers -- remained on lockdown in our dorms. By the time he turned himself in, many of us, myself included, had fled campus.
Despite witnesses, security footage, and a spoken confession, Stephen Morgan was found not guilty of his crime, on the defense of insanity. Specifically, he is "delusional, psychotic and paranoid and" -- as we all learned that day -- "a danger to himself and society." Officially, he appears to have a schizoaffective disorder. As such, he now qualifies for intensive counseling and anti-psychotic medication, in the care of a team of psychiatrists and social workers, all of which he will be receiving while serving 60 years at Connecticut Valley Hospital (CVH), 1.4 miles away from the bookstore cafe where he shot and killed Justin-Jinich.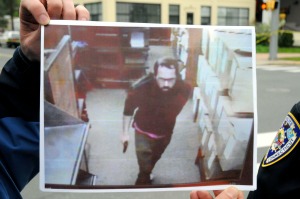 A surveillance photo of Morgan inside Broad Street Books [
George Ruhe/AP
]
---
The following fall, the cafe had been remodeled, so as not to trigger the fractured psyches of the staff and students who had been present and themselves threatened. A framed rainbow PACE flag, taken from Justin-Jinich's dorm room wall, is now displayed in tribute behind the counter.
It was an unhappy reminder, for the remainder of my time at Wesleyan, of the tragedy that had marked my insular community.
As a student at Wesleyan, I was a transient member of the Middletown community. I spent my freshman year mainly on campus, but made frequent jaunts down to Main Street, a strip of shops and restaurant a couple of blocks downtown from campus. I voted on the city's ballot at the community senior center in the 2008 election. In my second semester, I volunteered, as a part of an anthropology class, at the Middletown Historical Society, housed on Main Street, where I cataloged archives attesting to the street's 350-year history.
But it wasn't until I was in my senior year that someone, in a tone usually reserved for unsubstantiated rumors, told me another senseless tragedy that had occurred before my time. In the summer of 1989, a patient strode away from CVH and took a bus to Main Street. It was the day of the annual Sidewalk Sale, meaning hordes of residents were out on the streets. The inmate, David Peterson, then 38, approached a family as they exited Woolworth's and stabbed 9-year-old Jessica Short 34 times as her mother and sister looked on.
Paul Gionfriddo, who grew up in Middletown and attended Wesleyan, was running for mayor that summer. His campaign manned a booth about half a block away from the stabbing; he recalled for me the scene of incomprehensible chaos he witnessed before the news of what happened filtered its way down to him.
The staff as CVH, whom Gionfriddo met with shortly afterwards, was devastated at the mistake that had cost Short her life -- Peterson, with his diagnosis of chronic paranoid schizophrenia and history of violence, was never supposed to have been let off of the grounds. They also recognized the setbacks that this mistake would cause for their programs, including an outpatient facility they had been hoping to open to help transition deinstitutionalized patients back into the community. At the trial, Middletown residents called out for Peterson's death. In the end, he, like Morgan, was found not guilty by reason of insanity. It was the third time he had received this verdict for a stabbing attack.
"Downtown Middletown almost died after this, because no one felt safe there anymore," Gionfriddo told me. Its decline is well-documented, as in a 1990 New York Times feature describing an atmosphere where "homeless people now outnumber shoppers on some parts of Main Street." Main Street and the surrounding downtown area were plagued by the mentally ill rendered homeless by deinstitutionalization, Gionfriddo explained. They lined up at a soup kitchen in the North End that also functioned as a "flophouse" -- which gave them a place to sleep, but no services, and required them to leave first thing in the morning. With nowhere to go, they wandered, and their presence on the streets further discouraged families from returning downtown.
Though we weren't there for its demise, it was only during my time at Wesleyan that efforts to revitalize Main Street -- begun during Gionfriddo's term as mayor -- finally began to take hold. The North End now houses a mixed-income apartment block, a Community Health Center completed in 2012, and the Green Street Arts Center, Wesleyan's (uneven) contribution to promoting arts education and outreach. The past two New Year's, it's played host to "Midnight on Main," a downtown community festival. My classmates and I spent much time at Main Street's restaurants and, later, its bars, many of which opened during our time there. A few days before I graduated, a frozen yogurt lounge opened -- just as I was departing, Main Street, it appeared, had finally arrived.
Even though little of this existed in Wesleyan's institutional memory -- blame it on the four-year turnover -- the effects the incident had on Middletown, in retrospect, are evident. While the Wesleyan community grieved, but appears to have recovered, from the shooting, there's no way of knowing how the event will continue to affect the school and the town in the coming years. This is the first year that none of Wesleyan's undergraduate students were there when Justin-Jinich died. In time, the incident will go from traumatic memory in the minds of Wesleyan students to another story about something bad that once happened there.
It's funny, what ends up being remembered as communities heal and trauma loses its immediate potency. The residents of Middletown learned to fear Main Street, but lessons in treating the mentally ill have been less resonant. In the years following Jessica Short's death, resistance to efforts to help the city's homeless have persisted. On both sides of the political spectrum, as Gionfriddo described to me, there was a refusal to recognize the scope of the problem. Liberals didn't want a 24-hour shelter to inhibit efforts at mainstreaming, while conservatives, in his estimation, were upset because he "refused to make scapegoats of all homeless, mentally ill people for the problems of the neighborhood."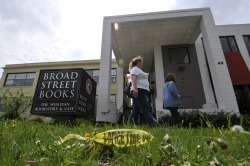 The shooting's aftermath [
Jessica Hill/AP
]
---
But just as entire communities are affected by such senseless acts of violence, so are they -- so are we all -- responsible for the way they respond to and treat their members with mental illness. It was not Middletown or Wesleyan's fault that either of these girls were murdered, but there is no question that society, beginning with our political leaders and trickling down to our public schools, prisons, and health programs, are unprepared to help people like Morgan and Peterson. Many years after the fact, Peterson told doctors that Short's stabbing was an act of desperation: He had been hoping that would be extreme enough for the police would kill him and free him from his pain.
Gionfriddo witnessed the system's failure to respond firsthand. As a reluctant mental health "expert" pushing to empty the state's psychiatric facilities, he only recognized the consequences of these policies when he became a father, and in turn became desperate to find help for his oldest son's mental health problems.
He documented the saga in the September 2012 issue of Health Affairs. A legislator in the Connecticut House at the mere age of 25, he pushed for deinstitutionalization of the mentally ill without paying due credence to the fact that the public schools and criminal justice systems weren't prepared to recognize and treat them. He learned this the hard way when, in 1985 he transracially adopted an infant, Tim. In his essay, Gionfriddo describes the warning signs, beginning as early as kindergarten, which time and again went unrecognized.
Throughout his youth, Tim was misdiagnosed with ADHD, some learning disabilities, depression, PTSD, conflict over his adoption and mixed-race family, and overly protective parents. When he was 11, he pulled a knife on his 5-year-old brother. Mostly, though, he posed a danger to himself. People with mental illness, Gionfriddo reminded me when we spoke, are far more likely to be the victims of violence than to commit violent acts.
It wasn't until he was 17 that Tim was diagnosed with schizophrenia, a lifelong disease that can cloud patients' thoughts, inhibit their ability to have normal emotional responses or act normally in social situations, and make tenuous their connection to reality. Although psychotic episodes tied to schizophrenia don't usually occur until a patient is in his or her late teens, a long period of seeming "off" and other symptoms can manifest much earlier in life.
By the time adults realized that Tim suffered from more than just behavioral problems, it was too late. As Gionfriddo writes, "When Tim turned eighteen, he had no high school diploma, no job prospects, and a debilitating mental illness." Unwilling to accept community health services sought by his parents, he broke off ties with overextended counselors who did not push to help him out. He cycled in and out of hospitals and prisons. Now, at 27, he is one of the ragged homeless populating the streets -- in his case, of San Francisco.
The entire story is heartbreaking, with each added detail read as a missed opportunity for an intervention that could have changed the course of Tim's life. "Perhaps," Gionfreddo writes, "even if Tim had gotten earlier, more effective, and better integrated care, he still would have become homeless. But I don't believe that, not even for a minute."
Just last year, Middletown was launched back into the spotlight after the Department of Education investigated Farm Hill Elementary School for sequestering special needs students in "scream rooms" -- small, windowless spaces where they were confined during emotional outbursts. The investigation was prompted by parents witnessing two school staff members holding a door shut while "a child inside kicked and screamed uncontrollably."
The school superintendent attempted to calm the hysteria by assuring parents that going forward, the rooms would only be used to deal with students with disabilities -- prompting quick retaliation from advocacy groups. The attempts at behavioral control had no basis in therapeutic strategies, and illustrate how unprepared schools are for dealing with disturbed students.
Teachers, Gionfriddo contends, aren't there to treat, but they, along with pediatricians, are the first to notice symptoms of mental instability in children outside of their families. Just as we need to pay more attention to parents when they see red flags, other people in these kids' lives must be trained to recognize signs. Otherwise, no one can take the necessary steps to treat their symptoms and control for risk factors. The system, then, needs a way to respond. It was three years after Tim's teacher recognized that he had significant issues for him to receive special education services.
Unfortunately, we live in a world where a mental health screening or mental illness-based IEPs (Individualized Education Programs for students with difficulty learning and/or functioning) can stick a kid with a diagnosis that will lead to discrimination in a way that other disabilities would not. When we only hear about the mentally ill once they've committed horrific acts, we fail to recognize how common mental illness is -- common enough that half of us, at some point in our lives, will experience it to some degree.
As Gionfriddo put it, "it's not this big, scary thing all of the time." But as Maia Szalavitz wrote here after the shootings in Newtown -- just an hour's drive from Middletown -- "stigmatizing, bullying, rejecting, and isolating people who are different exacerbates every mental illness and developmental disability ever studied."
"Mental illness isn't a problem," said Gionfriddo. "The way we treat it is."
I don't know if Stephen Morgan ever reached out for help, but surely his aberrant behavior didn't go entirely unrecognized -- Justin-Jinich had lodged a formal complaint about how he had harassed her. He had no violent history, but was directionless after returning to civilian life from four years in the Navy, and had moved back in with his parents. He was known to be a loner, "filled with anger," and to make anti-Semitic comments. His father testified that he had problems ever since he was a baby, and that he had to repeat kindergarten due to his inability to follow directions or move between activities like the other children.
After her death, the Johanna Justin-Jinich Community Clinic, dedicated to women's health, was opened in Kibera by an organization run by Wesleyan students. It was a fitting tribute to a student who was passionate about public health. Be couldn't an appropriate response also be to contribute to efforts to bring treatment to people who need it, recognizing cries for help long before they take the form of the slaying of a bright, promising young woman?
Statistically, the vast majority of violent crime isn't committed by people with mental illness. And mental illness, in terms of prevalence, is even more of a problem than violence. But in Middletown, the connection between those ignored by society who then come back to cause harm is difficult to overlook.
Related Story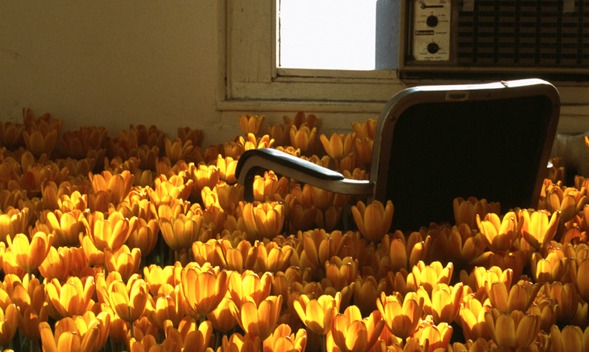 Maybe treatment won't always prevent these things from happening, but Gionfriddo believes, "If you want to believe that treatment never works, it gives you an excuse to ignore and neglect mental illness." He wrote in his essay of how Tim, raised in Middletown, would often visit the Wesleyan campus. For him, there was never any intention of violence. Instead, he just wanted to be around people his own age -- it was an effort at connection. But here, again, the world rejected him. I can imagine how it must have been, on Wesleyan's small and close-knit campus, where we were always hyper-aware of people who didn't belong. It's no wonder that campus security asked him to stay away.
Imagine how it could have been for him, and for Morgan and Peterson, and for Jessica and Johanna, if there had been somewhere to go.