Study: People 'Highly' Enjoy Sex, Condom or No
Remember that time you didn't use a condom, and thought it was way better? You were wrong.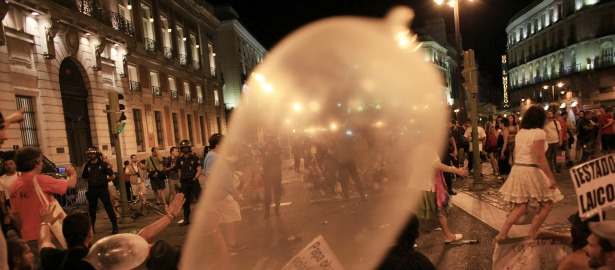 Susana Vera/Reuters
PROBLEM: American men and women often have sex; they often use condoms and lubricants as part of the experience. We know that the former makes sex safer and the latter makes it gooier. But does either really affect pleasure?
METHODOLOGY: Researchers at Indiana University -- the bastion of modern sex research -- looked at a nationally representative sample of 18 to 59-year-olds who engage in sexual intercourse and who reported on said sexual activity for the 2009 National Survey of Health and Behavior. Their efforts were funded by the parent company of Trojan condoms, which wasn't affiliated with the original data collection.
RESULTS: Overall, men and women reported sex as being "highly arousing and pleasurable," regardless of whether or not a condom or lubricant was used. Sex of all kinds was rated positively in terms of perceived pleasure, arousal, and experience of orgasm.
Over a quarter of women found it so pleasurable that they couldn't even tell whether the condom they used was lubricated, or what material it was made of. Fewer men had the same problem -- about 90 percent were familiar with their condom's basic characteristics. Condom and lubricant use had no significant effect on men's ability to form or maintain an erection.
IMPLICATIONS: If you've avoiding condoms because you don't want them to interfere with your sex, rest assured: People enjoy sex "highly" regardless.
The full study, "Characteristics of Condom and Lubricant Use among a Nationally Representative Probability Sample of Adults Ages 18-59 In the United States," is published in the Journal of Sexual Medicine.