The next big thing in not dying?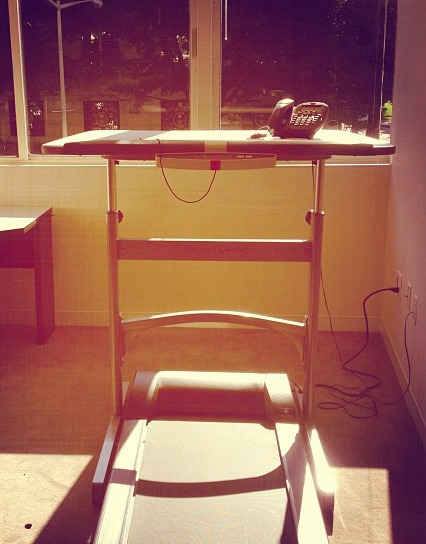 Today is big. As an advocate of weird standing desks, I've spent an undue amount of time thinking about what working at a treadmill desk would be like. Or a stationary bike desk, which, in terms of balance and coordination and concentration, seems more reasonable. But exercising at your desk isn't about being reasonable. 
Either way, the good people at LifeSpan read my writing, or my mind, and sent us a treadmill desk.
7:52 AM: I go all the way to the end of the hall, away from everyone, to the little office where we put the desk. I'm genuinely excited.
I turn on the desk. There's a barely audible hum. There's also a safety clip that you're meant to hook onto your clothes -- like there is on any regular treadmill -- so if you fall, it pulls the cord and the whole treadmill shuts down. Good, because I'd honestly considered that I might fall, lost in thought. Over an entire day of work, there must come some point where you just forget to keep walking. At least this way I would just collapse, instead of being flung onto my back and then sucked into the gears of the desk motor.
8:05: I turn down the pace because my head is bobbing around, as a head does when one walks, which makes reading tough. I also don't want to break a sweat. It's next-level if you look at this as an opportunity for an active workout, as opposed to a sort-of-moving alternative to sitting at a desk for ten straight hours.