How bad is it that celebrities tell us to drink soda? And why is Beyoncé taking all the heat?
Beyoncé with Pepsi lips [Pepsi]
Beyoncé Knowles-Carter recently announced that she would be part of the $50 million Pepsi ad campaign that includes performing at the 2013 Pepsi Super Bowl halftime show on February 3. Mark Bittman wrote about her as the peg in his New York Times piece this past weekend, "Why Do Stars Think It's Okay to Sell Soda?" He said:
Beyoncé Knowles would presumably refuse to take part in an ad campaign that showed her carrying a semiautomatic rifle. But she's eager, evidently, to have the Pepsi logo painted on her lips.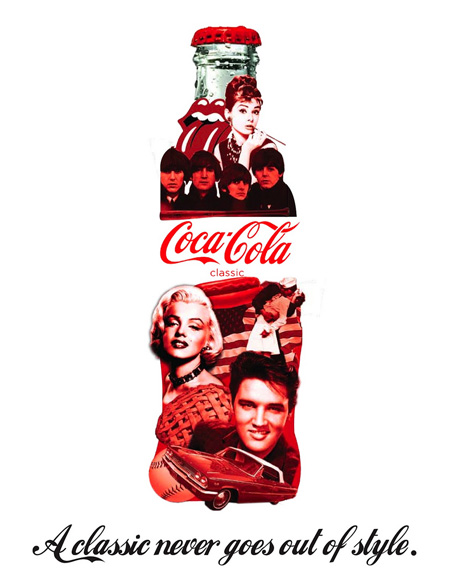 Kitsch Coca-Cola ad
It was also Bittman who, in the Times in 2010, asked, "Is soda the new tobacco?"
In the process of calling this "an odd move for a politically aware woman," he also notes that other celebrities who've endorsed soda include Michael Jordan, LeBron James, Madonna, Elton John, Janet Jackson, David Beckham, Mariah Carey, Britney Spears, Cindy Crawford, Bill Cosby, and Elvis. We could add, among U.S. endorsers alone, Julius Irving, Nicki Minaj, Jeff Gordon, Pink, Aretha Franklin, Ty Burrell, 50 Cent, Courtney Cox, Penelope Cruz, Tim Duncan, Missy Elliott, Roger Clements, Bruce Jenner, Jennifer Lopez, Ja Rule, Salma Hayek, Jack White, Cal Ripken, Katarina Witt, Bill Gates, Santa Claus, and various anonymous amalgams of U.S. military. Michael Jackson even let Pepsi rewrite the lyrics to "Billie Jean" in 1984, which, if there is an upper limit to the definition of selling out, is a few notches beyond that.