To Sense Every Birth and Death
A map of "real-time" U.S. births and deaths teaches us about overpopulation, and what it's like to be God.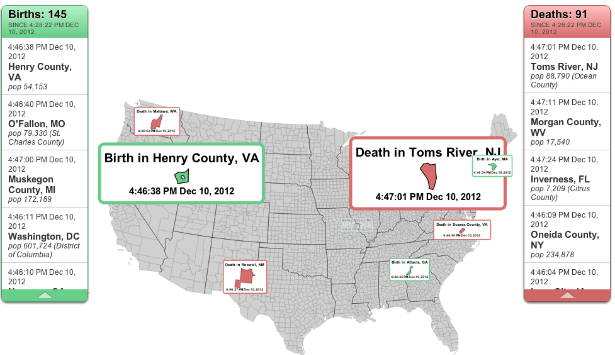 The first time you watch someone die (on this map), it makes you shudder. But then you start seeing how fast people are being born, and how the babies really coming at you. It's babies and babies and more babies. "Sorry, but it's babies all the way up!" And they are mostly named Aiden, Mason, Jayden, Madison, or Chloe -- or Adele, Bristol, or Ivy. Eventually you start to feel full, and you cross your fingers for some deaths, so you can breathe. At least, I think that's a normal way to feel.
The visual simulation is based on average birth and death rates in the U.S. of 13.5 and 8.1 per thousand people annually, respectively. Our population is on pace to increase 44 percent by 2050.

I think there is a TV show where someone has access to this map a day in advance of the real deaths taking place, and she has to try and stop them. Or something like that. If not, it should be called The Mapmaker.

Don't stare at it too long. Or do.