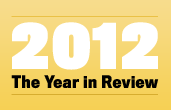 Atlantic writers survey the biggest stories and ideas on their beats.
See full coverage
Innovations, outbreaks, and oddities from the year in health and medicine
By "interesting," we don't necessarily mean those fascinating "Man Who 'Gave Birth' to Cat Receives Life-Saving Kidney Transplant from Said Cat" stories. But looking back on a busy year, some things stood out as being both widely discussed and of some consequence, and not boring.
As always, feel free to disagree -- we can talk in the comments about other good stories that we left out, intentionally or not.
We want to hear what you think about this article. Submit a letter to the editor or write to letters@theatlantic.com.