Study: Reindeers' Red Noses Have Important Biological Functions
What happens when you combine cocaine, thermal imaging, and Christmas spirit
What happens when you combine cocaine, thermal imaging, and Christmas spirit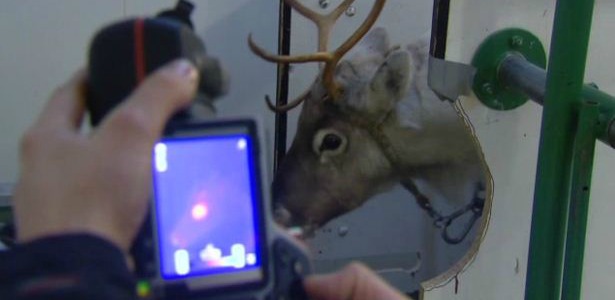 A researcher takes thermal images of a reindeer on a treadmill. [British Medical Journal]
PROBLEM: Even though we should never, ever condone bullying, it's obvious why all of the other reindeer used to laugh and call Rudolph names. But why was his nose red and shiny to begin with?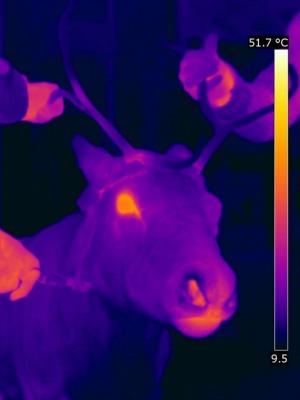 METHODOLOGY: For the whimsical Christmas edition of the British Medical Journal, researchers in the Netherlands and Norway investigated reindeer noses. Specifically, they observed the microvasculature of the noses of four healthy human volunteers, one person who had a small amount of cocaine applied to his nose "to test vascular reactivity of the nasal mucosa," one person with impaired nasal functioning, and two healthy reindeer -- who were lightly anesthesized before being probed in the nostrils with a hand-held imaging device.
To establish that reindeer's noses are, indeed, red, they took thermal images of them after having them walk on a treadmill.
RESULTS: The researchers were able to observe red blood cell movement throughout all of the subject's inner nose networks. They noted that while the basic structures were similar in humans and reindeer, the reindeer had 25 percent denser mucous membranes.
CONCLUSION: "Rudolph's nose is red because it is richly supplied with red blood cells, comprises a highly dense microcirculation, and is anatomically and physiologically adapted for reindeer to carry out their flying duties for Santa Claus," conclude the researchers, although it doesn't actually glow bright enough to cut through fog.
IMPLICATIONS: Aside from being Santa's very special helpers, reindeer are also breeding grounds for disease. The less whimsical New England Journal of Medicine warns that children in Norway and Sweden are becoming infested by fly larvae after visiting herds of wild reindeer. So if you're not a professional, observe their red noses from afar.
Or, enjoy this footage of reindeer on treadmills, along with more insight into why this study was medically relevant (if you just want to skip ahead to the treadmill part, it starts at 2:15):
The full study, "Why Rudolph's nose is red: observational study," is published in the British Medical Journal .