Study: Attitude About Aging Improves With Age
When it comes to successful aging, "Perfect physical health is neither necessary nor sufficient."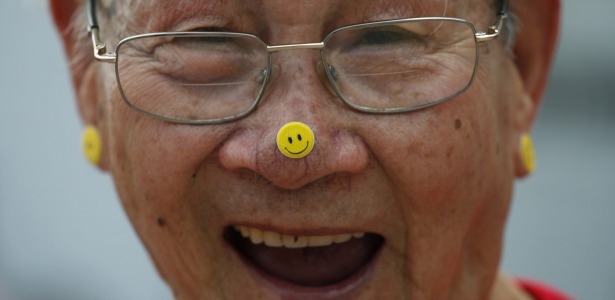 Siu Chiu/Reuters
PROBLEM: Aging, from a strictly medical perspective, can be thought of as a losing battle against progressive decline. Aside from figuring out how to reverse the process altogether, how might we help everyone "age well"?
METHODOLOGY: In an attempt to understand the aging process from multiple angles, researchers from UC San Diego and Stanford University surveyed and spoke with over 1,000 older adults, who averaged around 77 years in age, about their experiences. This included the standard information about chronic illness and disability, along with more subjective measures: how socially engaged the participants were, or how they characterized their own overall health, was looked at as well. They also asked them flat-out: On a scale from 1 to 10, how successfully do you believe you're aging?
RESULTS: On the medical level, the results confirmed what we know to be true about aging: a significant association was found between older age and worsening physical and cognitive functioning. But when it came to attitude, this trend was reversed: as subjects got older, their self-rating of how successfully they were aging steadily improved. This increase in well-being was still present once income, education, and marriage were taken into account.
When age was controlled for, self-rated successful aging increased with higher levels of education, cognitive functioning, perceived physical and mental health, attitudes of optimism and resilience, and decreased levels of depression. Resilience and depression, specifically, appeared to affect successful aging to a degree comparable to the impact of physical health.
IMPLICATIONS: The researchers had assumed the opposite of what their results ended up showing: As our physical and cognitive functioning generally declines with age, they had reasoned, so, too, should our perceptions of how successfully we are aging. The very fact that their findings appeared so counter-intuitive carries a strong message against negative societal attitudes toward aging.
They identify psychiatric guidance as one potential key to enhancing the process for older adults. When it comes to successful aging, said lead author Dilip Jeste, "Perfect physical health is neither necessary nor sufficient."
The full study, "Association Between Older Age and More Successful Aging: Critical Role of Resilience and Depression," is published in the American Journal of Psychiatry.