People Who Respond to Placebos Are Good People
Resilient, altruistic, straightforward patients are most likely to feel like placebos work.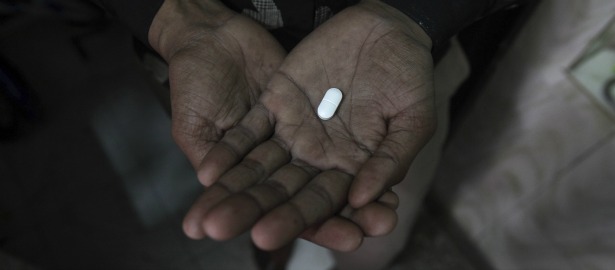 Adnan Abidi / Reuters
Not so long ago, people who reported pain relief when given placebo treatments in clinical trialswere considered "hysterical" and "neurotic," as one researcher says in a recent review in The Scientist. Recent research using brain scans and careful controls suggests the opposite.
[Scientists] found that people with certain personality traits -- specifically, those who scored high on resiliency, altruism, and straightforwardness, and low on measures of "angry hostility" -- were more likely to experience a placebo-induced painkilling response. Importantly, such individuals also had decreased cortisol levels and greater activation of endogenous opioid receptors in brain regions associated with reward.
In other words, people who respond to placebos are more admirable human beings than those who don't. Of course the correlation is far from universal, but the old stigma is gone.
The immediate rationale for the study was to refine trials to exclude as much as possible of the placebo effect to determine whether or not a pharmaceutical works. But as concern over drug prices grows, maybe there can be a future for placebo treatment if people are told they are receiving inert ingredients. Perhaps people can even be trained to be among the fortunate upbeat placebo responders, reserving the actual drugs for cases in which the fakes don't work or are insufficient. Who knows where this might go: placebo coaches to develop the upbeat, unselfish placebo-friendly personality? And think of the savings from Placebocare.
Seriously, though, the new research is a reminder of how much we still have to learn about the psychological side of medicine.