How Close Are We to an AIDS-Free Generation?
Where we stand on what President Obama has declared an achievable goal -- and a top U.S. global priority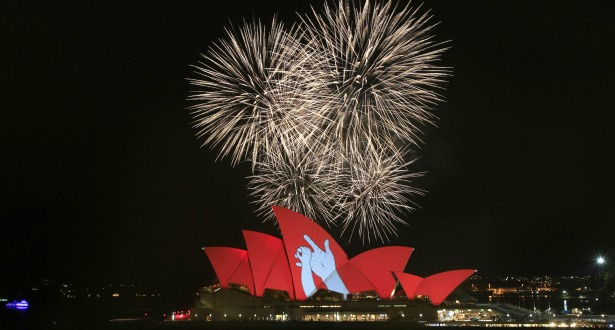 Sydney Opera House on World AIDS Day 2011 [Rick Rycroft / AP]
---
Ending the AIDS pandemic isn't "merely visionary," says the Joint United Nations Program on HIV/AIDS (UNAIDS). "It is entirely feasible."
There has certainly been enormous progress in curbing the spread of HIV and reducing the number of deaths from the cancers and infections associated with advanced, untreated HIV disease known as AIDS. In 2011, "only" 2.5 million people worldwide were newly infected with HIV, 20 percent fewer than in 2001. "Only" 1.7 million died from AIDS in 2011, a big drop from the peak of 2.3 million in 2005.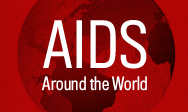 Essays and ideas to mark the 24th annual World AIDS Day
See full coverage
The number of HIV-positive people receiving lifesaving antiretroviral therapy has increased dramatically, from a mere 50,000 worldwide a decade ago to an estimated eight million today. UNAIDS reports that in the last 24 months alone, the number of HIV-positive people being treated (with antiretroviral therapy) worldwide has increased by 63 percent.
Nevertheless, UNAIDS estimates that 34 million men, women and children are infected with HIV. This means that more than 75 percent of them are not receiving therapy. They remain at extreme risk for serious medical challenges--and are still capable of spreading the virus to others.
Many don't know they are infected because they haven't been tested. In the United States, the federal Centers for Disease Control and Prevention (CDC) estimates there are 1.2 million people living with HIV. As many as one in five of them are believed not to know they are infected.
Of those who do know, the CDC estimates that only 28 percent are receiving and adhering to the medications that can keep their viral level at the optimal undetectable level needed to prevent illness--and reduce their infectiousness by almost 100 percent.
Statistics released by the CDC during the last week of November offer reason for continuing concern about HIV. In 2010 young Americans, 13 to 24 years old, accounted for 26 percent of new HIV infections. Some 57.4 percent were African-Americans, 19.6 percent Latinos, and 19.5 percent whites. Overlapping all the racial/ethnic categories, the vast majority (72.1 percent) of infections, were attributed to male-to-male sexual contact. More than half the youths did not know they were infected.
While an AIDS-free generation may be "feasible," we can't reasonably claim to be "close."
What you mean by 'AIDS-free'
When she first referred to an "AIDS-free generation" in a speech on November 8, 2011, Secretary Clinton was envisioning a world in which "virtually" no children would be born with HIV infection, there would be lowered risk of infection in general, and everyone with HIV would get treatment to keep them well and prevent them from transmitting the virus to others.
A new "Blueprint" from the State Department, unveiled November 29 for World AIDS Day, lays out the U.S. government's vision for creating the AIDS-free generation. The report details how the President's Emergency Plan for AIDS Relief (PEPFAR), the U.S. global HIV/AIDS program and the world's single largest source of funding to combat HIV, will help achieve what it terms "an ambitious, but reachable goal."
The Blueprint's vision statement hones with a poet's precision, and license, the steps and strategies needed to attain this worthy goal: "The United States believes that by making smart investments based on sound science, and a shared global responsibility, we can save millions of lives and achieve an AIDS-free generation."
Ariel Pablos Mendez, assistant administrator for Global Health at the U.S. Agency for International Development (USAID) said in a November 28 statement, "Tipping points are occurring in many countries, where the number of annual new HIV infections is below the annual increase in new patients on treatment, marking the beginning of the end of AIDS."
If the end of AIDS is beginning, what will it take to get to the end?
Time to act
Charles "Chip" Lyons, president and CEO of the Elizabeth Glaser Pediatric AIDS Foundation, a global leader in the effort to eliminate HIV and AIDS among children and their mothers, told me the tools and data now exist to virtually eliminate pediatric AIDS.
"So how important is that to people?" he asked.
He described his earlier work with UNICEF's efforts to achieve universal childhood immunizations. In 1980, only 20 percent of the world's children were fully immunized. By the end of the decade, the number reached 80 percent. Lyons attributed the increase to a "very dramatic policy strategy" and funding that followed the persuasive marshaling of data "demonstrating the do-ability of things" to finance ministers and political leaders.
Lyons called the Blueprint "a very strong promise to the next generation." The challenge, of course, is to keep the promise. "The scientific and research communities have done their jobs," said Lyons, "discovered a number of medicines, drugs, combination therapies that have had and are showing dramatic results. So it's the policy and strategy and funding leadership that is required to make the tools available to the widest number of people."
He added, "The shorthand for that is 'political will.' " Which, of course, is a fancier way of saying "get it done."
Gregory Pappas, MD, PhD, administrator of the District of Columbia Health Department's HIV/AIDS, Hepatitis, STD and Tuberculosis Administration, said the time for planning and personal agendas is past. "Now is the time to act," he said.
Pappas said funding needs to be committed to scale up the National HIV/AIDS Strategy rolled out by the Obama administration in 2010. "A lot of smart people worked really hard to make the [strategy] happen. Get on with the show and implement the National Strategy."
In a 2012 article, David R. Holtgrave, PhD, professor and chairman of the Department of Health, Behavior and Society at Johns Hopkins University Bloomberg School of Public Health, and his colleagues estimated it will cost $15.2 billion to achieve the National HIV/AIDS Strategy's 2015 goals of substantially increasing the nation's HIV prevention efforts and the number of Americans who are tested for HIV and, if positive, linked to treatment.
"We have more political will than we've ever had," said Nancy Mahon, Global Executive Director of the MAC AIDS Fund and chair of the Presidential Advisory Council on HIV/AIDS. "But what we need to do is connect the political will to the appropriations process. Those are very big dots."
Do more of what we know works
"What is the business plan for 'Getting to Zero?' " asked Mahon, referring to the theme of this year's World AIDS Day on December 1. "It's a great tag-line, but how do we actually operationalize that?"
The businesswoman recommends that a group of people--perhaps the Presidential council would be well-suited to the task?--"really think through" the implementation of the Affordable Care Act and what it will mean for people with HIV, and the pending 2013 reauthorization of the $2 billion Ryan White Program which supports primary medical care and essential support services for low-income Americans living with HIV.
Mahon said it's high time to focus on groups hardest hit by HIV--gay and bisexual men, injection drug users and sex workers--and to direct efforts and resources proportionately to programs that focus on reaching them with HIV testing and, importantly, retaining those who test positive in treatment.
For now, however, Mahon said the same people most affected by HIV are also those most poorly served by both the existing prevention and medical systems.
Robert C. Gallo, MD, the microbiologist who in 1984 proved HIV causes AIDS and created the first HIV blood test, said the first thing political leaders should do is not make promises. He recalled President Richard Nixon's 1971 war on cancer and President Bill Clinton's 1997 call for an HIV vaccine within a decade.
Gallo said "the most rapid and surest way to really do something" is to "test and treat, and more testing and treating." If done extensively, he said it "could lead to a major decline in the epidemic, and epidemics not kept 'kindling' tend to end."
In fact, the U.S. Preventive Services Task Force, which advises the Department of Health and Human Services and the nation's physicians on the medical evidence for preventive health measures, recommended that nearly everyone between ages 15 and 65 should be tested for HIV, even if they are not at high risk of infection. Evidence suggests that learning of their infection as early as possible leads people who have HIV to access treatment and adopt safe-sex behaviors. The guidelines currently are open for a 30-day public comment period. Final recommendations will be released next year.
A truly successful vaccine "will of course end the epidemic," said Gallo. "It would halt new infections, period." For those with the virus, molecular-based approaches are being researched "which could, in theory, lead to real and total cures."
But, Gallo added, "I have no idea when, and these approaches will likely be limited for the industrial nations, and application for all is impossible to predict. It will heavily depend upon the simplification of the approaches and economics."
Measuring success
"In this field, success breeds success," said Stefano Bertozzi, MD, PhD, director of the Bill and Melinda Gates Foundation's HIV program, one of the world's largest private funders of HIV vaccine, diagnostics and biomedical research. He said the "aspirational goal" is to stop people from dying from HIV.
Even without a vaccine or cure, Bertozzi said a transformation is needed "in the provision of HIV services away from how many people receive a service to how many people derive a benefit from what is produced." He explained, "It's insufficient to count the number of people taking antiretrovirals. That is not our goal. Our goal is to extend life through the use of [medications]."
In 2013, the Global Fund to Fight AIDS, Tuberculosis and Malaria--a public-private partnership and international financing institution--will begin a new funding cycle. In the U.S., both the global PEPFAR program and domestic Ryan White Program will be up for reauthorization. "A huge part of the equation is making sure they are funded into the future," said Bertozzi.
But it's not only that. "There is an opportunity to invest more intelligently," he said, "to make sure that we are investing in the most effective interventions and make sure they are most focused on populations at greatest risk."
Success is possible only with supportive policies, political will in action, including the potential new mandate for universal HIV testing and the Affordable Care Act's guarantee of access to medication for those who test positive. But even with the right policies, the tools that are available to curb HIV are only effective when they are actually used.
As Carl Schmid, deputy executive director of the Washington, D.C.-based AIDS Institute, put it, "The policies are in place, but now we need to implement them. The doctor still has to offer the HIV test."
Success also requires the update of archaic state policies and laws, such as those that criminalize HIV-positive people for not disclosing their HIV status to sexual partners, even if their virus is medically managed at an undetectable level, they practice safe sex, and there is no actual harm (HIV infection) to an HIV-negative partner.
Catherine Hanssens, executive director and founder of the New York-based Center for HIV Law and Policy, said by e-mail, "It is difficult to see how we can effectively encourage early diagnosis and treatment, and prevent new cases of HIV, while we have government policies and laws that single out HIV for punitive treatment." When people risk an extremely long prison sentence simply for not telling--even if he or she also wasn't asked--about their HIV status, regardless of what actually went on, too many prefer not to know, risking their own health and that of their partners.
It is also difficult to see how, short of achieving the Holy Grail of a vaccine, success can be possible when current policy in the U.S. now accepts the status quo of 56,300 new HIV infections a year. Without seriously reimagining prevention interventions, those numbers will continue, thousands more will struggle and suffer and perhaps infect others with what is, after all, still a deadly virus.
Yet innovation in prevention is stifled by equally archaic laws limiting federal funding for HIV prevention to only the least "offensive" materials possible. Rather than the 'targeted, explicit' prevention messages public health experts advocated as early as 1986, the 1987 "Helms Amendment" continues to limit what is considered acceptable. The result is inoffensive--and ineffective, as new HIV infection rates attest. Clearly those most at risk are not being effectively reached.
B.R. Simon Rosser, PhD, professor and director of the HIV/STI Intervention and Prevention Studies Program at the University of Minnesota School of Public Health, told me, "Clearly if you only fund mediocre safer programming, then you only have mediocre safer intervention outcomes." For example, he said that instead of assuming--as is currently common--that "behavioral interventions don't work for gay men" it would be more accurate to say "mediocre, boring and non-controversial interventions don't work for a community which is not mediocre, sanitary boring or non-controversial."
Stephen F. Morin, PhD, director of the Center for AIDS Prevention Studies and the AIDS Policy Research Center at the University of California-San Francisco, who has worked on HIV policy issues since the beginning of the epidemic, also advises greater articulation where it comes to talk about the AIDS-free generation.
"Essentially what people are really talking about is the ability to control the epidemic, not get rid of it," said Morin. "Since we don't seem to be able to get much more than 25 to 30 percent of the U.S. [HIV+] population virally suppressed, there is a lot of work to be done. Even in a control strategy, you would have to detect more cases. You would not only have to link them to services, but get them in the kind of specialty care and support services that would result in long-term viral suppression. All that is tough."
Morin echoed Mahon in calling for political leaders to risk political capital to actually fund and implement their blueprints and road maps.
"I love the National HIV/AIDS Strategy," said Morin. But right now, he added, Washington's budget priorities don't reflect the level of commitment it will take to implement it.
"Budgets are statements of your values," explained the former staffer for Representative Nancy Pelosi. "If you really wanted an AIDS-free generation, you would have a budget for it."