But most bacteria are, like people, "either good or simply present."
Instead of taking your fingerprint, maybe police should swab our belly buttons with Q-tips. No, that's ridiculous, actually. But the idea illustrates a point made by a group of North Carolina-based researchers in their new Belly Button Biodiversity (BBB) project. Last month, the group published results of their first of many experiments, in which they swabbed 60 belly buttons and identified a total of 2,368 species of bacteria. People's individual profiles were snowflake-ily, bacterially unique. 
As the BBB understands it, like exploring the depths of our majestic oceans, there's much to be learned from our belly button hangers-on. National Geographic reported that 1,458 of the species "may be new to science," and some of the bacteria were entirely out of their known context. One person's belly button "harbored a bacterium that had previously been found only in soil from Japan," where he had never been. Another had two types of "extremophile bacteria that typically thrive in ice caps and thermal vents."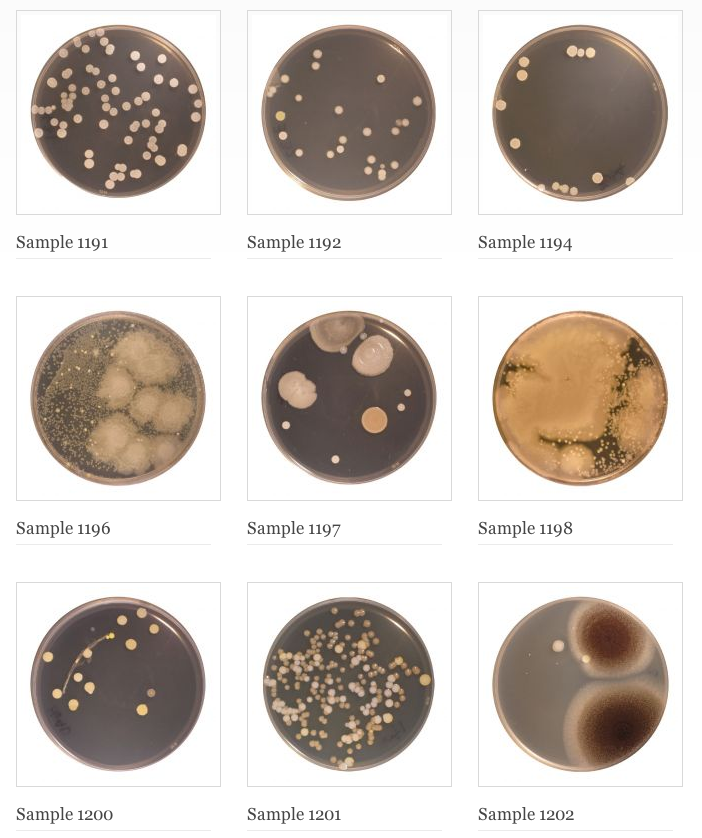 Anonymous samples from a belly button sampling event. Which one are you? F/M/K?
---
"The belly button has captured the imagination for centuries," BBB notes on their impeccably-URL-ed site, WildLifeOfYourBody.org. Prior to those centuries, belly buttons captured no one's imagination. To be fair, in those days, imaginations were much less amenable to capture. They wandered, wily and free, with a discerning taste, the likes of which our indolent, Internet-weary imaginations of today know nothing.