Yawning Fetuses Are Already Over It
New evidence that they're not just opening their mouths really wide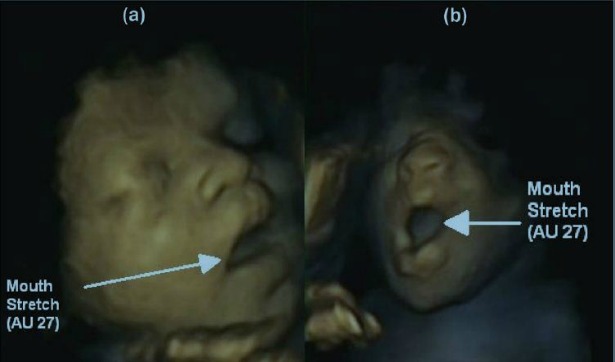 PLoS One
One of these ultrasound images show a fetus yawning, while in the other, it's simply opening its mouth. But from static images like this, it's next to impossible to tell which is which.
Using 4D scans, researchers at Durham and Lancaster Universities announced that were able to clearly differentiate mouth stretches from yawns. With yawns, according to new metrics that they've developed, it takes longer for the fetus to stretch its mouth to its fullest:

The yawn's climax, so to speak, occurs seven frames in.
The jury's still out on what business an unborn baby has yawning in the first place. Yawning doesn't become contagious until around the age of five, and they're pretty isolated in their amniotic bubble, so they're probably not trying to communicate. It's also unlikely that they're expressing sleepiness.
But since it would have been a shame not to publish these adorable In(utero)stagrams, the researchers went ahead and suggested that yawning might be a developmental process. This is backed up by their findings that the frequency of yawning appears to change throughout the fetuses' maturation, peaking at 28 weeks. Based on the timing, it's probably related to brain maturation. Maybe they're developing their irony center.