What's the Sound of One Mollusk Coughing?
Like coal mine canaries, but instead of dying, they rumble.
Scallop coughing
[Di Lorio et al, Journal of Experimental Marine Biology and Ecology]
---
"How do mullusks go to the bathroom?" you asked.
"We don't speak of such things," said your mother, whisking you indignantly to the next tank at the aquarium.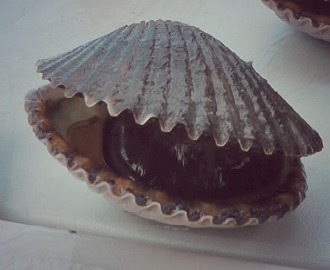 [
Melissa Nelson/AP
]
But now you're older, and it's time you knew. Because it really might matter. It's called "coughing." They push everything out in bursts of water that make this thumping rumble. It's very embarrassing for them.
Recording and measuring the frequency that they're doing it -- with powerful underwater hydrophones (Christmas gift idea) -- could be an important early detector of changes in water quality. Oxygen concentration, chlorophyll, temperature, and salinity all change the way scallops feed and, then, excrete.
Ecologists have historically used mollusks as "early warning systems for human health hazards." But they do it mostly by tediously measuring the little striae (lines) on their shells, because scallops produce them "on a daily basis," and they are very sensitive creatures. Interesting fact, but not a fun job. Recording this thumping, though, is much more chill and lets us not bother the scallops. So they can keep doing their mollusk thing.

French researchers at University of Brest believe "acoustic recording is likely to become a powerful, non-intrusive method for the long-term monitoring of the behavior of a pectinid species (scallop) and its responses to environmental changes affecting growth."