Unemployed, I Went to Spain, to Walk
The 800 kilometer El Camino dirt path is also known as the world's longest psychiatric highway.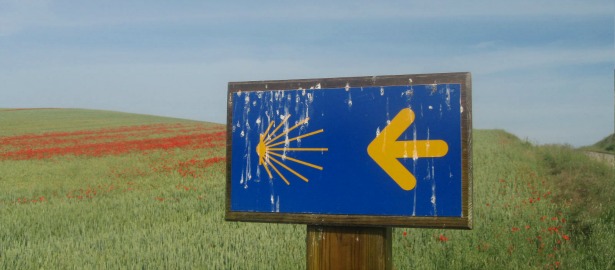 An arrow points pilgrims to Santiago [Amelia Borofsky]
---
For 44 days, I walked El Camino de Santiago de Compostella. "The way to Santiago along the field of stars."

The standard icebreaker along the dirt path is simply, expectedly, "Why are you walking?"
I walked because after earning my doctorate in clinical psychology, I found unemployment. Pilgrimage seemed a good option. En route to Spain, I read a quote from the philosopher Mark Kingwell, "Genuine idling is never an evasion of work; it is instead, as Aristotle argued long ago, cultivation of the most divine element in us through the exercise of leisure: spirited but serious reflection on who we are and what we are up to, free from the base demands of mere usefulness." I was ready for idle walking.
Arriving in St. Pierre at the foot of the French Pyrenees, I knew nothing of the journey upon which I set out. I found out this is a Catholic pilgrimage to honor St. James the Apostle. I discover that I need to wear a scallop shell, which reflects the Camino's pagan roots of fertility. I receive a pilgrim passport that needs a stamp from every church along the way. I learn that we literally will follow the Milky Way to Finnistere, known in medieval times as the end of the earth. I always wondered Where the Sidewalk Ends. In Spain, it turns out.
Rebecca Solnit author of Wanderlust: A History of Walking, writes, "Walking itself is the intentional act chosen to the unwilled rhythms of the body to breathing and the beating of the heart. It strikes a delicate balance between working and idling, being and doing." I walk. I eat bread with chorizo and cheese. Churches offer free warm meals and the cold floor for sleep.
I come lexpecting silence, but find people instead. I discover that over 180,000 of us walk every year. I walk right into the pages of Canterbury Tales where pilgrims share their stories.
I find many Spaniards also on unemployment pilgrimage. Along the dirt path with yellow painted arrows, I meet Francisco.
"Where are you coming from?" I ask.
"Rome," he says.
After walking together a few hours in silence, he shares, "During the housing boom in Spain, I had lots of construction work. About three years ago it all dried up. I did not know what to do and so I started walking." He walks and works in exchange for food and lodging. Francisco shares his chorizo and bread with everyone around. While unemployed, he reminds me that one can have dignity.
Later that evening, I meet his two walking companions. "I met these two," says Francisco, "begging on the streets of Madrid. I told them, you're not beggars, you're young men. Get up and walk with me." One of them planned to walk with Francisco back to Rome. The other one planned to walk to Germany to look for work. We all enter Pamplona together and see young people protesting, camped out in the plaza, holding signs demanding a better economy. The plaza holds wandering dogs, a wine fountain and conversation. In spite of the crisis, Spaniards display resiliency and know how to have a good time.
In the province of Burgos, I find an abandoned Jewish settlement with only one house left. Miguel welcomes pilgrims here. He cooks us paella and over chirping grasshoppers, shares his story.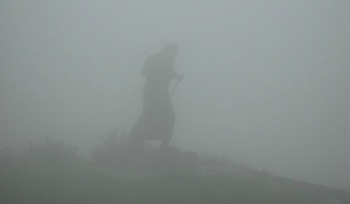 A pilgrim in the Galician mist [
Amelia Borofsky
]
---
"I had never even seen the moon before I walked the Camino," he says. "I'm from Leon. I did well in school and went to work as a stock broker in London." He shares about a London life of large paychecks and business parties with prostitutes. "I was miserable," he concludes.
In a moment of deep depression, he left it all to walk the Camino. After completing the journey, he went back to his father's pueblo in the mountains of León to rebuild his father's farm. In his late twenties, he is the only resident there under the age of 65. With his green eyes growing bigger, he says, "I taught them how a mouse can move on the computer screen and they taught me how to watch a potato grow. "
On the Camino, everything slows down. It takes an hour to move four kilometers. Time is marked by church bells and a sharing of stories.
In Castilla, of the wide wheat fields and big skies, I meet Alfredo. He runs a museum of sacred walks from around the world. Every November, for the last thirty years, he has walked the Camino.
"November is a wonderful time to walk," he tells me. "It is cold, sometimes snowing. Many who walk during this time walk to come to terms with their end of life. They know they have a terminal illness. Last year I walked with a man who had multiple sclerosis. He died a week later."
In front of the Cathedral of Leon, I meet Jin from Japan. He introduces himself as "gin and tonic." He wears the white robe of a traditional henro . I learn that Jin is a Buddhist pilgrim who has walked the 88 temples of Shikoku in Japan. I ask him about Shikoku and his face brightens, "Yes, yes, I have walked Shikoku and now I walk the Camino. I am walking with my mother's ashes and placing them at very holy sites around the world."
He pulls out a stamp and says, "Would you like me to stamp your pilgrim passport?" As he stamps, he explains, "This stamp is made of my mother's bone."
I ask him, "Why are you doing all this for your mother?"
"Because I was a naughty boy," he says. The Camino is a long psychiatric highway to redemption.
As the days of walking turn into weeks this Camino teaches me about sore feet and determination. Today, I walked through wine country behind a woman who sang as she walked. In the evening, when we reach the shared Pilgrim's dorm, I find out she is from Slovenia, and blind. I have to face my own fear of blistering feet and unemployment and wonder about her fears.
She tells me, "Yes, of course, I am afraid. Every day the path changes. This is extremely hard for a blind person who relies on the familiarity of routine. I walk everyday through my fear and I find that people help me."
When I finally reach Santiago, months later, I inquire if she made it. Of course she did.
At this point in the journey, life is reduced to walking with a backpack, washing underwear, eating, sleeping, walking, taking care of blisters, and more walking. It feels good to live simply, on the exterior and close to the ground. In the mists of Galicia, a detour on the path goes by a large stone farmhouse. A woman in her sixties wearing a straw hat stands on the path offering pilgrims raspberries. "It's a lot of work this farm," she says, "but I wouldn't trade it for the world, I can't even stay a night in the city. If not for the farm I'd be locked up in a psychiatric ward somewhere." And then she leaves to take her cows to pasture.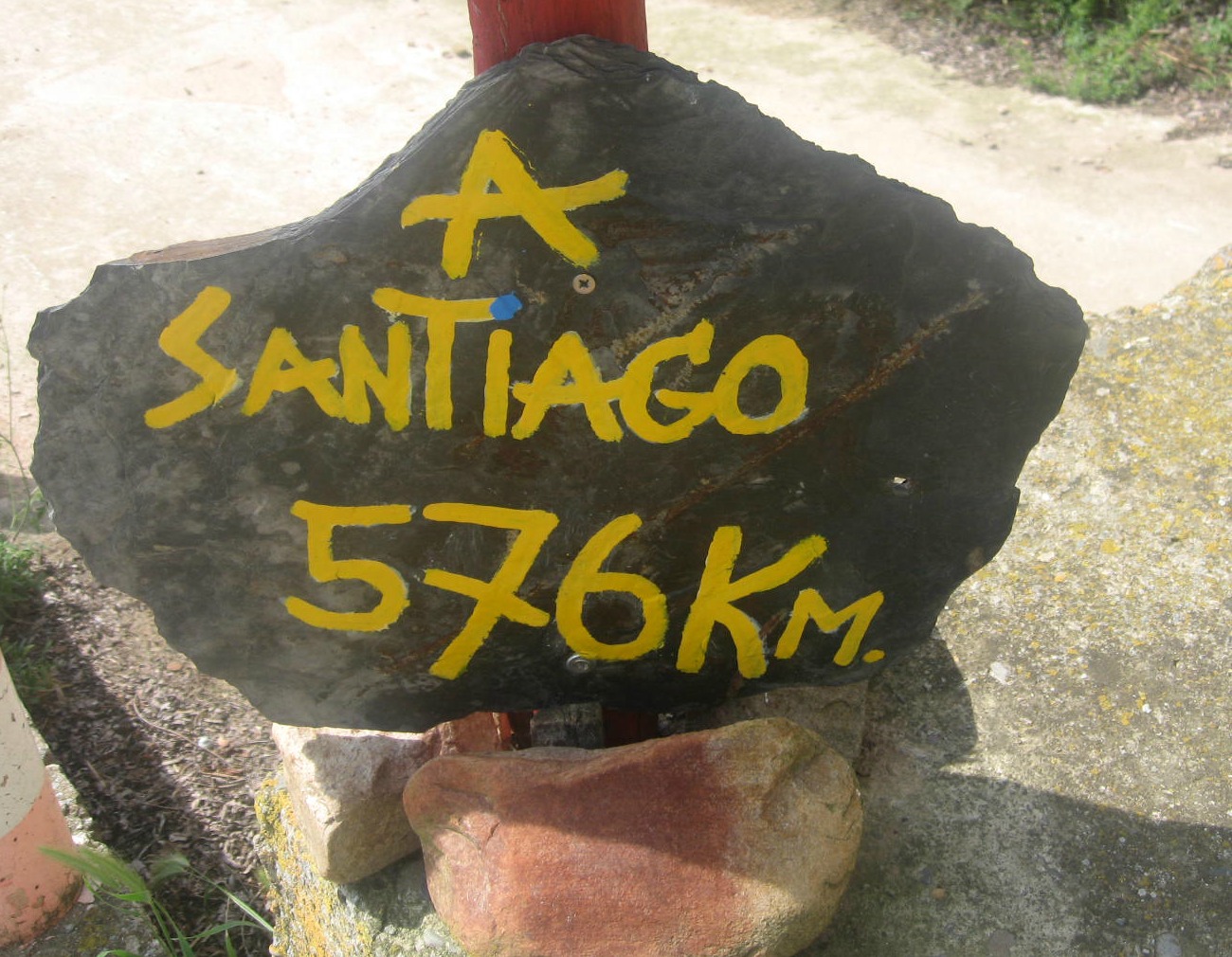 The winner of all the pilgrimage stories is a man I never met. All along the way, I keep finding newspaper clippings about him. Reading in Spanish and bits of Italian, I piece together his story. Antonio Garcia Calvo spent his life working on boats. In 1999, he went cod fishing in Norway. In a newspaper interview he says, "The waves went over 15 meters and cut the boat in half. We were 17 in the crew, 3 of us managed to survive amidst the corpses and floating wood debris. In this moment I made my promise. Ten minutes later a helicopter came to save us. My other two companions died hours later."
While waiting to be rescued he promised the Virgen del Carmen, patron of the sea, saint of sailors, that if he survived, he would walk all the sacred pilgrimages in the world. First, he had to spend 8 months hospitalized in an oxygen chamber. As soon as his health allowed, he took his 36 Euros and started walking. He has now walked 95,000km, more than two circumnavigations around the globe. On his way he met the Dalai Lama and Pope John Paul II. Five years into walking, his wife left him. Ten years into walking through Tibet, China, India and Iraq, he felt his promise completed. "Now I can to rest and spend time with my grandchildren," he told the Spanish press in 2010.
Somehow the sheer awesomeness of all this finally hits me. Walking on a path walked by millions since pre-Christianity, the yellow arrows pointing where to go, the smell of jasmine in bloom, endless wheat fields, gnarled olive trees and old men prepping the grape harvest, half abandoned pueblos and all the magical and strange people. Laying for a rest at a field of red poppies, I see that humility has something to do with being made small by beauty.
As the journey comes to an end the words of Alfredo ring true: "You need six weeks to walk the Camino. Two weeks for the physical body. Two weeks for the mind. Two weeks for the spirit." Idleness is underrated. It is time to head home, where the real camino begins.