The Basics of Post-Sandy Asbestos Exposure
Government agencies are taking environmental hazards seriously.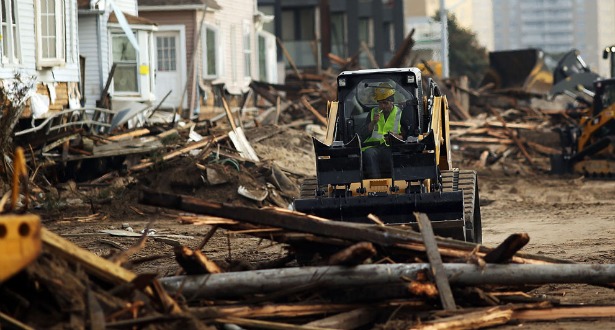 Queens; November 10, 2012 (Spencer Platt/Getty Images)
The day after Sandy hit the East Coast, thousands of volunteers and locals had already rallied, many to work (often ad hoc) on cleanup efforts of damaged buildings. "It's analogous to what happened at the Trade Center," says Raja Flores, MD, chief of Thoracic Surgery at The Mount Sinai Medical Center, where he and his colleagues have for years been tracking some 30,000 9/11 relief workers. "You've got all these innocent people trying to help, and they're subjecting themselves to asbestos, a known carcinogen."
Asbestos is indeed toxic; inhaling it raises your risk of developing a variety of lung diseases, among them lung cancer and mesothelioma. Nationwide, as many as 35 million homes, schools, and businesses may be contaminated with asbestos vermiculite alone, according to one Environmental Protection Agency report. (That asbestos ban you've heard about? It was largely overturned in 1991.)
Government agencies are taking the hazard seriously. Since the storm, the United States Department of Labor's Occupational Safety and Health Administration has tasked 60 ground personnel with the job of teaching workers and residents how to protect themselves against what it terms major environmental toxins, among them asbestos, according to a department of labor spokesperson.
Even so, in some cases word has been slow to get out. "The information isn't always there yet," says Jon Rose, whose nonprofit Waves for Water has been connecting existing volunteer programs to supplies and areas of needs. "It's not an issue of neglect, but there's such an aftermath to this. The scale and scope is just so great."
We've pieced together a breakdown of what's in play.
Yes, asbestos is in some of that wreckage.
Asbestos has a long, weird history. The shorthand is that if you're clearing away old housing debris, you could be at risk. "Most homes and public buildings constructed before the mid 70's are likely to contain asbestos to varying degrees, mainly in insulation and floor tiles. As such, we shouldn't be surprised that we find asbestos-containing materials among the damaged homes and debris," says Tom Hei, PhD, a professor of Environmental Health Sciences and associate director of the Center for Radiological Research at Columbia University Medical Center.
How that translates is difficult to asses. Most asbestos exposure happens through inhalation. When it's wet, as much was immediately following the storm, it can be relatively safe. However, some asbestos was presumably also burning. "There were multiple and prolonged fires," says Flores. "This means that even in those early days asbestos was likely sent out into the air."
Don't just be digging around in there.
When asbestos stays where it's supposed to be (inside your walls or pipes or roof shingles, for example) it's believed to be quite safe. The danger arises when it's disturbed, a catch term for when it's been jostled such that its tiny, sharp fibers become dislodged and float into the air. From there, they can enter a person's lungs and become trapped, possibly leading first to internal scarring and inflammation, later to a variety of diseases. "It's become clear that there is a close association between certain malignancies of the lung and asbestos exposure," says Pierre Theodore. MD, an associate professor of surgery and chair in Thoracic Oncology at the University of California, San Francisco. "Inspection, careful monitoring and professional hazardous material management of asbestos containing material remain cornerstones in prevention of disease."
The same goes for mold and standing water.
Asbestos may be invisible, but reports of thick, dark mold infesting homes, businesses, and neighborhoods are vivid enough. "Mold is a very big concern post-Sandy," says Michael Reilly, DrPH, MPH, director of the Division of Planning and Response at the National Center for Disaster Preparedness and an assistant professor of Clinical Environmental Health Sciences at Columbia University's Mailman School of Public Health. "Spores can become airborne if disturbed, and when they get into your lungs they can lead to respiratory problems, pneumonia and serious infections. People end up quite ill."
Even more troubling may be floodwater that's been let stand since the storm. The Gowanus canal near Red Hook in Brooklyn, for example, was already a federal Superfund site from years of dumping, and following the storm it made its way into houses and streets. "It's highly contaminated with hydrocarbons and volatile organic chemicals, and now raw sewage, which flooded into the water when we lost power in the treatment plants," says Reilly. "The EPA has done samplings of housing projects and buildings out there and found incredibly high levels of bacteria."
Still, there are always ways to protect yourself.
"Whether you're a professional, a homeowner, business owner, or volunteer, wear a hard hat, goggles, heavy work gloves, and water-tight boots with steel toes and insoles for cleanup work," said Christopher J. Portier, director of the Centers for Disease Control and Prevention's National Center for Environmental Health and the Agency for Toxic Substances and Disease Registry. Add to that a mask, ideally an N95-type respirator (less daunting than it sounds). Because toxins can get on your clothes, change them (ideally, leaving them where you've been working) and shower when you stop for the day.
Also, get a tetanus shot. "We're seeing countless residents and volunteers who've stepped on nails or pieces of metal, and even more who've gotten tiny cuts and scrapes," says Reilly. "In an area that's so polluted, one small sore like that can and does put you at risk for a serious infection." If it's been more than ten years since your last booster, you're due.
Some crib notes: Should you see extensive mold, or suspect asbestos (which should always be hosed down and double bagged) or toxic water, never handle it yourself. Always call an expert. Run a dehumidifier in any room that's flooded, and wear gloves plus a mask if you're scrubbing small amounts of mold off walls. Wear gloves, too, when sorting clothing donations, and discard wet items; they may have been exposed to mold or flood water. "If you have questions and see people with heavy machinery who are dressing the part, ask them," says Reilly. "Firefighters and other first responders are taught how to assess and handle toxic materials."
The CDC and EPA each offer a wealth of cleanup information, and the OSHA has an entire section devoted to concerns specific to Sandy. If you're looking to donate or volunteer, ny.gov has compiled a list. Also worth a look, the American Logistics Aid Network maintains a portal for NGOs to connect directly with donors on specific supply needs.