Study: Don't Ignore Cold Feet
People more confident about getting married are more satisfied with their marriages three years in.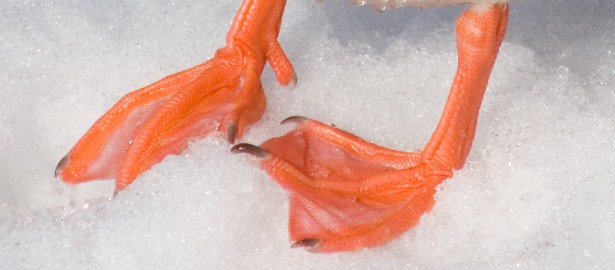 TomiTapio/Flickr
PROBLEM: Marriage dissatisfaction, separation, and divorce. Are we getting married when we shouldn't? How valid is pre-wedding anxiety?
METHODOLOGY: 1,220 subjects in heterosexual marriages recorded their marital confidence (defined as a conscious appraisal of confidence in their decision to get married -- as opposed to appraising the future of their marriage), time spent together, and marital satisfaction at intervals over the first few years of marriage. Researchers at the University of Alberta, Edomonton and Kansas State University then looked at how those three variables were associated. 
RESULTS:
Marital confidence around the time of marriage correlated with marital satisfaction 3 years later. 
Marital confidence at 1.5 years of marriage correlated with how much time the couple spent together. 
Time spent together at 1.5 years correlated with marital satisfaction at 3 years. Most notably, wives' perception of time spent with their spouse had a positive, direct effect on husbands' marital satisfaction.
CONCLUSION: People who are more confident in getting married are significantly more satisfied in their marriages later on. At least, at the three year point. This study didn't look further than that. 
As for whether time together was causing more satisfaction or confidence, or vice versa or neither, they suggest a few possible mechanisms. The bottom line is that all three most likely reinforce each other, in a little self-perpetuating circle of affection and picnics and missives and back rubs, that grows and grows, until, at some point beyond three years, it must become unbearably perfect. Either to the couple, or to the rest of the world. 
IMPLICATION: The authors say this highlights the "potentially important influence of marital confidence on later marital interaction and quality" and recommend "assessing for relationship confidence when working with couples in the early stages of their relationship."
They say it that way because their target audience is therapists and the like. It doesn't mean we all should assess the relationship confidence of couples at our places of work. Though, we do and will continue to. But it is something you could be conscious of in your relationships. Not necessarily as a nidus for ending a relationship, but as a gauge of where you are in terms of readiness to get married. Even when everything seems great, if you're less than confident about getting married, address it.
---
The study, "The Longitudinal Association of Marital Confidence, Time Spent Together, and Marital Satisfaction," is published in the journal Family Process.