No Flowers on the Psych Ward
Administration looks at everything as a possible weapon of self or mass destruction. But we need windows and nature.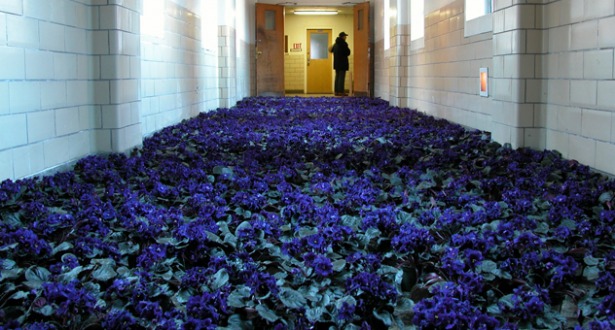 The connecting hallway between the historic part of MMHC and the research annex was covered in blue African Violets. (John Gray)
---
Psychiatric hospitals have a certain smell. Old urine hits the nostrils first and then the sting of bleach. As I unlock the metal doors, the smell lets me know where and what I am: a pre-doctoral intern at a forensic psychiatric hospital in Boston. As I walk down the white hall, I see a white woman in a Harvard sweatshirt, a Boston red-sox cap covering her curly ponytail. She screams, "If you are not crazy when you get in here, you are crazy when you get out!"
Perhaps I was naïve to think that healing was the intention, but on the ward, I find only its absence. The hospital functions as a holding cell for people not safe on the streets and not safe in jail. People rotate through. One of the regulars, an African-American man who whistles loudly tells me, "I was born in a zoo, and I'll die in a zoo." I tell myself otherwise, but it's hard not to feel like a zookeeper.
Boredom fills the ward, too. An African American woman wears the same pink sweatpants all year. She is obese both from the side effects of the her meds and from her never leaving bed. She develops hypertension and then diabetes. I wonder if boredom can classify as an infectious disease. The staff tries to motivate everyone: Exercise classes! Substance abuse chats! Morning meetings!
Some patients feign interest in order to improve their chances of being discharged. It is the staff, and abiding interns, who make all the decisions. Psychiatric hospitals, by definition, disempower patients. Having a crime plus mental illness on your record means a loss of certain rights. But I do not want a doctorate in disempowerment. As the year wears on, I am having a hard time getting out of bed.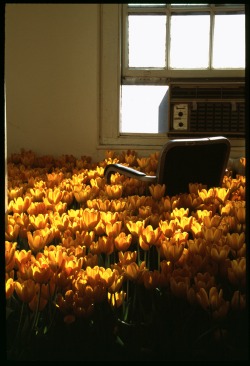 One of the tiny offices on the third floor, with orange tulips at mid-day. (Anna Schuleit)
---
Enter the flower shop. After a particularly hard day, I see a glass window reading "New Leaf Flores." I am greeted with vibrant oranges and twigs. I walk in and the owners offer me a glass of red wine. Their shop quickly becomes my mental health salvation. Every Friday, after walking the white walls of the ward, I walk to their flower shop and spend the evening taking thorns off red roses.
Psychiatric hospitals have no flowers. Visitors do not bring them. They usually bring toothpaste, deodorant and underwear. I ask my supervisor if I can bring leftover flowers from the shop. "Glass vases," he shakes his head. I find plastic vases and sneak in de-thorned pink roses. A patient asks, "Can I give one to my girl?" The next day, the flowers and plastic vases vanish.
So many items cannot come onto a locked psychiatric ward. Administration looks at everything as a possible weapon of self or mass destruction. No curtains. No jewelry. No art. No glass. And, I learn, no flowers, no plants, no nature.
Searching for a way to up both my own and the patients' spirits, I find a wealth of research on the intuitive link between nature and mental health. A few studies conclude that office workers perform better with windows and foliage. Another shows that ornamental indoor plants in hospital rooms enhance health outcomes for patients recovering from surgery.
Then I find the solution I'm looking for. In this study, as I remember it, two random groups of psychiatric patients received plants. In one group, the nurses watered the plants for the patients. In the other group, the patients watered their own plants. On measures of depression before and after the experiment, the patients who watered their own plants showed the most improvement.
I ask my supervisor if we can conduct a similar study. "Talk to the infectious diseases control nurse," he says. I give her a copy of the study and an argument about oxygen. Her eyebrows arch. "Ants, cockroaches, all sorts of bugs" she says and walks away to give a lecture on hand washing. I bring it up in the team meeting. Everyone smiles and nods. I try to speak with the director, whom I never see on the ward. Her office sits outside the locked doors. She has plants. The study never happens.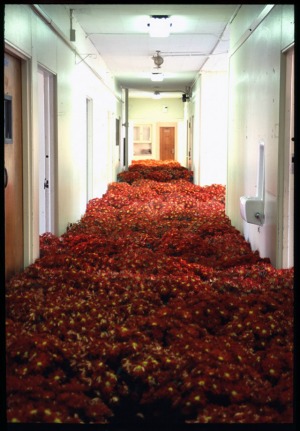 Red Regina Mums in the hallway that was the last one to close--it used to be one of the busiest homeless shelters in Boston. (Anna Schuleit)
---
My supervisor brings me photos from an art exhibit entitled Bloom, commissioned to commemorate the closure of the Massachusetts Mental Health Center. Affectionately known as "Mass Mental," the hospital had been open for 91 years functioning as the premier teaching hospital for Harvard Medical School. It trained thousands of psychiatrists and offered services regardless of ability to pay. In 2003, Mass Mental closed its doors, saying it would soon reopen. The hospital commissioned Anna Schuleit to create art in the emptied space.
To mark the historic closing, Schuleit went through the roster of every patient who had ever walked through those doors. She found 28,000 patients had been served. So she installed 28,000 potted flowers. Former patients, employees, staff, students and the general public came to the opening and walked through the flower-drenched halls. An audio of sounds from the psychiatric hospital played over the old PA system. On the website, Schuleit shares entries from the guestbook. One reads, "Anna saw these corridors as places to be filled with growth. For all the patients who never received flowers, these flowers are for you." After the exhibit ended, 28,000 potted flowers went to people behind bars. The potted plants did not come to our psychiatric hospital.
I still wonder if it might be possible for flowers to enter a psychiatric hospital before all the patients have gone.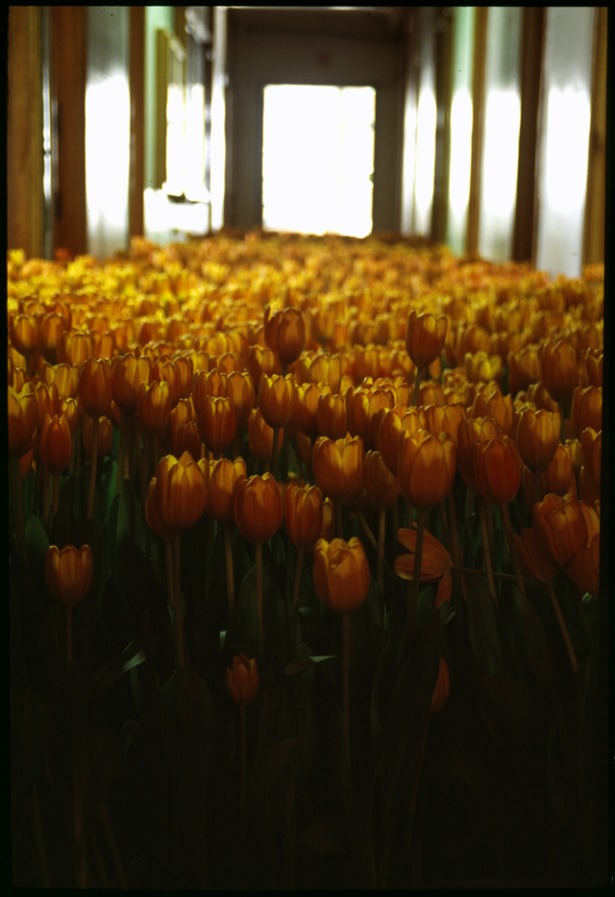 Treatment rooms on the first floor, with orange tulips. (Anna Schuleit)
---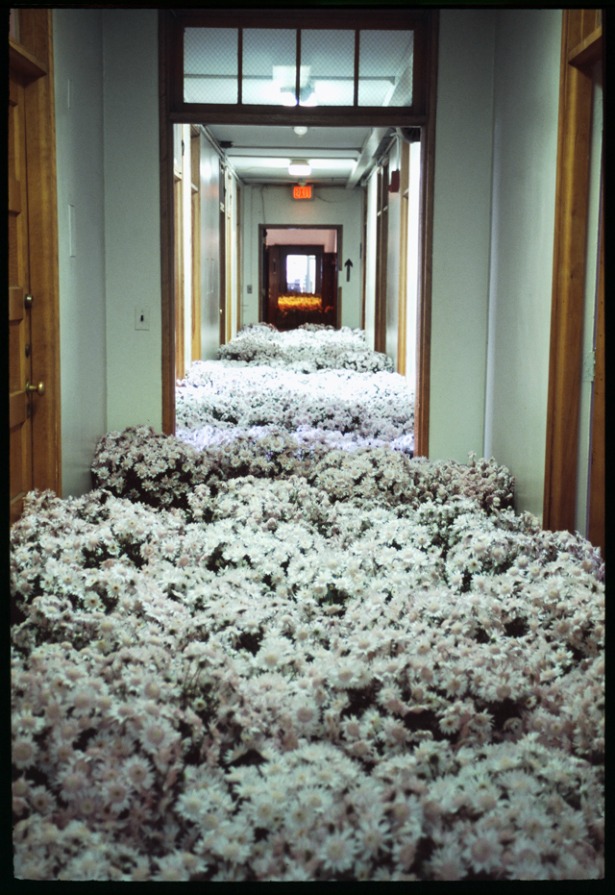 One of the longest axes of the building: white mums and orange tulips on the first floor. (Anna Schuleit)
---
The basement of the building was covered with 5,600square feet of live sod, which was raked and watered throughout the day, and continued to grow. (John Gray)
---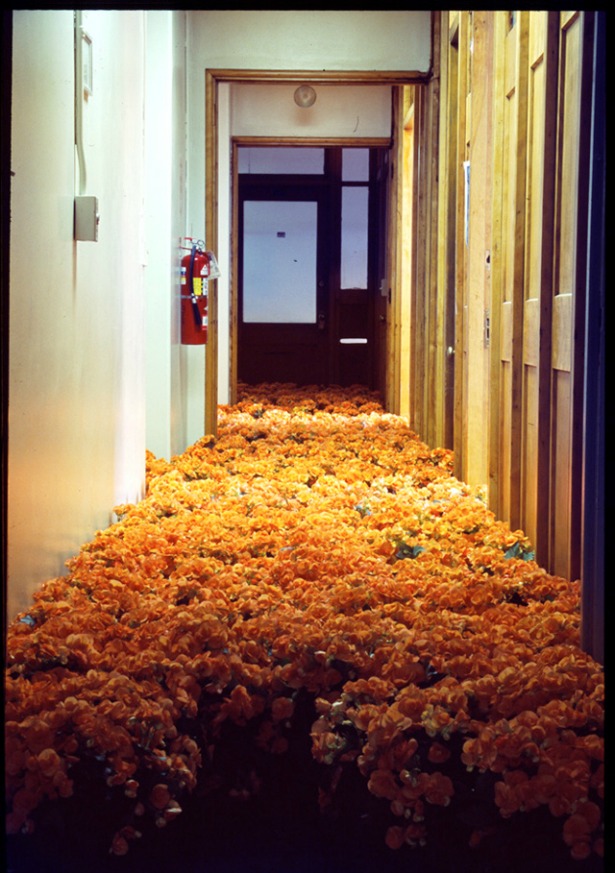 Orange begonias leading to the doctor's offices. (Anna Schuleit)
---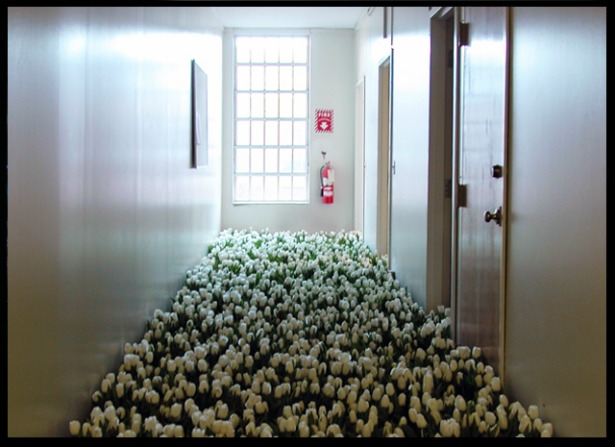 The Child Psychiatry unit with white tulips. (John Gray)
---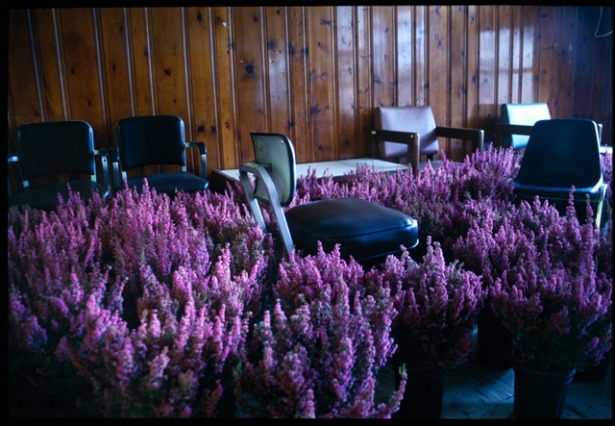 Pink Heather in one of the patients' waiting rooms. These flowers had traveled the farthest to be part of 'Bloom' -- from California. (Anna Schuleit)
---