Here They Come: 3-D Mammograms
New research says the technique improves breast cancer detection by 7 percent, and the Cleveland Clinic is calling it a "breakthrough that will change medicine" for 2013.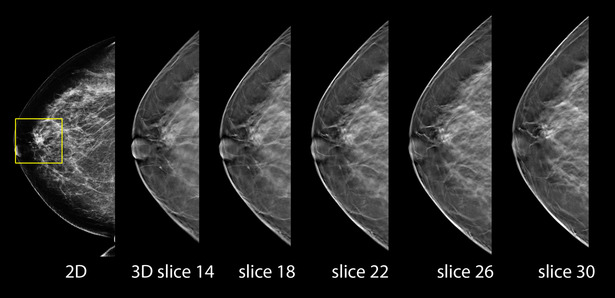 Mammograms are great, but they are not perfect. We still don't see about 20 percent of breast cancers with standard screening mammograms, and they still sometimes lead to well-intentioned but unnecessary operations (removing or biopsying things that end up being benign). Also, more broadly, in light of disputes as to how many lives mammograms actually save, we're always looking to improve.
The FDA recently approved breast tomosynthesis, known more coolly as "3-D mammography." It involves having an X-ray source move around one's breast, and multiple planes being reconstructed to create a digital 3-D image. Doctors can then look at it from every angle, as opposed to the two planar X-rays obtained in standard "2-D" mammograms. As in the above image, 3-D also lets doctors isolate thin planes of tissue in the breast, to see exactly where a concerning area is -- and if it might just be the result of overlapping areas of normal tissue. That can be tough to tell on 2-D.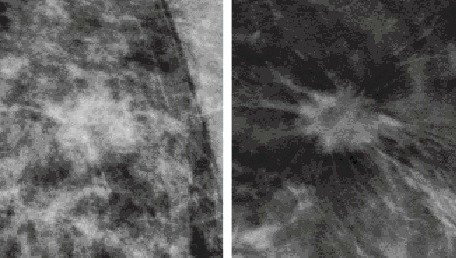 Breast cancer (the white blob in the center) as it appeared on standard mammogram (left) and 3-D (right) [
Rafferty et al, Radiology
]
---
It sounds good, but the most convincing evidence in favor of its widespread use didn't come into play until this week. In a study of 1192 patients at Masschusetts General Hospital -- published this week in the journal Radiology -- 3-D mammograms, when used in addition to 2-D, improved diagnostic accuracy by about 7 percent. That's big. They also led to 26 percent fewer false positives (where we detect something, but it turns out to be nothing). That means less undue worry and fewer unnecessary further testing.

Prior studies had compared 2-D to 3-D and found that the latter was only better in the hands of less experienced radiologists. But in this new study, all 27 of the interpretting radiologists benefited from the additional images.
Getting a 3-D mammogram is no more invasive (and involves only a little more radiation exposure) than a standard mammogram. Each takes about 10 seconds to acquire. It does take more time for radiologists to interpret them -- and, so will cost more up front -- but if the use of 3-D leads to fewer unnecessary invasive diagnostic procedures, and less money spent on chemotherapy and mastectomies, many expect it would decrease the overall cost of screening for and treating breast cancer.
With this study and more in its vein, expect guidelines -- especially for patients at high risk for cancer and with dense breasts that are harder to see through with 2-D -- for potentially rapid assimilation of 3-D.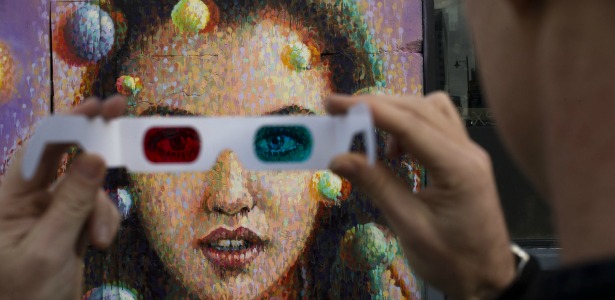 Glasses not needed [MattDunham/AP]