FEMA Approves $8.2 Million for Post-Sandy Mental-Health Outreach
Taking a note from the aftermath of 9/11, a project to address the psychological aftermath of the disaster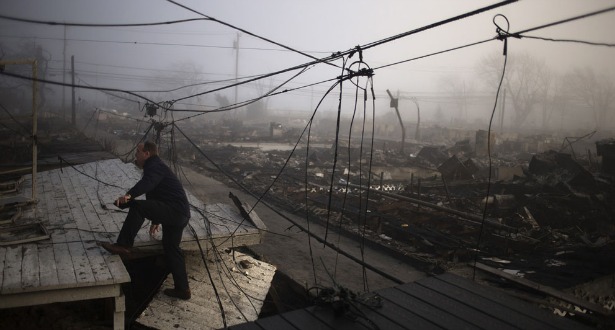 Breezy Point, Queens; November 12, 2012  (Reuters/Adrees Latif)
---
In the wake of the 9/11 World Trade Center attacks, Project Liberty -- the largest disaster mental health response to date -- delivered care to nearly 1.5 million recipients. It was funded by FEMA and carried out by the New York State Office of Mental Health, in partnership with New York City and 9 other impacted counties.
When superstorm Sandy hit the East coast of the U.S. on October 29, it inflicted catastrophic human, property, and community damage -- estimated in dollars to be $50 billion in New York state, not including lost business opportunities. While New York was certainly not the only state impacted, the storm there ravaged one million people in its most destructive zones and has left an estimated 30-40,000 homeless for an unforeseeable amount of time.
Building on its experience with Project Liberty, New York State filed and was approved $8.2 million to deliver immediate mental health outreach, crisis, and educational services to an estimated 200,000 individuals apt to be traumatized by the disaster in NYC and seven neighboring counties in Long Island, Westchester and along the Hudson River Valley. This FEMA grant is called the Immediate Services Crisis Counseling Assistance and Training Program: We call it Project Hope. The ISP covers 60 or more days of services post disaster (and is customarily followed by a Regular Services Program for 9 months or longer, depending on need).
Most people who experience a trauma, in which a person experiences intense fear, helplessness or horror, whether from a natural or human-made event, are resilient. Resilience is associated with good support systems (family and community), trustworthy information, personal coping skills, spiritual faith and realistic hope, and an effective and caring emergency response - one that delivers safety, housing, food and emotional supports.
The graphic below illustrates a timeline of emotional responses to disasters. The goal of the Immediate Services Program is to attend to individuals' emotional needs and thereby promote resilience; when effective, it enables people to return to normative living and forestall the mental and addictive disorders that can emerge in the wake of disaster, especially PTSD, depression and alcohol and substance use disorders.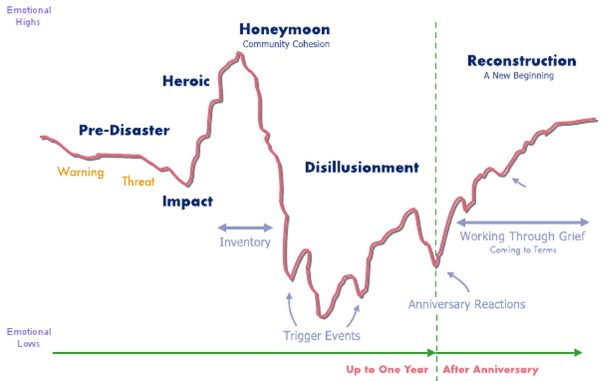 Emotional Phases of Disaster Response, adapted from SAMHSA/The Center for Mental Health Services
---
The populations most at risk to suffer emotional consequences of a trauma are children; older adults, people with prior trauma history, disabilities, serious mental illnesses, and substance use disorders; people with low-incomes; first responders and other public safety workers.
Adults with persistent distress from a trauma show signs of irritability, poor concentration, low mood and hopelessness, isolation, discouragement and uncertainty about the future, persistent grief over their losses, nightmares and flashbacks, new or worsening health problems and alcohol, tobacco and drug abuse. Children, especially those separated from their families, who lost family or friends, or who needed to evacuate or relocate may develop persistent traumatic responses and act younger than their age, perform poorly at school, be isolative, engage in risky behaviors (sex, drugs and physical danger as teens), and even get in trouble with the law.
Within two weeks of receiving the ISP grant, Project Hope will have crisis counseling staff, professional (social workers) and indigenous community workers under their supervision, engaged in outreach to find and engage impacted individuals and deliver crisis counseling and education about disasters and coping in the impacted communities - in settings comfortable and familiar to those in need (like schools, community centers and faith based settings). These community workers will have been rapidly trained, before deployment, in identifying disaster reactions, crisis counseling, managing stress, and keeping careful, confidential records without recipient names so we know who has been impacted and what services were provided. As OMH did with Project Liberty, we will make use of existing mental health, not-for-profit organizations that can hire and deploy staff in the neighborhoods and cultures they know best. A toll-free help line will be up and running immediately, 1-800-LIFENET, to provide confidential, 24 hour/day, information and referral by professionally staffed individuals in English, Spanish, Chinese, Korean and TTY for the hearing impaired.
Crisis counseling staff will rely especially on what is called Psychological First Aid. This safe, now highly utilized, approach to traumatized individuals emphasizes making contact and forming relationships with people by careful listening, seeking comfortable and secure settings for emotional recovery, providing reliable and regular information about what to expect as well as practical problem solving and coping assistance, connecting individuals to the social supports they know and trust, and linking people with needed services.
Disasters have become all too horrifically frequent as 'climate' unrest and the catastrophe it breeds, natural and political, pervade our globe. The need for immediate, safe, evidence based approaches to emotional distress is now a staple of disaster planning and response. With Project Hope, New York intends to serve its impacted citizens and continue to learn about what people need and how best to serve them in these awful yet inspiring moments.