Do Prestigious Residencies Mean Better Doctors?
Styles of practicing medicine vary from hospital to hospital, and they get transmitted to young residents through a "hidden curriculum."
Styles of practicing medicine vary from hospital to hospital, and they are transmitted to young residents through a "hidden curriculum."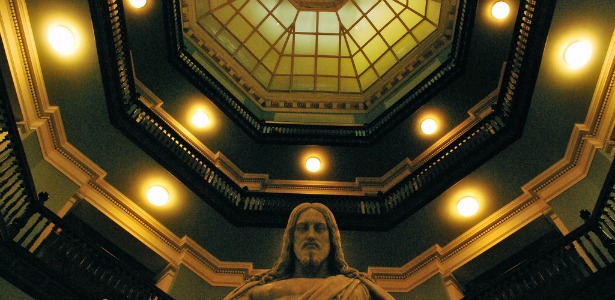 Johns Hopkins Hospital  [AlaskaLoneWolf/Flickr]
Each fall, medical students in their fourth and final year select a medical specialty and apply to residency programs. Residency, which lasts anywhere from three to eight years, is run by teaching hospitals. It's when newly minted MDs learn the hands-on, practical skills of doctoring -- how to make diagnoses, perform surgeries, order and interpret tests, etc. They also learn how to deal with patients and families, and work with other caregivers.
Just like colleges and medical schools, residency programs vary in terms of reputation -- which naturally affects the number and caliber of the medical students who apply to get in. But does training at a prestigious hospital mean residents will become good doctors? Maybe not.
A report from the Dartmouth Institute for Health Policy and Clinical Practice offers medical students a glimpse of the kind of doctors they're likely to become, depending where they do their residency. It compares 23 of the country's "top" teaching hospitals on various aspects of patient care: How they treat patients in their last few months of life, how many surgical procedures they perform, and what the patient experience is like. As the report notes, "understanding variations in the way care is delivered by these institutions is important because it affects residency training and, thus, the way residents in a given program will practice as physicians."
For example, the most prestigious hospitals are not necessarily the ones teaching the most compassionate or even the safest care. Looking at how patients are treated in the last six months of life might seem like an odd way to compare hospitals, much less residency programs, but its actually a good measure of the kind of doctors residents will learn to be, and it speaks to broader aspects of the training program. Looking at these patterns of care can help medical students find the best residency programs for them -- even if they're not necessarily the "best" programs.
Whether they are on the path to becoming pediatricians or pediatric brain surgeons, residents absorb the habits and assumptions of the senior doctors around them. Those habits include things like whether or not to admit patients with chest pain to the hospital, how often to recommend elective surgeries like knee replacements, and what kind of treatment to recommend to patients reaching the end of life.
Practice style varies from hospital to hospital, and gets transmitted to young residents through what's often called the "hidden curriculum." It's one of the most important differences between residency programs. As the Dartmouth report makes clear, there is huge variation in the intensity and complexity of care delivered to very sick patients, even among hospitals considered the best in the country.
The list includes places like Cedars-Sinai Medical Center in LA, where dying patients average twice as many days in the hospital and inpatient doctor visits as the national average -- and they undergo more invasive tests and more time in the ICU on top of that. On the flip side, there's the University of Utah Hospital in Salt Lake City and Scott and White Memorial Hospital in Temple, Texas, where patients have 38% fewer physician visits and hospital days than the national average.
Even more surprising, patient safety also varies widely across hospitals. Stanford and NYU Medical Center have around 20% fewer central line infections than the average hospital; Mass General, on the other hand; has nearly four times as many. At many of the hospitals listed, uncontrolled diabetes is nearly unheard-of, but at Brigham & Women's Hospital, another famous hospital in Boston, and at UCLA Medical Center, patients have uncontrolled diabetes at four times the national average rate. And for some reason, Johns Hopkins -- supposedly a national leader in medicine, and a dream destination for thousands of med students each year -- doesn't report safety data at all.
The report also provides crucial context about what intensity of care means for patients: contrary to what most people (and even many med students) may believe, more intense care doesn't necessarily help patients live longer. Studies by researchers at Dartmouth and elsewhere have not shown that more intense end-of-life care clearly improves or extends patients' lives. Nor are patients and their families more satisfied when they get more hospitalizations, treatments and tests. In fact, the opposite is true: patients at higher-intensity hospitals are much less satisfied than patients given gentler care.
Rankings of this sort have very real consequences. U.S. News & World Report's "Best Colleges," probably the best-known ranking of undergraduate institutions, can change the pool of applicants a school gets and the number of applicants who choose to enroll -- and ultimately the quality of an entering class and the amount of financial aid the college will offer them.
While this report includes only 23 of the nation's most renowned medical centers, data on over 200 hospitals and how they fare in these arenas is publicly available at the Dartmouth Atlas of Health Care.
We hope that this ranking from Dartmouth will be read by medical students across the country, and that they will begin choosing residency programs that teach a safer, gentler form of medicine -- the kind of care patient satisfaction data suggests patients really want. The title of the Dartmouth report poses the crucial question for med students and young docs: "What kind of physician will you be?" The rest of us, all of whom will one day be patients, should be asking a similar question: What kind of doctors do we want?