Concept Bars: Where Everybody Knows Your Name, or Where You Can Drink From an IV Bag?
Around the world in places to drink
We love a great neighborhood bar -- the fictional kind, and the real-life kind that we can settle into for a few hours with good company. We've been familiar with the incredibly creepy HR Giger bar in Switzerland for some time now, but a recent spread on Beautiful/Decay reminded us just how amazing Giger's concept really is. The skeletal stunner inspired us to search out other unique taverns around the world that stretch the limits of our imaginations.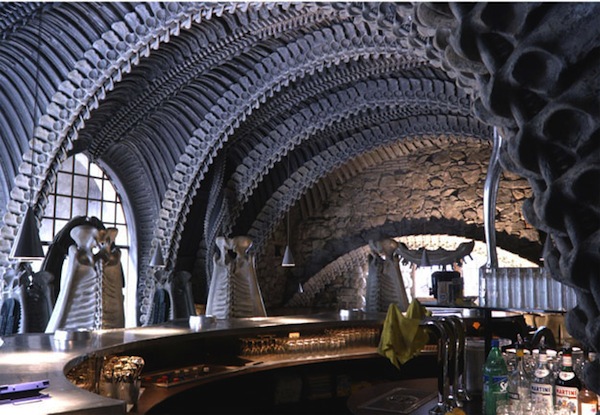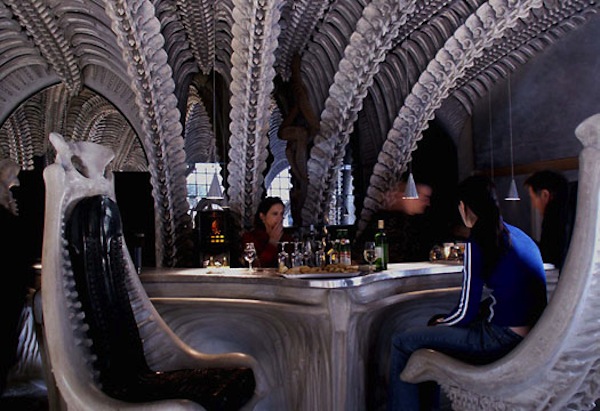 © www.HRGigerMuseum.com
From the mad genius behind the creature designs in Ridley Scott's Alien comes the HR Giger Bar in Switzerland. The skeletal setting invites patrons inside the belly of one of Giger's surreal beasts. Vertebrae arches, eerie relief wallpaper, and chairs that resemble torture devices make for a darkly elegant, intimate gathering like no other.
---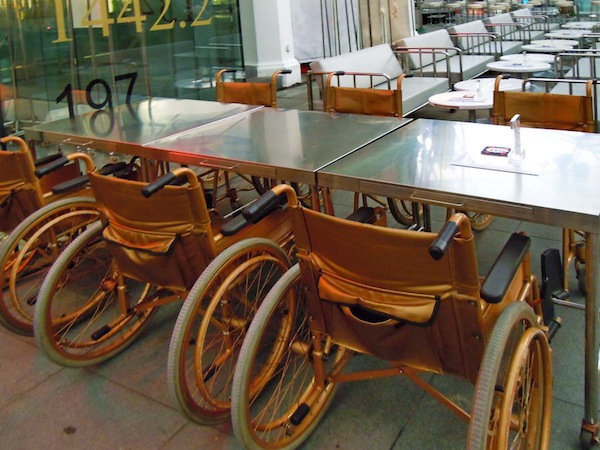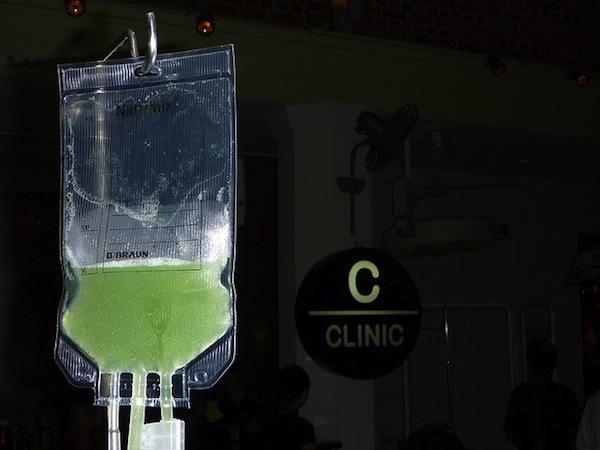 Inspired by Damien Hirst's Pharmacy installation, Singapore's Clinic is a medical-themed bar that features wheelchairs, hospital beds, operating room light fixtures, drinks from IV bags, and more.
---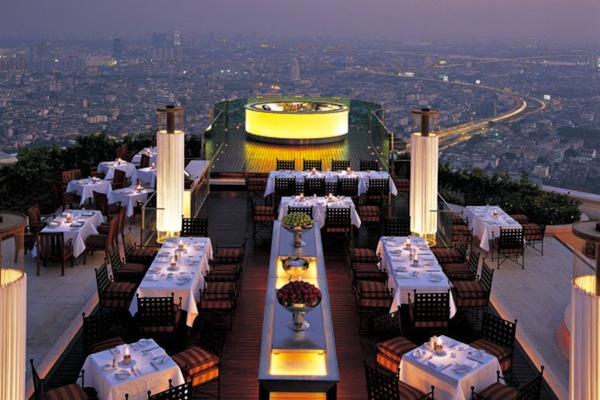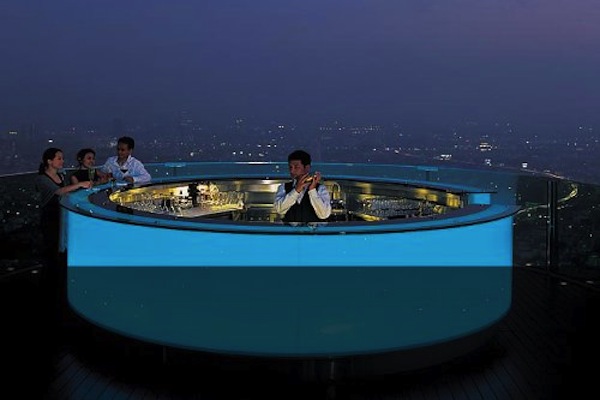 The suspended Sky Bar in Bangkok provides patrons with a panoramic view of the city and Chao Phraya River -- a 63-floor high luxurious experience.
---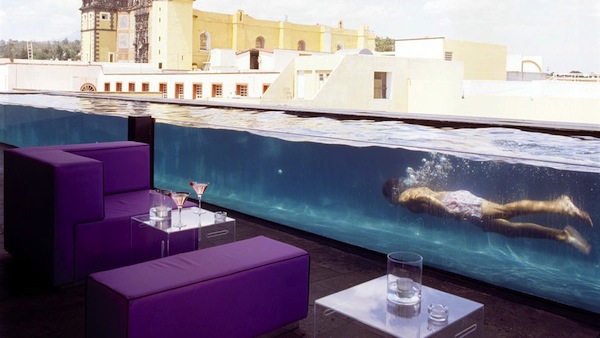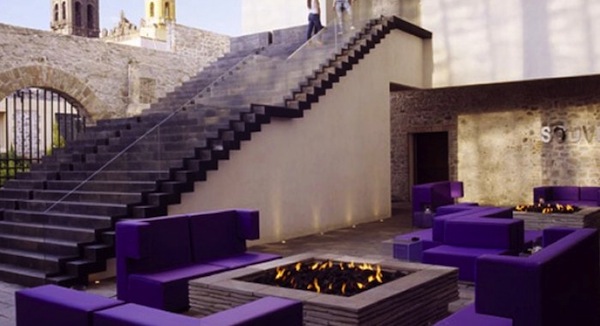 Puebla, Mexico is proud to invite guests to its bar at the La Purificadora hotel where contemporary-style granite and onyx design live side by side with the city's colorful, ancient architecture. A glass-walled pool lets hotel guests swim alongside those sipping cocktails on purple couches, around an open fire.
---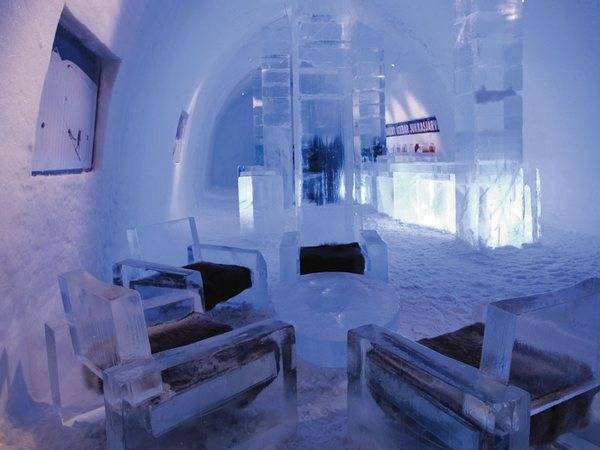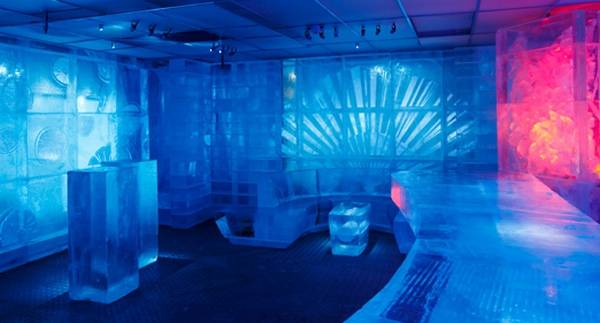 Sweden is home to the original Icebar where the temperature is a chilly 23 degrees Fahrenheit. It's the perfect place for a frosty beverage since everything inside the bar is made from ice harvested from the Torne River in Swedish Lapland -- including the glasses you drink from.
We'd also suffer the cold in Quebec City's amazing Ice Bar, pictured below.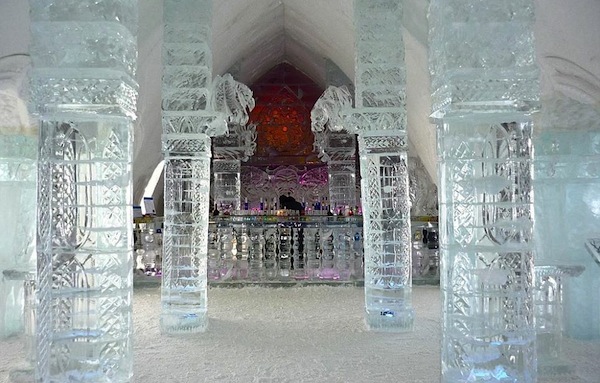 ---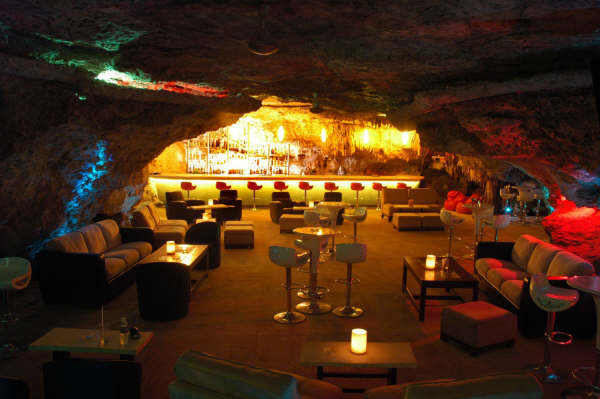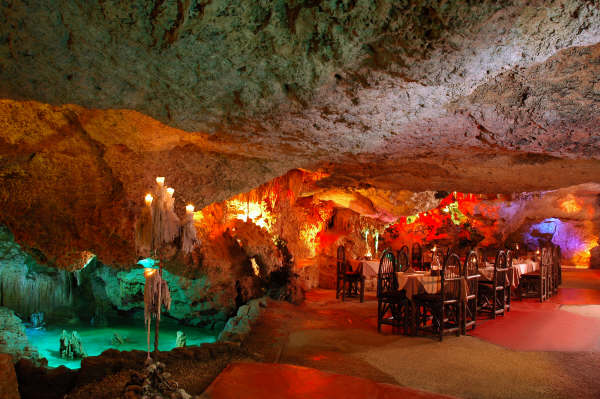 Stalagmites and stalactites abound at Alux in Mexico. Named after mythological Mayan beings said to live in caves, the bar calls one such underground cavern home.
---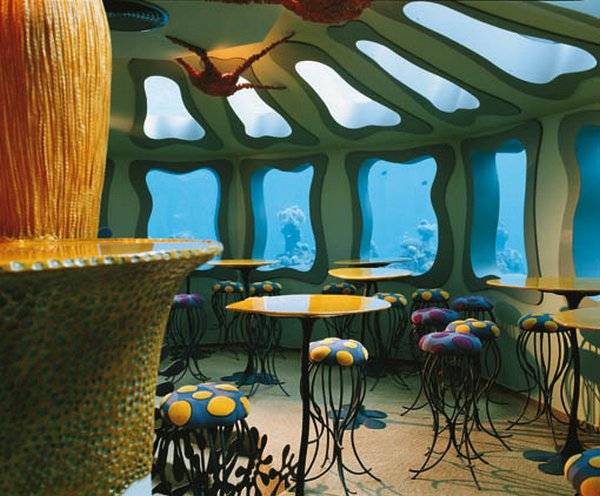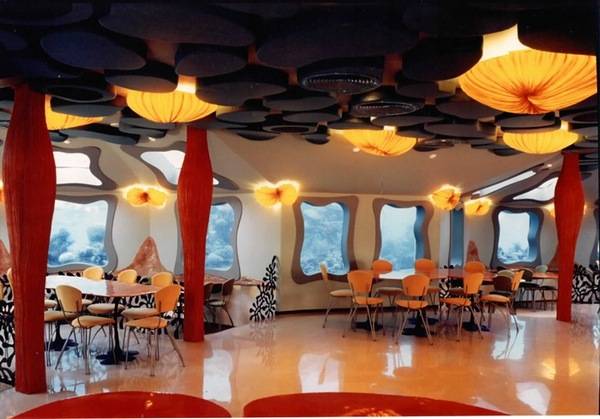 An underwater bar and restaurant, the Red Sea Star located in Eliat, Israel is filled with oceanic decor. Its observatory set-up makes for a relaxing atmosphere to enjoy the surrounding real-life sea creatures and calming waters.
---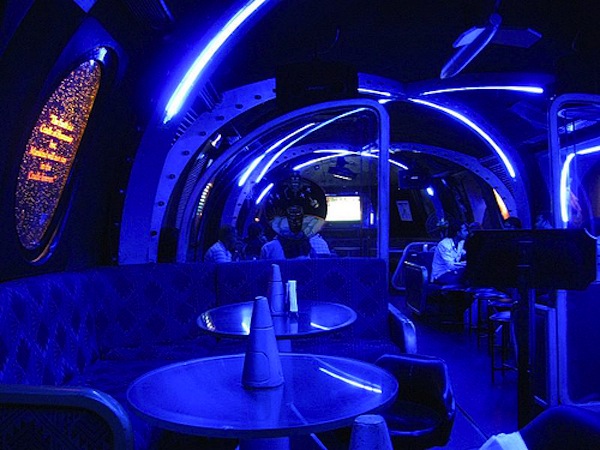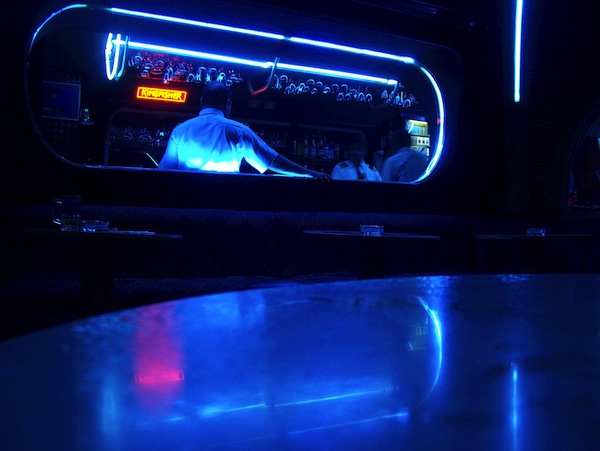 Nasa Pub
Bartenders and servers wear spacesuits and pilot uniforms at Nasa in Bangalore, India. Rocket fins, space shuttle doors, laser beams, portholes, and other cosmic touches make the bar a place Stanley Kubrick would have loved.
---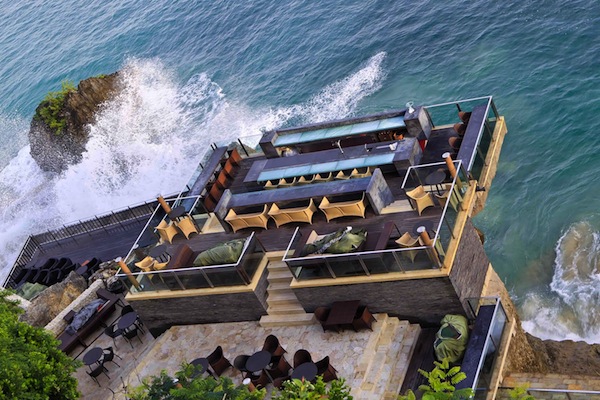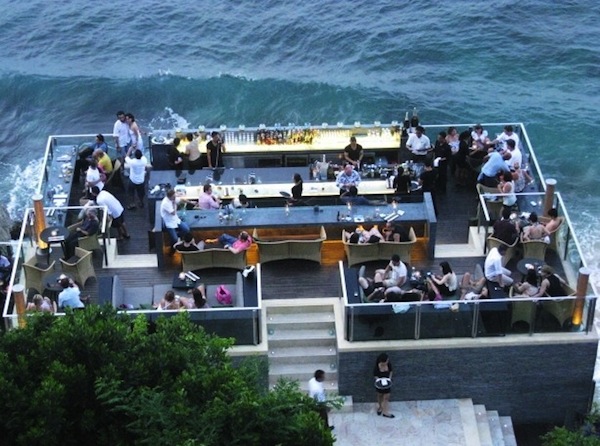 Bali's Rock Bar is billed as "360-degrees of sheer glamour on the rocks." It was designed by Yasuhiro Koichi from recycled glass and is located over 45 feet above the ocean. Part of the bar is accessed via a natural cave.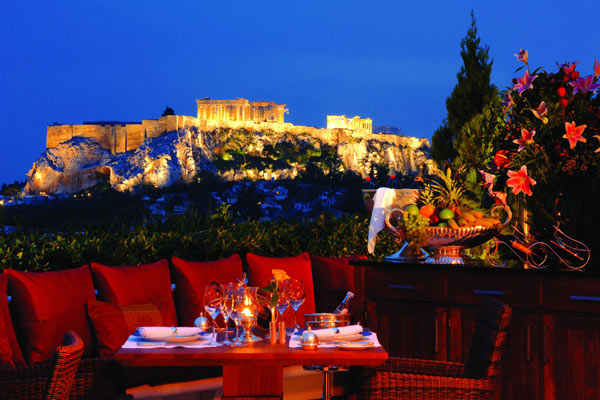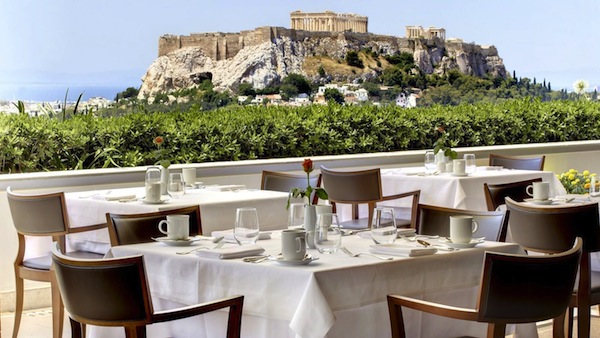 Dear GB Roof Garden: we would really love to have a drink at your breathtaking bar and pretend to be Gods and Goddesses while we gaze at the Acropolis and Lycabettus Hill. Please adopt us.
---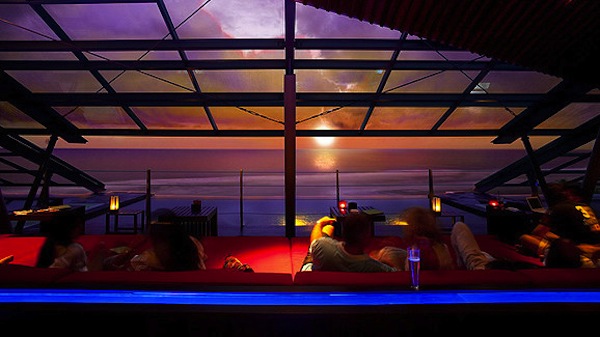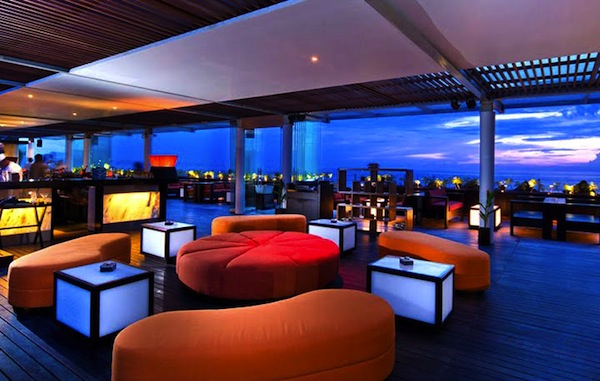 Recline on oversized day beds and watch the sun set at SOS in Bali. The rooftop view is breathtaking and speaks for itself.
---
This post also appears on Flavorpill, an Atlantic partner site.