Tainted: Why Gay Men Still Can't Donate Blood
Especially with the country in great need of donation, science should speak louder than stigma in determining who can help.
Especially with the country in great need of donation, science should speak louder than stigma in determining who can help.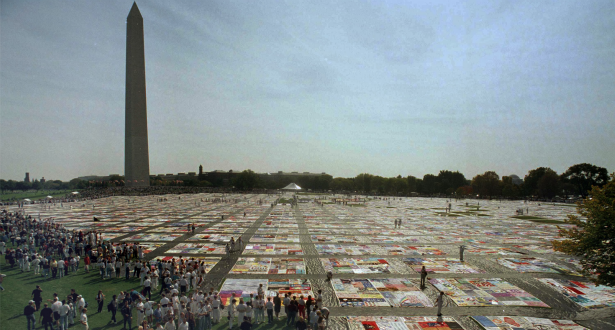 Shayna Brennan / AP
I gave blood in the caucus room. That sounds like a Bob Dylan song, but it's actually a description of my experience donating blood to the Red Cross at the U.S. House of Representatives this summer. The bruise on my arm has healed, but the injury to my sense of justice has not. In the weeks following my donation, I have been preoccupied by the fact that while I as a heterosexual woman am encouraged to give blood, others are barred from making the same vital contribution. If I were a man who had sex with another man after 1977, I would have been turned away.
I decided to heed the call for blood after power outages paralyzed the Washington, D.C. metro area in June. A story on National Public Radio informed listeners that blood banks in Virginia were running dangerously low because regular donors were unable to travel to donation sites. Imagining patients suffering when a simple solution existed led me to sign up that afternoon.
It was the least I could do. I'm healthy, haven't left the country in a couple of years, and don't mind needles. The fact that the site closest to me was the House of Representatives only strengthened my conviction. Here was an example of the government doing its job--helping those in need; encouraging civic participation. And the atmosphere in the Caucus Room on the day of my donation -- thick drapes, gilded ceiling, good-hearted staffers dropping in to give a pint -- instilled the appropriate combination of nerves and excitement.
But as I sat in a makeshift Red Cross booth, answering questions that would determine my eligibility to donate, alarm at an emerging pattern crept over me. There were the usual health and travel-related queries: have you left the U.S. in the past twelve months; have you ever had Chagas's disease. Then came a disproportionate number of questions relating to potential HIV infection. After several inquiries about needle use and contact with potential HIV carriers, I was asked: had I ever had sexual intercourse with a man who has had sexual intercourse with another man, even once? Well, no, not that I know of. But then again, so what if I had? Would they turn me away on the spot? Should I have prepared an inventory of all past partners?
I had plenty of time to ponder these questions while sipping my orange juice and waiting for my blood bag to fill. As I sat there, needle in arm, images of the recent AIDS Quilt display on the National Mall drifted through my mind. I had visited the Quilt the week prior and helped fold the patchwork for the night. A young girl read the names of the deceased as I held the worn fabric in my hands -- silk, cotton, wool -- stitched thick with cloth flowers. This 5.4-ton piece of community folk art, the largest in the world, is a living testament to those who survived the years when AIDS was stigmatized and the infected were pariahs. More squares are added each year, thanks to the diligence of the Names Project.
Since 1983, Food and Drug Administration (FDA) guidelines have disqualified men who have ever had sex with men (MSM) from donating blood. The policy has been heavily criticized recently for misrepresenting 21st Century scientific realities; and the American Red Cross, alongside senators, universities and other organizations, have called for an updated policy that reflects the realities of modern science and technology.
In talking to friends about my experience, I learned of nation-wide efforts requesting that the FDA update the Red Cross questionnaire. Schools around the country have responded with petitions challenging the legality of the policy and calling on the FDA to change the policy's outdated origins so as to reflect modern science and medical literature on HIV. Both San Jose State University and Southern Oregon University have cancelled campus blood drives in protest. In an example of a collaborative move to influence the FDA, members of the Middlebury Open Queer Alliance engaged the Vermont Red Cross in an open forum in 2008. David Carmichael, head coordinator for the Vermont Red Cross, was a proponent of the forum, which attracted 200 students, faculty, staff, and administrators.
Intending to overcome the acrimony that deters potential donors, Ryan Tauriainen, then Middlebury Alliance president, "hoped the meeting would inspire cooperation between the Red Cross and Middlebury College in order to petition the FDA to rethink its discriminatory policy." Inspired by the University of California, Berkeley's "Sponsor Drive," Middlebury encouraged eligible donors to "sponsor" a gay student by giving blood in his name. Donors were asked to sign a petition to the FDA to lift the ban on MSM donations. The drive's success -- 55 students were sponsored and 140 people signed the petition -- speaks to the enthusiasm behind making the policy more inclusive. Tauriainen created a guide -- "The Middlebury Model: An Educated Approach to Protesting Blood Drives"-- that he hopes will encourage Red Cross-university partnerships across the country in an effort to eliminate the lifelong ban on MSM blood donations.
The FDA maintains that despite available screening technologies that can detect HIV within days of infection, there is a risk, however marginal, that the virus will go undetected. Ease and accuracy of testing sharply contradicts this assessment. According to Donald McNeil writing for The New York Times, the over-the-counter mouth swab OraQuick Test by OraSure Technologies, approved by the FDA in July, yields results in 20 to 40 minutes and represents "yet another step in the normalization of a disease that was once seen as a mark of shame and a death sentence." When medical professionals administer the test it is "extremely accurate," says McNeil. The one drawback to over-the-counter test kits, McNeil adds, is that precision in HIV detection declines with consumer use; the level of accuracy for consumer kits presently hovers between 92% and 99%.
The truth is that all donated blood, once collected, undergoes substantial testing to determine whether HIV or other diseases are present. Screening technologies have seen significant improvements over the past few decades, says Dr. John G. Bartlett, an HIV specialist and former chief of Infectious Diseases at Johns Hopkins University. Dr. Bartlett notes that while there remains an opening in the "window" between exposure and when antibodies--the body's response to HIV--are detectable, as infections can bypass detection within the first few days, the lag time between transmission and detection has diminished. Nucleic acid testing (HIV RNA screening), used in conjunction with antibody testing, looks for presence of genetic material of the virus and can usually detect infection after eleven days. These technologies suggest that the blanket lifetime exclusion perpetuates a thirty-year-old bias, one that medical advancements have taken important strides to eliminate.
Dr. Michael Busch, Director of Blood Systems Research Institute (BSRI), suggests that based on current risks of HIV transmission, a move to a one-year deferral for MSMs is "reasonable." Advances in screening technologies have resulted in an "extremely low" risk of HIV passing undetected, according to Dr. Busch, and a deferral period of three to six months should be sufficient to prevent exposure to a high degree of certainty.
As it stands, the possibility of HIV transmission by blood is significantly slim, with an estimated risk of one in 1.5-2 million transfusions. Aside from MSM individuals, the only groups facing permanent deferral are individuals who have received payment for sex, intravenous drug users, and individuals who have tested positive for HIV and other infections. Uneven application of exclusion to at-risk individuals suggests that risk aversion disproportionately impacts MSMs. For example, a non-MSM individual who has had sexual contact with a commercial sex worker or HIV-positive partner is deferred for only twelve months while other groups are not subject to deferral at all.
Dr. Brian Custer, Associate Investigator in Epidemiology and Health Outcomes at BSRI, supports Dr. Busch's stance by calling for parity in the eligibility rules for blood donation. Dr. Custer points out that the current policies are selective in how donations from potentially higher-risk persons are regulated. To this end, he is leading a series of studies that seek to provide the FDA with scientific evidence to inform possible change to the MSM deferral policy.
The first study, supported by the National Heart, Lung, and Blood Institute (NHLBI) of the National Institutes of Health (NIH), is being conducted as part of the second Retrovirus Epidemiology Donor Study (REDS-II). This study includes the American Red Cross, Blood Systems, the New York Blood Center, and OneBlood, which together are responsible for collecting more than 60% of the US blood supply. An analysis of existing data on the proportion of blood donors testing positive for transfusion-transmissible infections including HIV and hepatitis B and C, and associated risk factors for these agents was initiated in 2011. This study will provide baseline estimates of the current risks of transfusion-transmitted viral infections in the US blood supply. Additionally, the study will determine risk behaviors in donors who "passed" the donor screening questionnaire, including those donors who denied any risk factors but were found to test positive for HIV. The study attempts to gauge how misinformation enters the screening interview and undermines the vetting process for donor eligibility. The study does not seek to "point fingers" at those who provided incomplete information during the screening interview; instead, by analyzing the background of those donors, it provides a clearer picture of what the risk factors in blood donors with HIV and other infections are, thus providing the FDA with a "baseline for risks in the blood supply," according to Dr. Custer.
The second key study, developed in collaboration with University of California San Francisco Center for AIDS Prevention Studies, is being conducted as part of the NHBLI Recipient Epidemiology and Donor Evaluation Study (REDS-III), a larger research program aimed at helping improve blood transfusion product safety and availability in the US and internationally. The new study is an assessment of opinions and perspectives on the current MSM blood donation policy. This study seeks to identify behaviors of men who are currently eligible to donate as well as those who are not, as little data exists on the prevalence of risk within those groups. In considering whether to move to a one-year or five-year deferral policy for MSM (another possibility that has been discussed), it is crucial to understand whether attitudes toward compliance would change--whether lifting the stigma of the lifetime ban would encourage individuals to be more honest during the screening process, and whether a new policy would result in a net increase in donors. Dr. Custer emphasizes the importance of compliance with whatever policy the FDA decides upon.
Additionally, the FDA has indicated a willingness to revisit its policy, as evidenced by a Request for Information (RFI) published online in the spring of 2012. Studies that allow certain MSM to donate could potentially alter the illusion that all MSM individuals constitute a uniform risk to the blood pool -- one that requires that they be excluded for life.
Many countries including the United Kingdom and Brazil have a one-year deferral period, allowing MSMs to donate blood if they have not had intercourse with a new partner within that time. The United States lags behind other countries that have moved away from questions concerning sexual orientation or MSM contact during the donor screening process. Dr. Busch explains that South Africa and Italy base eligibility on the number of sexual partners in the period before donation. According to Dr. Custer, the Australian equivalent of the FDA is contemplating reducing the one-year deferral criterion for MSM individuals to six months due to technological advancements that have narrowed "the window" of detection.
The fact that the U.S. upholds a lifetime ban on MSM donation while Australian policy allows MSM individuals to donate a year or less after contact reveals a glaring discrepancy. Both ethics and science point to a flaw in FDA policy. That I could have had sex with 365 partners this year and be a perfectly fine candidate for donating blood, while the MSM next to me wouldn't qualify, betrays a faulty line of logic.
The celebratory sentiment of Quilt volunteers on the Mall would likely have wavered had they known that close by the myth that AIDS is a "gay disease" is alive and well. The irony is obvious: a tribute to AIDS victims on the Mall and AIDS discrimination in the House. This summer, the U.S. Department of Health and Human Services and the Centers for Diseases Control and Prevention launched the 'Lets Stop Aids Together' campaign to help eliminate the long-standing stigma and misconception surrounding HIV in the U.S. Additionally, the international AIDS conference was held in Washington, D.C. for the first time in twenty years following the lift of a travel ban on HIV-positive individuals. But how complete are these triumphs when a federal agency still clings to outdated and misguided policies?
Looking east towards the Supreme Court building, I wondered how the nine justices would respond to this inconsistency. Is it permissible to turn away one high-risk group of individuals while letting others, of arguably equal risk, participate? Is that not the essence of discrimination, the issue over which Tom Hanks' character in Philadelphia sued the law firm that fired him? It seems dangerously reductionist to say that a gay man, irrespective of his risk for carrying HIV, should be banned from giving blood for life, while the notoriously promiscuous man sitting next to him might receive a yearlong deferral at most.
The Equal Protection Clause of the Constitution stands for the equitable application of US laws to all individuals. Historically, the Supreme Court has struck down legislation that unfairly targets groups of individuals based on race, sex, religion, and, more recently, homosexuality. In 2011, after declaring part of the Defense of Marriage Act unconstitutional, the Obama Administration called for stricter application of constitutional protections for homosexuals. The FDA's policy of accepting blood donations from groups of equal -- if not greater -- risk of contamination, while disallowing MSMs, highlights the policy's arbitrary and unconstitutional construction.
This year, a committee at Vermont Law School organized a petition and awareness campaign in conjunction with its blood drive; the committee gathered 140 signatures to send to the FDA advocating for repeal of the ban. The lesson these efforts teach us is clear: the FDA policy is unconstitutional and should be overturned. According to VLS Professor of Law Greg Johnson, "VLS has long been a leader in defending the rights of the LGBT community. Modern detection techniques make the FDA's lifetime ban over-inclusive. The ban is grounded in discrimination, not science. VLS should join Middlebury College and others in leading the fight to repeal this illogical ban." Johnson's theory for how to reform blood donation makes sense. He argues that rather than implementing a blanket one-year ban, which would effectively disqualify most MSMs for life, the Red Cross should be allowed to modify its policies to reflect medical advances. One example would be to alter the questionnaire in order to restrict all high-risk blood donations.
I'd like to think that we've made progress since the AIDS Quilt first came to the Capital. I'd like to believe that, because President Obama and Vice President Biden have publicly sanctioned marriage regardless of sexual orientation, discrimination towards gay and bisexual men would not be so prominently displayed in the White House backyard. Yet my experience, and perhaps that of thousands more, was soured that day on Capitol Hill. Blood is in high demand, and science should speak louder than stigma in determining who can help meet this need. I am proud to have given blood. And I don't believe that my blood is worth more than that of the man who has slept with a man -- even once.