Study: People Who Wait to Have Sex Are 'Less Dissatisfied' in Marriage
Psycho-socio-economically speaking, what's the best age to start boning down?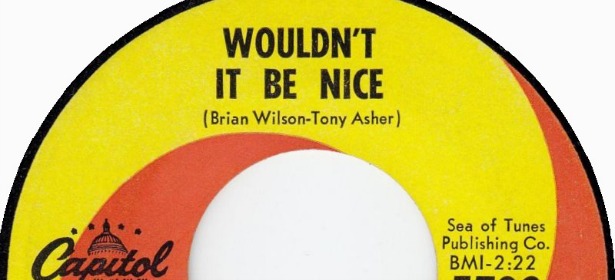 45cat
PROBLEM: A lot of "marriage promotion" and youth health movements are predicated on notions of how adolescent sexual gallivanting influences romantic/marital relationships as adults. The dominant notion is that starting earlier means problems later. But there's more to it. Some of what we've heard from previous research: Having sex at younger ages is associated with earlier marriage and cohabitation, more divorce, and more extra-marital pregnancy.
METHODOLOGY: Dr. Paige Harden in the psychology department at the University of Texas at Austin used longitudinal data to compare the age when people first had sex with how their romantic relationships, and satisfaction with them (and, secondarily, other aspects of life), played out later in life.
Harden used data from 1,659 same-sex sibling pairs in the National Longitudinal Study of Adolescent Health who'd been followed from adolescence to young adulthood. They categorized the subjects based on whether their first sexual adventure was "early" (<15 years old), "on-time" (age 15-19 years old), or "late" (age >19). 
I claim no endorsement of those categories or terms. Except for "sexual adventure," which is mine.
RESULTS (Among many, a highlight): As adults, the people who didn't have sex until they were at least 20:
Earned more money;

Got more formal education;

Had fewer romantic partners;

Were less likely to be married.
If they were married, though, they were less likely to be dissatisfied with their relationship.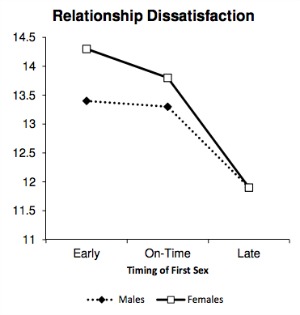 A note on what relationship dissatisfaction is. (Sometimes the way studies define and quantify intangibles is as/more interesting than the result itself). They scored it on six prompts:
We enjoy doing even ordinary "day-today" things together; 

I am satisfied with the way we handle our problems and disagreements; 

I am satisfied with the way we handle family finances; 

My partner listens to me when I need someone to talk to; 

My partner expresses love and affection to me, 

I am satisfied with our sex life. 
Responses were scored 0 (agree) to 4 (disagree), then added up.
IMPLICATION: "The precise mechanisms by which late timing of first sex is associated with lower relationship dissatisfaction remain unknown," but one of their most interesting theories is that it relates to "pickiness" -- in that people wait for super satisfying relationships, so they end up being better. But they're also less likely to be married at all. What's the perfect amount of picky, science?
The study was published yesterday in the journal Psychological Science.