Study: People Who Exercise Have Larger Brains Later in Life
Physical activity correlated with less brain shrinkage in old age. Intellectual exercise did not.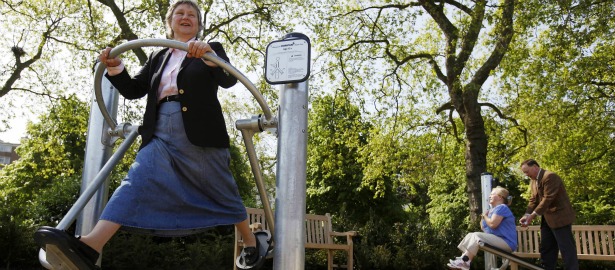 Stefan Wermuth/Reuters
PROBLEM: The brain is a muscle, says every teacher ever. Their point is figurative, but the brain is like a muscle in the sense that it normally loses size with age -- in some parts by as much as 25 percent.
METHODOLOGY: A long time ago, Scotland surveyed the intelligence of every Scottish child that had been born in 1936. More recently, 691 of those former children celebrated their 70th birthdays by filling out a survey about their social and intellectual pursuits and their levels of physical activity. Three years after that, they celebrated their 73rd birthdays by undergoing brain MRI scans at the University of Edinburgh in Scotland. The researchers assessed the brain images for physical signs of cognitive decline.
RESULTS: Physical activity was associated with larger gray and normal-appearing white matter volumes, less atrophy, and fewer white matter "lesions." The relationship was linear: The men and women who exercised had less brain shrinkage and fewer structural signs of cognitive decline. This held true even when adjusting for health status and the influence of brain-related diseases, like strokes.
Mental and leisure activity, on the other hand, did not correlate significantly with reductions in the brains' signs of aging.
CONCLUSION: Exercise could be regarded as a "neuroprotective factor." While doing crossword puzzles on the beach and maintaining an active social life (tango?) can't hurt, physical activity may be the most effective way to keep your brain massive and powerful.
The full study, "Neuroprotective lifestyle and the aging brain: Activity, atrophy, and white matter integrity," is published in the journal Neurology.