Study: Meditation Can Make Us More Empathetic
"Turning the inner eye outward" activates the brain area responsible for empathy and improves our ability to read the facial expressions of others.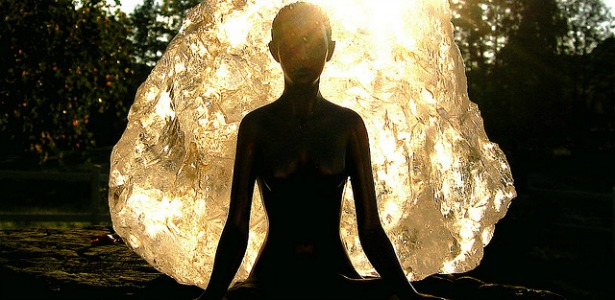 AlicePopkorn/Flickr
PROBLEM: Reading people's emotional expressions when they're more nuanced than an emoticon can be difficult, particularly for people with autism or depression. The ability to accurately gauge the feelings of others, however, is crucial to our ability to empathize and connect with them.

METHODOLOGY: A team at Emory University developed and tested a form of meditation called Cognitively-Based Compassion Training (CBCT). While secular in nature, the program is derived from the logong, or "mind training" tradition of Tibertan Buddhism. The purpose of the meditation is to refocus thoughts and behaviors from being "self-centered" to "other-centered" through eight steps:
(1) Developing attention and stability of mind through focused attention training; (2) cultivating insight into the nature of mental experience; (3) cultivating self-compassion; (4) developing equanimity; (5) developing appreciation and gratitude; (6) developing affection and empathy; (7) realizing aspirational compassion; and (8) realizing active compassion.

For eight weeks, 13 subjects were randomly assigned to weekly meetings where they participated in instruction, guided meditation, and group discussions. They also completed CBCT meditation on their own. The eight control subjects participated in health discussion classes that covered mind-body topics but did not include any meditation.
Both before and after the training, researchers tested the participants' ability to empathize with others by showing them photographs of people making various expressions that had been cropped so that only the eye region was visible. While the participants attempted to intuit the emotional states of the people in the photographs, they underwent fMR imaging of their brains to measure their neural activity.

RESULTS: The participants who had practiced eight weeks of meditation showed significant improvement in their ability to identify the expressions in the photographs, and their improved "empathic accuracy" was accompanied by increased activity in specific parts of their brains (the inferior frontal gyrus and the dorsomedial prefontal cortex) that are associated with empathy. Many of the control participants' scores on the empathy test actually worsened.

CONCLUSION: Cognitively-Based Compassion Training can enhance one's empathic abilities, and it appears to be able to do so by increasing activity in key parts of the brain.

IMPLICATIONS: The researchers see opportunity to use the CBCT technique to help those who struggle with empathy. With further development, it can be a good alternative to proposed pharmacological solutions. But it's not just people with mental disorders or disabilities who can benefit from meditation -- enhanced compassion and connectivity can contribute to individual and societal well-being.
The full study, "Compassion meditation enhances emphatic accuracy and related neural activity," is published in the journal Social Cognitive and Affective Neuroscience.