Study: If You're 'Keen to Stay Cheery,' 7 Fruits and Vegetables a Day
On the psychological side of dietary recommendations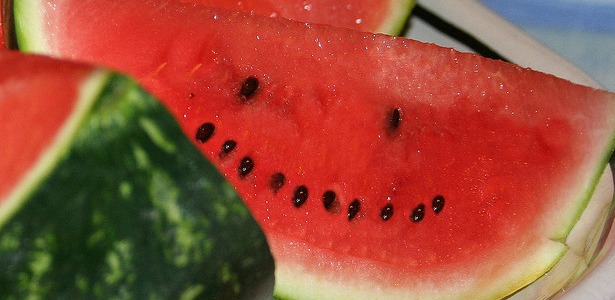 See how happy this watermelon is? ...Do you, though? [WTLphotography/Flickr]
---
PROBLEM: We go on about eating for health, but we're usually talking about the physical side. The World Health Organization recommends five servings of fruits and vegetables a day for your body, but not much is known about how much is best for psychological well-being. 

METHODOLOGY: Economists and public health researchers from the University of Warwick, in conjunction with Dartmouth College, used data from several randomized, cross-sectional surveys that accounted for the eating habits of about 80,000 people living in the U.K. The fruits and vegetables typically consumed by each person were compared with their life satisfaction, mental well-being, presence of mental disorders, self-reported health, happiness, nervousness, and how often they "feel low."
They factored in as many variables as they could think of, including other the rest of their diets, alcohol, and lots of demographic, social and economic factors.

RESULTS: A "remarkably robust" pattern was found, in which "happiness and mental health rise in an approximately dose-response way with the number of daily portions of fruit and vegetables." While in some cases it rounds out at the recommended five per day, well-being appears to peak at seven.
In many cases, the improvements associated with fruit and vegetable consumption were substantial. For example, the authors explain that "When comparing small and large levels of fruit and vegetable consumption per day, the effect corresponds to between 0.25 and 0.33 life-satisfaction points. To put that in perspective, the known (huge) effect of being unemployed corresponds to a loss of 0.90 of a life-satisfaction point."

CONCLUSION: The findings are "consistent with the need for high levels of fruit-and-vegetable consumption for mental health and not merely for physical health."
IMPLICATIONS: This isn't a definitive randomized trial, but it's an interesting correlation that warrants more research. Economist Andrew Oswald in the Department of Economics at the University of Warwick seems pretty convinced, though. As he put it, "This study has shown surprising results and I have decided it is prudent to eat more fruit and vegetables. I am keen to stay cheery." 
Aren't we all, Professor Oswald. Aren't we all.

The full study, "Is Psychological Well-being Linked to the Consumption of Fruit and Vegetables?" will be published in the journal Social Indicators Research.