Study: Gay Adoptive Parents Make Great Adoptive Parents
Adoption is an effective intervention for at-risk kids, and this holds true for those placed with gay and lesbian parents.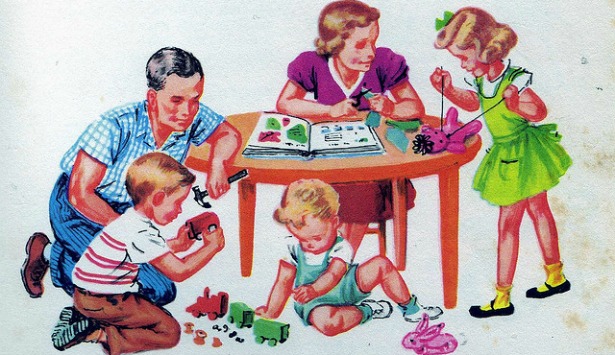 libertygrace0/Flickr
PROBLEM: Should we allow highly at-risk children in the foster care system who are in need of homes and loving families to be adopted by homosexual couples? The quick answer is "yes," but it's always good to have some science to back that up.

METHODOLOGY: This is the first study to compare children who were adopted out of foster care by gay men, lesbian women, and heterosexual couples, and to track their progress over time, explains lead author Justin Lavner, a doctoral candidate at UCLA. The researchers followed 82 children in Los Angeles County -- 22 of whom were adopted by homosexual parents at the average age of 4 -- and evaluated them after two months, one year, and two years after they were placed with their adoptive families.
While studies have previously been done in which children who were adopted by gay parents as infants, the children followed here started out with a number of biological and environmental risk factors acting against them -- like premature birth, prenatal substance exposure, and abuse or neglect -- which the researchers identified from public records.
RESULTS: Children in all three types of households benefited from adoption: on average, they made significant gains in cognitive development -- their IQ scores increased by an average of 10 points -- and they maintained stable levels of behavior problems. What's more, the kids adopted by gay and lesbian parents actually started out with more risk factors, and were more likely to be of a different ethnicity than their adoptive parents, but after two years were on equal footing with their heterosexually-adopted peers.
CONCLUSION: Co-author Letitia Anne Peplau put it succintly: "There is no scientific basis to discriminate against gay and lesbian parents."
IMPLICATONS: Over 100,000 foster children in the U.S. are in need of homes. A potential 2 million homosexual couples are interested in adopting, according to a 2007 study. Only 19 states (and the District of Columbia) allow gay couples to adopt. Even in states where it is legal, added Lavner, discrimination against gay parents makes them less likely to pursue adoption. The numbers -- and now the scientific evidence -- speak for themselves.

The full study, "Can Gay and Lesbian Parents Promote Healthy Development in High-Risk Children Adopted From Foster Care?" is published in the American Journal of Orthopsychiatry.