Study: Even 'Moderate' Drinking Impairs Brain Cell Formation
Blood alcohol levels of .08% are enough to affect the brain's plasticity. 

Michael Dalder/Reuters
PROBLEM: The difference between moderate and binge drinking seems clear. In the former, you're having a few drinks after work or with dinner. The consensus right now is that it's good for your heart. Opening a bottle of red wine? Boom -- antioxidants. With moderate drinking, many don't experience any noticeable impairment.
Binge drinking, by comparison, is 
easier to recognize
.
METHODOLOGY: For two weeks, lab rats at Rutgers were given the equivalent of an open bar: free access to a liquid diet which, for some of the rats, was spiked with ethanol. 
New cells from brains samples during this period were marked so that later, the researchers could go back and count them. The rats' motor skills and associative learning ability were evaluated while they were under the influence.

RESULTS: The rats' blood alcohol concentration was about .08 percent (the legal driving limit in most U.S. states). The researchers considered this moderate. This level of intoxication did not impair their motor skills or their short-term learning.
Daily alcohol exposure, however, did impact the ability of the hippocampus to produce and retain new cells, reducing new brain cell production by nearly 40 percent: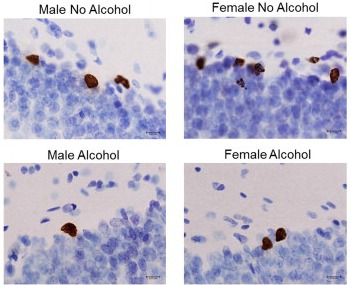 CONCLUSION: A moderate level of regular drinking, for even two weeks, conclude the researchers, "can have profound effects on the structural plasticity in the adult brain."

IMPLICATIONS: A blood alcohol content of .08 percent, which most wouldn't consider a binge, still affects the structure of our brain. The authors warn that while consistent moderate drinking may not be problematic in the moment, its detrimental effects can add up over time -- and can impact our ability to learn new things. Health-wise, the line between how much drinking is healthy and how much is harmful continues to become less clearly defined.
The full study, "Moderate drinking? Alcohol consumption significantly decreases neurogenesis in the adult hippocampus" is published in the journal Neuroscience.