Sandy's Psychological Aftermath
How we process the damages caused by the storms, both super and media

Gary Hershorn/Reuters
I woke up this morning more than a little disoriented, mostly because of the silence. Twenty-four hours after it appreciably began, it appears the worst is over. Here in DC, to be fair, it never actually got too bad. My building didn't lose power, and I got to spend two days working from home, experimenting with dipping various foods in Nutella (because, you know, special circumstances). Still, uninterrupted access to the internet took its toll. Reading the news headlines, trying to figure out which pictures were accurately depicting my sinking New York home, and keeping tabs on all of my far-flung loved ones -- all accompanied by the constant, human-like wailing of the wind -- was enough to keep me in a constant state of unease. Not for the first time, I'm glad I don't have cable.
"The public is asked, in what way do you prefer to be wrong?" Dr. Kermit Crawford, a professor of psychiatry at the Boston School of Medicine who specializes in disaster behavioral health response, told me this morning. It is, he contends, probably better to sensationalize than to be under-prepared, "but it is a vicious cycle." Sure, I appreciate the the New York Times having lifted its paywall, but the downside of making sure everyone knows just how bad things are is that the coverage suggests, at least implicitly, that the world just might be ending.
I asked Dr. Crawford how much of a toll the surreal nature of life being so completely interrupted by inclement weather might be expected to take. He agreed that there's something discomfiting about the trains being stopped, the buses pulled off the road, the planes grounded, even in places that didn't experience the full force of the storm. All are strong signals that things aren't quite right, further played into by reports of extremes: The worst storm to ever hit the East Coast, the lowest barometric pressure on record, $20 billion in damages.
Despite being inundated with coverage, it felt to me like the most relevant information was maddeningly difficult to come by. Proportion got thrown out the window. When the news reached me yesterday from Long Island that a tree had fallen on my grandfather's car, it took several explanatory texts to clarify that he hadn't been anywhere near it when it occurred. My cousin, high up and alone in a Manhattan apartment building, stayed in touch on Gchat until she lost power late in the evening. At various points in the day, she informed me both that she could feel her building swaying, and that she had forgotten her phone charger, preventing her from being able to work from home. I was equally unable to help with either situation. The latest update from my parents, who spent the first of what may turn out to be many powerless nights on Long Island, is that they're stranded in a "mile long" line at the bagel store, the only place open in town. Hours later than when she's used to having her first cup, my mom was able to get a hold of some coffee. Disasters big and small.
For those directly impacted by the storm, we are now, said Crawford, in the honeymoon period: the immediately post-disaster time where the media, attention, and money is around in full force. As he put it, "This is where the neighbor who you never liked and who never liked you waves and grins and says hi." The people dealing with damages, he said, are likely handling things better than those of us stuck looking at pictures of the destruction. When organizing response teams after Katrina, Crawford was surprised by how few people took advantage of mental health services. Turns out, people are resilient -- most focus first on their homes, jobs, and families, saying, "I'll have my breakdown later."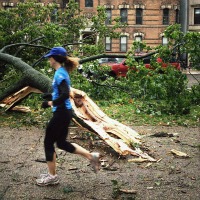 A runner in Brooklyn, 10/30/12 (@andnowtothemoon/Twitter)
---
Crawford emphasized that the best way to assist people in the next few days is to help them get to what he calls their "new normal." If you plan to spend the day as a friendly neighbor, don't try to force help on anyone: It's best to wait for them to tell you what they need. But at some point, he said, "The media leaves, the money goes someplace else, the rescue workers go back to their daily lives." It's generally then that people begin to take inventory of what they've lost, and might need support in dealing with just how different their new normal has become.
What about we who were only tangentially affected, even if just as victims of the (again, not entirely unjustified) media hype? Crawford described being acutely aware this morning, when driving to work, of the leaves and branches in the road, and of the need to be on the lookout for fallen trees. Little things that we're not used to thinking about -- wondering what's open, trying to figure out how to connect with people -- require heightened awareness, he said, and that incurs a certain amount of stress. Not to overstate the point, but life has has changed to some extent, and we're all feeling at least a little bit off from our normal.
While adrenaline levels remain high and the conversation remains dominated by storm talk, it's not a bad idea to take a few deep breaths. Getting back to normal is necessary for everyone, even those whose lives weren't thrown much astray to begin with. Crawford's advice is to check in with people and find ways to help. Sit down and reflect on what you need to do to put things back into place. And if you need help, he emphasizes, don't be reluctant to ask. We're all prone to freaking out when things are so completely out of our control. "It's just normal people dealing with an abnormal circumstance."