October With Metastatic Breast Cancer
Some feel slighted or ignored during awareness month -- counter-examples to the common notion of survivorship. But many are thriving and learning.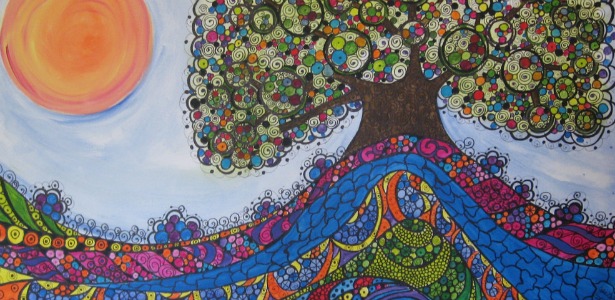 "Are you here for the breast cancer party?" asked the waitress. She wore a black tee shirt and carried a round tray with drinks. She stood by the entry while other women filed into Gino's East pizzeria on Superior Street in Chicago. The elevator was packed.
"That'd be on three," the server said. She hit the button and exited.
On that recent October evening, some 150 people gathered for a welcome reception and dinner of the Metastatic Breast Cancer Network (MBCN). The bulk of the group -- mainly women living with Stage IV disease, along with a few husbands, moms, and other caregivers -- were in town for the organization's sixth annual conference.
Some individuals with metastatic breast cancer feel slighted, ignored or even shunned during October, perceiving - correctly or otherwise - that they serve as counter-examples to the common notion of survivorship. The MBCN program, held in a different city each year, offers current information on research, drugs and social issues particular to patients with advanced disease. They came to learn about their condition and connect with others facing similar concerns.
That night at the restaurant, the mood was festive. The women mingled, greeting old friends with wide hugs and occasional squeals. They swapped stories on plane delays, hotel gyms, shopping and kids. They traded tales of radiation oncologists, bone mets, side effects and friends who died. Later on, they sat at rectangular tables and scarfed down salad, garlic bread, ziti, deep-dish pizza, thin-crust pizza with vegetables, chocolate chip cookies and pistachio-trimmed cannoli. They drank wine, ordered drinks and downed plenty of water. Some lingered over an hour beyond the gathering's scheduled end.
The official program started at 8AM the next morning. At one entrance to Northwestern University's Robert H. Lurie Cancer Center, a plump security guard smiled while directing stray conference-goers to the right building. She wore a silver bracelet adorned with a metallic pink ribbon. The facility's modern lobby looked as it might during a doctors' scientific meeting. Registrants, bleary from travel or a late night out listening to jazz, took seconds on coffee while pouring over the day's schedule. Outside, the sky was gray but not yet raining.
The group assembled in the main auditorium. One of the MBCN directors, Ginny Knackmuhs of Wykoff, NJ, opened the meeting. "I've been living with metastatic breast cancer for three and one half years," she announced. She thanked Novartis, Genentech and other companies for support, and mentioned that one board member couldn't make it to the meeting because she'd just finished a course of whole brain radiation. "But she's here in spirit now."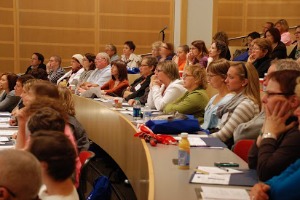 Attendees at the MBCN meeting Oct. 13, 2012  [Photo credit: Ellen Schor]
---
Knackmuhs proceeded to direct the group, as follows: "I'd like all of you who are living with metastatic breast cancer to stand now." The majority at the lecture stood at their seats. "Give your selves a hand," she said. "Those who were diagnosed three years or more remain standing. The rest sit down." Approximately half of the women took their seats. "And by the way you've already beaten the odds," she added. Cheers and applause ensued. "Now, remain standing if you are five years or more," she said. More women sat down. "Seven years or more," she continued. "Eight years or more." Most of a dozen women remained standing. "Ten years or more," she said. Three women remained standing. The crowd hollered and clapped.
The first physician lecturer, a young oncologist at Northwestern, spoke on how physicians monitor the course of metastatic breast cancer in clinics. She included PowerPoint slides with breast cancer survival curves. She reviewed CT and PET images of tumors, and explained some of the relevant technology. She covered terms like "overall survival" and "progression free survival," and Phase I, II, III and IV clinical trials.
After her talk, the group disbanded for "breakout" sessions. Each could choose among seminar-like discussions on these four topics: hormone positive metastatic breast cancer, Her2 positive metastatic breast cancer, triple negative metastatic breast cancer, and brain metastases.
A neurosurgeon, Dr. Lorenzo Munoz, gave a talk on breast cancer that's spread to the brain - what he described an increasingly common scenario. There were 25 women in the audience. Most had thinning hair and several bore canes. All seemed to be paying attention. A woman in a pink zippered jacket, with a black headband and hairpiece, raised her hand and asked about the precise measurements of the lesions on an MRI on a slide. Another woman asked if a biopsy he mentioned had been accomplished by stereotactic or other methods. Another, with suspicious blond hair, glasses and hoop earrings above a serious black suit, asked if the tumor in question was solid or cystic. The discussion continued.
Later on, Patricia Steeg, PhD, a lively speaker with frequent and elaborate hand gestures, spoke on basic research and drugs in the slow pipeline. She's a senior investigator at the National Cancer Institute who's spent much of her career evaluating compounds that might be useful in treating breast cancer and preventing metastases. At the end of the lecture, she received an award in honor of two former MBCN board members who died in the interval since last year's meeting. The women in the audience gave Steeg a standing ovation. From the back row of the auditorium, she could be seen wiping a tear from her eye.
After lunch, the lectures and smaller meetings resumed. Turnout held strong, despite the program's length and intensity. The afternoon's selections ranged in title from "Treating Bone Metastases" to "Acupuncture and Chinese Herbology" and "Role of the Caregiver." Two popular sessions led by Roz Kleban, a counselor affiliated with Memorial Sloan Kettering Hospital in NYC, targeted issues on living with metastatic disease for women under 40 and for those older than 40 years.
Near the end of the day, after the final research lecture, Shirley Mertz, who has metastatic breast cancer, spoke out on the value of patient advocacy. "We need to educate ourselves, because that's how we live longer."