Mapping the World's Most Seductive Shrines to Coffee
Taking the time to enjoy your latte in a well-designed coffee shop is good for your soul.
Studies suggest that coffee does have several health benefits; coffee shops are efficient places to work; and taking the time to enjoy your latte in a well-designed coffee shop is good for your soul.
T.S. Eliot, quite possibly the greatest English language poet of the 20th century, oh-so eloquently reflected on the passing of time by saying, "I have measured out my life with coffee spoons." So have we Thomas, so have we. From the borough of Brooklyn to Portland, San Francisco, Seattle, Tokyo, and every other hub buzzing with creative productivity, we suspect that if they're not all jump starting their days with Nespresso at the crack of dawn, they're fueling their weary world with the rich, velvety, caffeinated goodness of some damn good direct trade, shade-grown beans roasted on vintage gear, pulled by an expert hand.
We've rounded up some of the most beautiful purveyors of coffee around the world in virtual guide form, meaning not only have we included the eye candy you know and love, but we've also added addresses and handy links to Google Maps. Bookmark it. Share it. Re-post it. Set the ultimate nomadic coffee lover's goal and try to hit each and every one at least once in your life. From a charming shop in a 19th-century Portuguese townhouse to a converted orange-packing factory in Tel Aviv, click through to check out some of the most beautiful coffee shops in the world.
Zmianatematu by xm3 - Łódź, Poland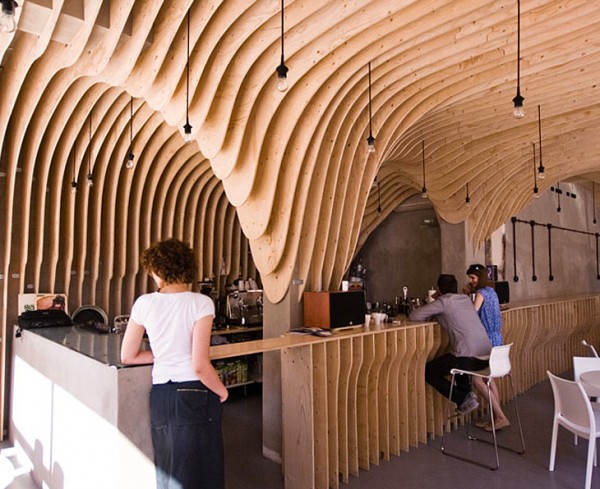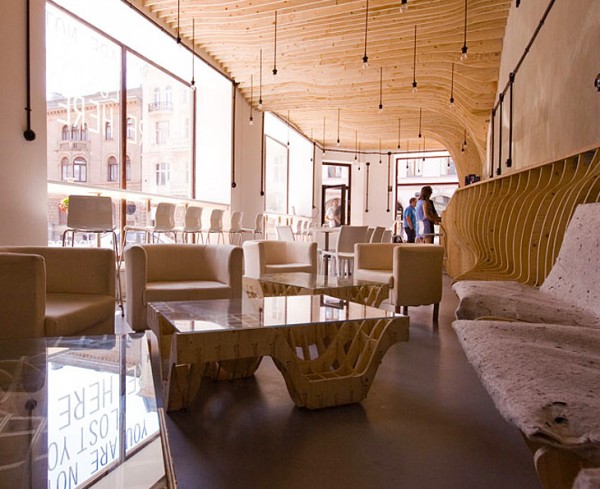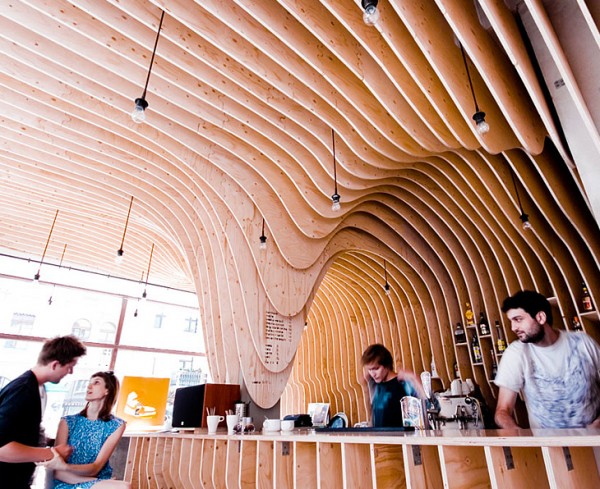 This Polish town's name literally means "a boat," so what did the young architects from Warsaw create? A stunning CNC cut plywood blob-like design that's in stunning opposition to the historic building.
Piotrkowska 144, 90-056 Łódź, Poland. Map.
D'espresso by Nemaworkshop - New York, New York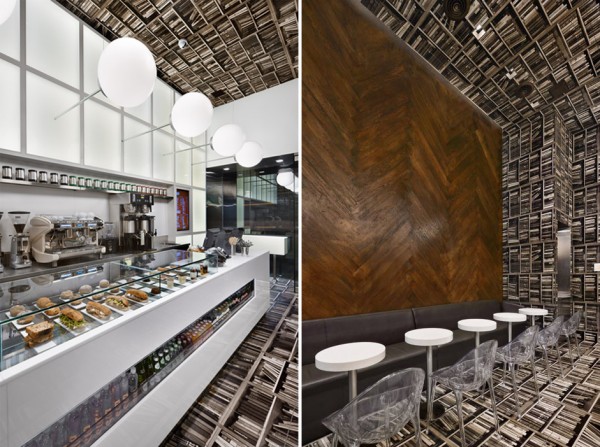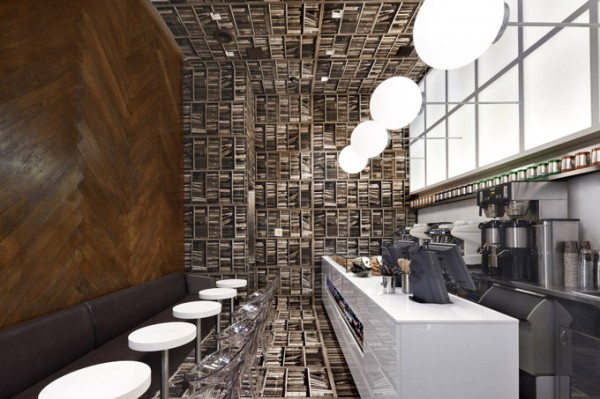 Designed to resemble a library turned on its side, this espresso bar near Grand Central Station was inspired by the Bryant Park Library.
317 Madison Avenue, New York, New York. Map.
Coutume Café by CUT Architectures - Paris, France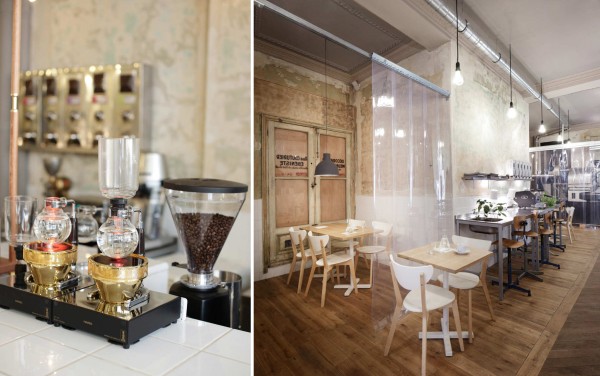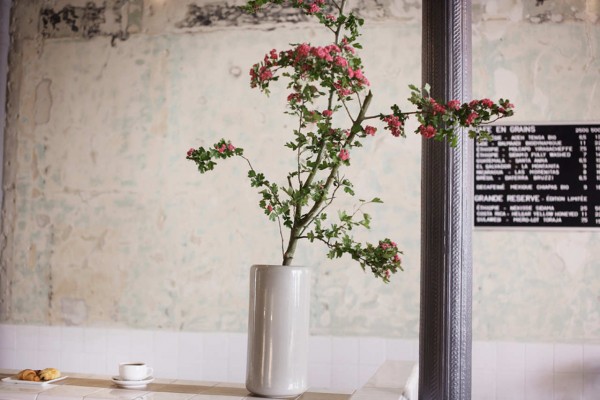 One part coffee roastery, one part laboratory, this Parisian café offers the best coffee in Paris and -- according to their site -- a great selection of organic delicacies.
47 Rue de Babylone, 75007 Paris, France. Map.
Loveat Jaffa by Studio Ronen Levin and Eran Chehanowitz - Tel Aviv, Israel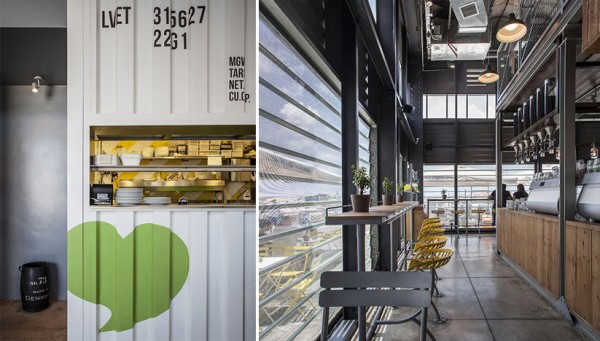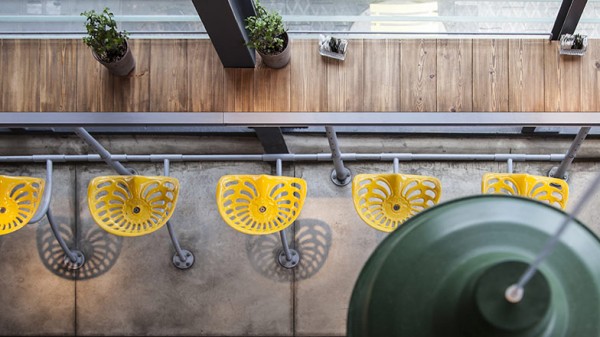 Converted from an orange-packing plant, this colorfully industrial coffee shop fits into the corner of a former hangar. As the designers explain, they were "inspired by the building's history, so they divided the cafe into small boxes of different sizes, stacked like crates. The kitchen has been placed inside a steel cargo container while the toilet is hidden inside a box of timber planks."
Nahalat Binyamin 37, Tel Aviv-Yafo, Israel. Map.
Handsome Coffee by WoodSmithe - Los Angeles, California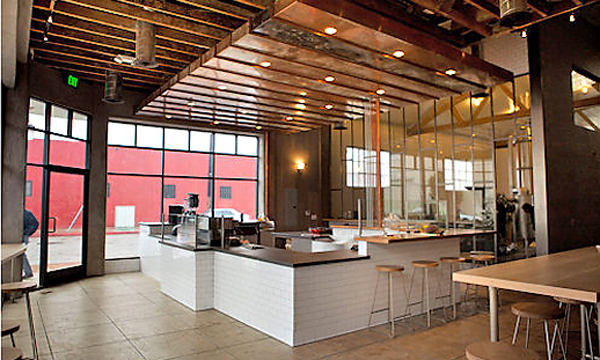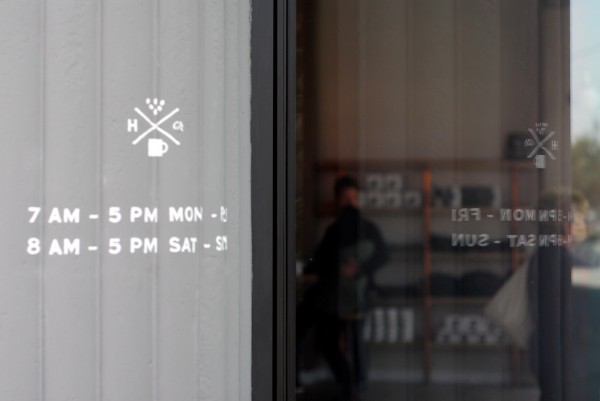 A relative newcomer on the West Coast coffee scene, Handsome's Downtown Coffee Bar and Roasting Works already sports a regular line down the street. The space is awesome. The coffee is even better. And, the three founders are guys you just really want to support.
582 Mateo Street, Los Angeles, California 90013. Map.
Coffee Collective - Frederiksberg, Denmark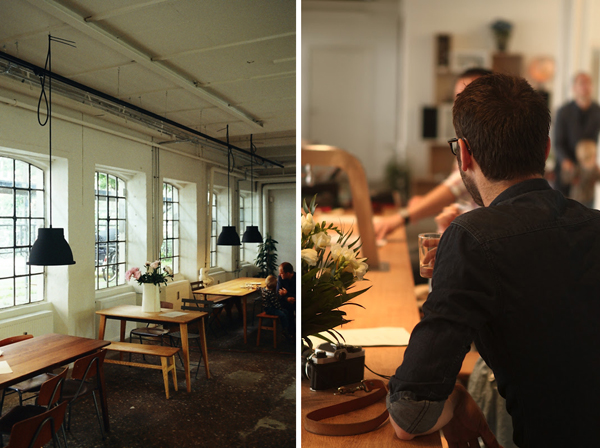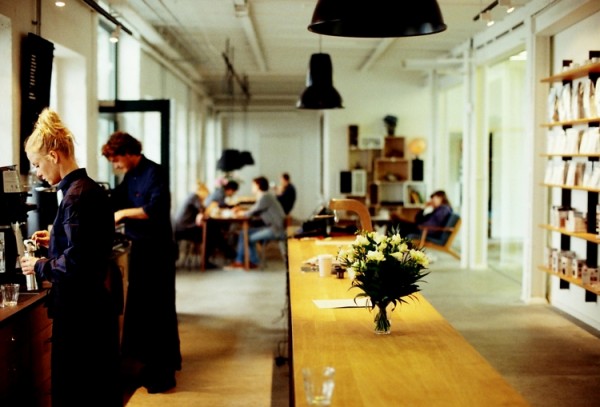 The Coffee Collective's first local space is an elegant match to their cult favorite coffee.
Godthåbsvej 34B, 2000 Frederiksberg, Denmark. Map .
Koppi Kaffe & Roasteri - Helsingborg, Sweden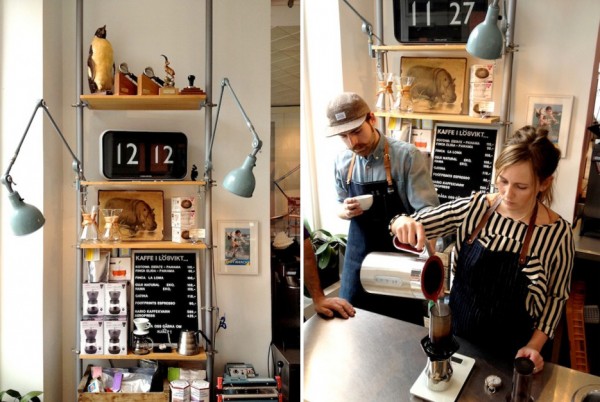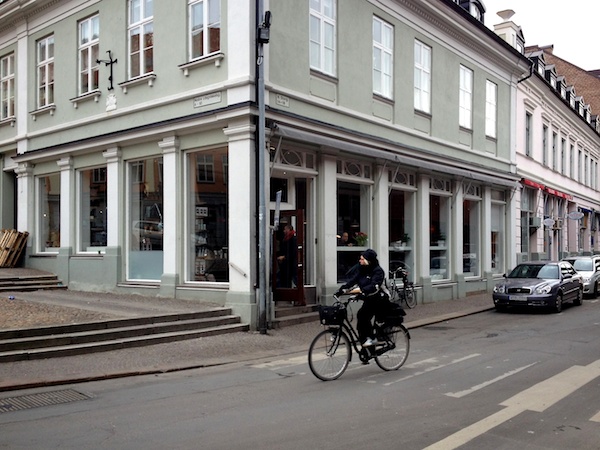 According to one of the best coffee touring blogs on the web, there's "a La Marzocco on the bar, a daily brew in the airpot, and a slow bar where you can try coffee from an AeroPress, Chemex, or V60." Roasting royalty in Sweden, Anne, one of the owners, has been on the Swedish national team at the Nordic Barista Cup four times and she won the Swedish Barista Championship in 2006 -- finishing 4th at the World Barista Championship that same year. Charles, her partner, was crowned Swedish Barista Champion in 2005.
Norra Storgatan 16, 252 20 Helsingborg, Sweden. Map.
Kayaba Coffee by Yuko Nagayama & Associates - Tokyo, Japan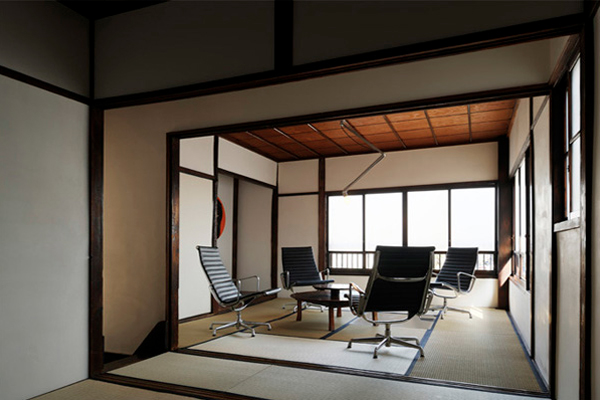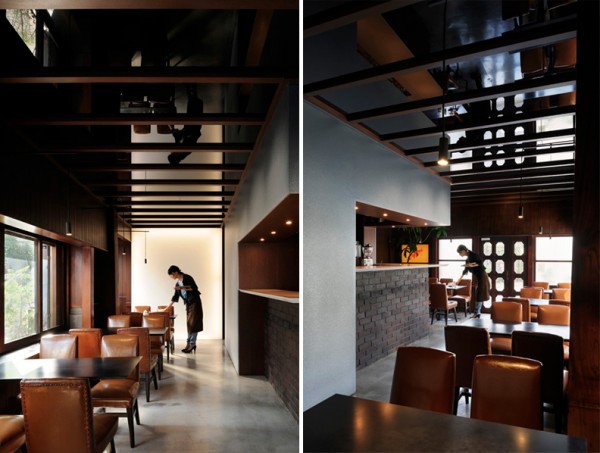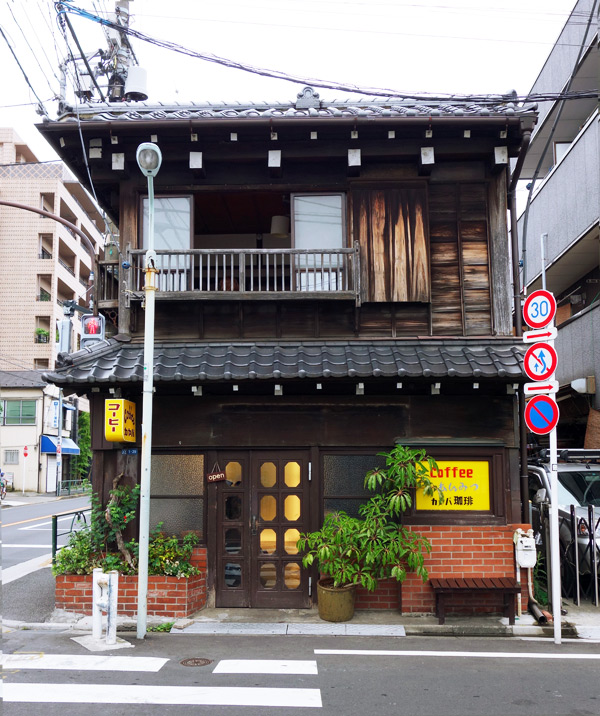 This one's situated in a 100-year-old house that's been updated with stunning a stunning mix of mid-century modern design and traditional Japanese elements, like tatami mats. There's coffee during the day, cocktails at night, and video art on the wall.
Little Nap Coffee Stand - Tokyo, Japan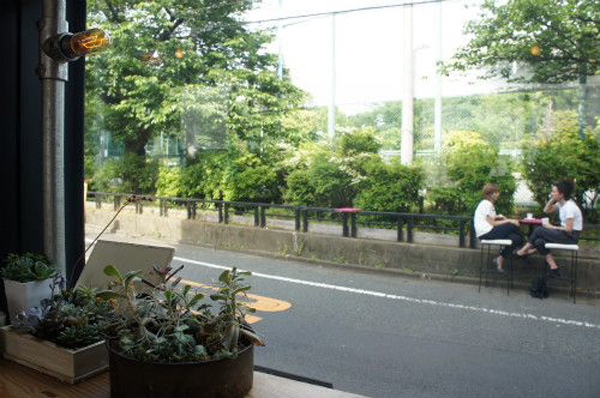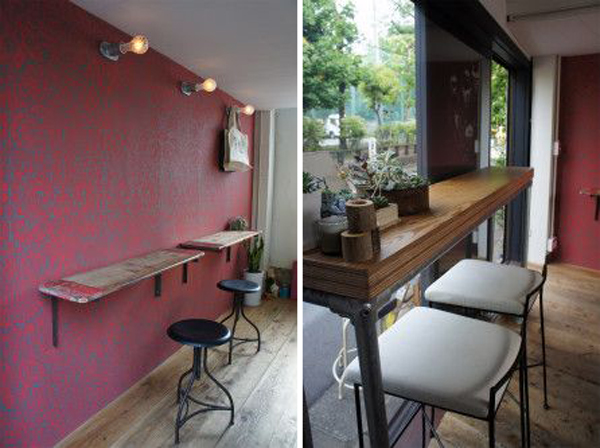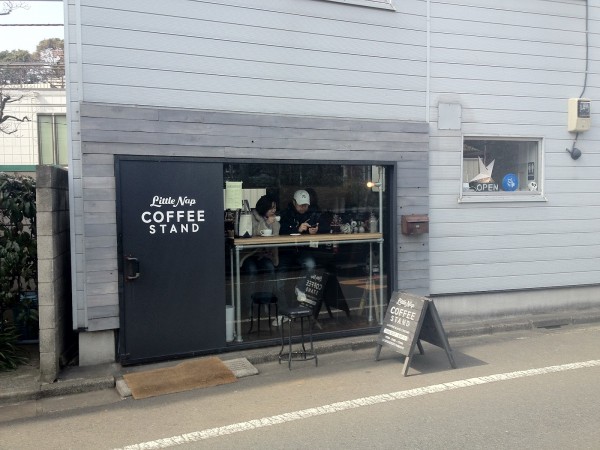 The simple, friendly exterior is the face of a small, carefully considered space with worn wooden floors and touches of retro Americana.
5丁目-65-4 Yoyogi Shibuya, Tokyo 151-0053, Japan. Map.
Coava Brew Bar - Portland, Oregon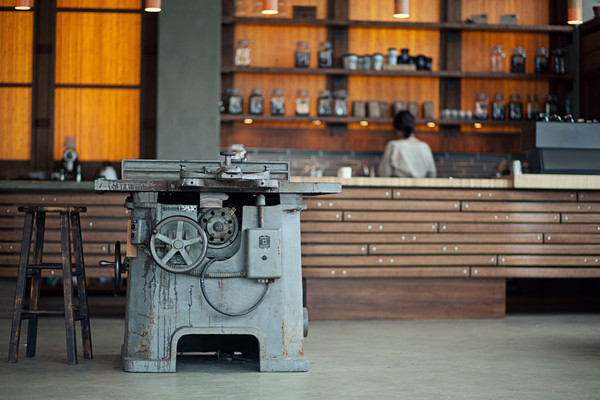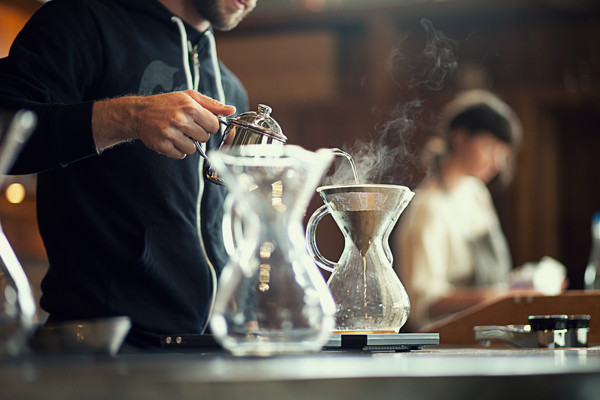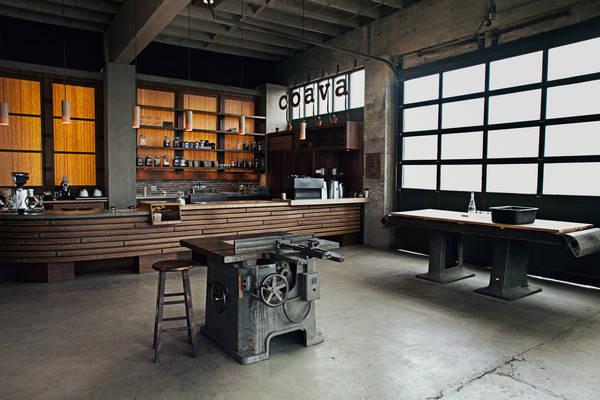 From humble beginnings in a garage, Coava has evolved to become one of the most respected coffee purveyors in an ultra-picky Portland java scene. As their site explains, "raw coffee is at the heart of what we do. We strive to create beautiful roast profiles based on the inherent qualities of each unroasted coffee. That's why we only roast single origins, focusing on quality, intensity and balance in the cup." Try them all at their gorgeous space.
1300 SE Grand Ave, Portland, Oregon 97214. Map.
Four Barrel Coffee by Boor Bridges Architecture - San Francisco, California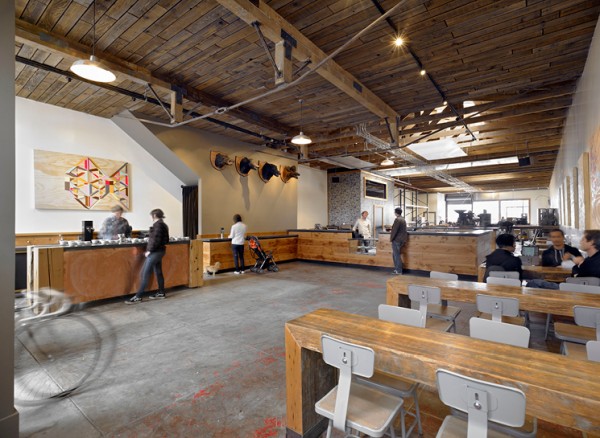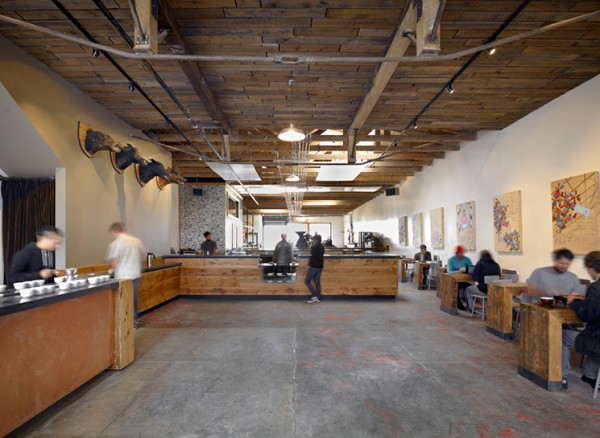 The Mission District space features boars' heads mounted on the wall and a giant crystal chandelier in the bathroom. Being the supreme coffee nerds that they are, they host a class called "Brewing Better Coffee at Home" that covers things like brewing with scales and other tricks using a French Press, Chemex, Clever dripper, Hario V60, and Aeropress -- everything but espresso.
375 Valencia Street, San Francisco, California 94103. Map.
Blue Bottle Coffee by Sagan Piechota Architecture - San Francisco, California
Blue Bottle is often credited with kicking off the artisanal coffee movement in the Bay Area, and for pioneering the garage coffee stand proving that mobile is magic.
1 Ferry Bldg, San Francisco, California 94111. Map.
Blue Bottle Coffee - Williamsburg, Brooklyn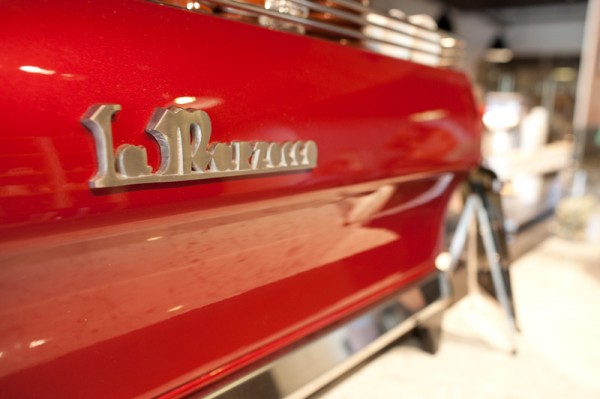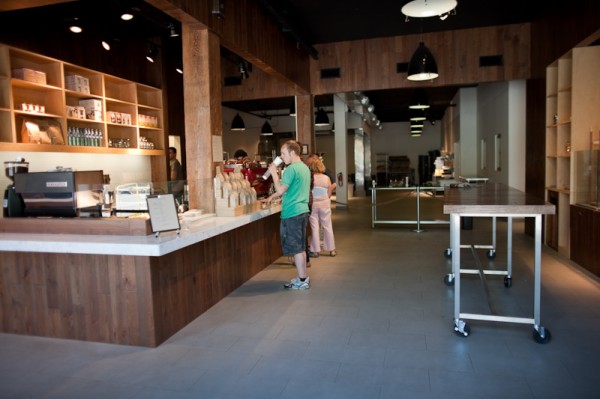 Blue Bottle takes Brooklyn with -- as explained by The New York Times -- "five Japanese slow-drip devices for iced coffee, each three feet tall -- they look like an aristocrat's science experiment, the wood and brass frames supporting a network of glass globes and adjustable nozzles that mete out liquid at 88 drops a minute."
160 Berry Street, Williamsburg, Brooklyn 11211. Map.
La Colombe Torrefaction by Obra Architects and Pablo Castro with Douglas Takeshi Wolfe - Soho, New York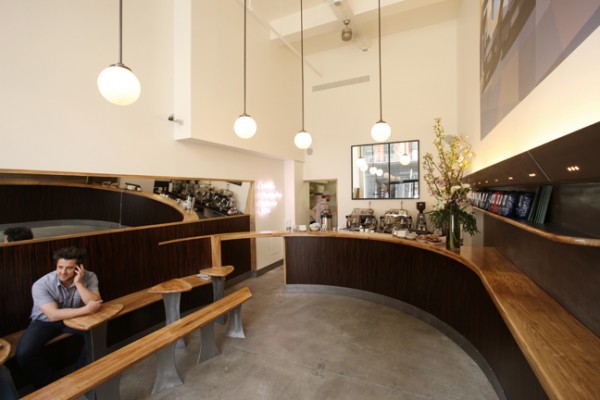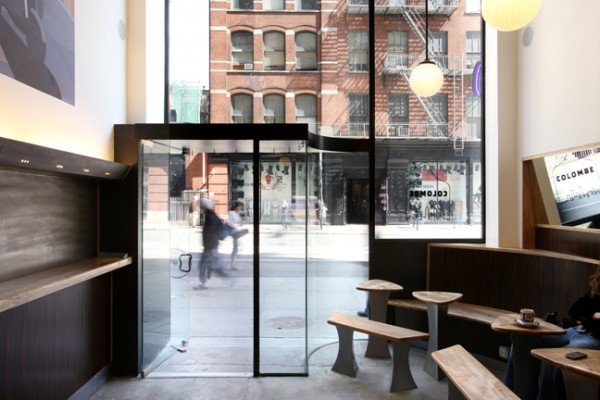 As partner Douglas Takeshi Wolfe explains, "The idea is to have a simple cafe with warm materials that recognizes the past -- we use hand painted Deruta pottery from Umbria and pull espresso shots out of original E-61 Faema espresso machines from 1961! No soy, no flavors, one size, simple, authentic, and real."
270 Lafayette St, New York, New York. Map.
Callas Cafe by David Collins - Budapest, Hungary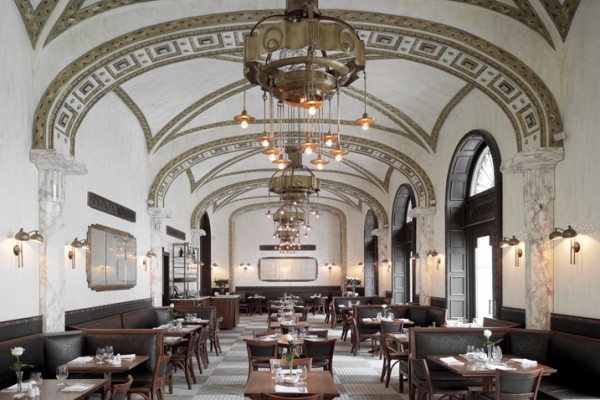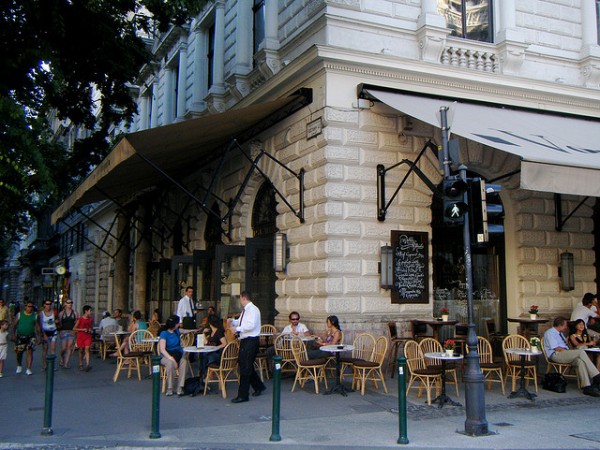 Renovated in 2006 by British uberdesigner David Collins, this beautiful art-deco coffee spot might just be the most elegant place to sip an espresso in the world.
1067 Budapest, Andrássy Way 20, Hungary. Map.
LAMILL Coffee Boutique by Rubbish Studio and BKarc - Silverlake, California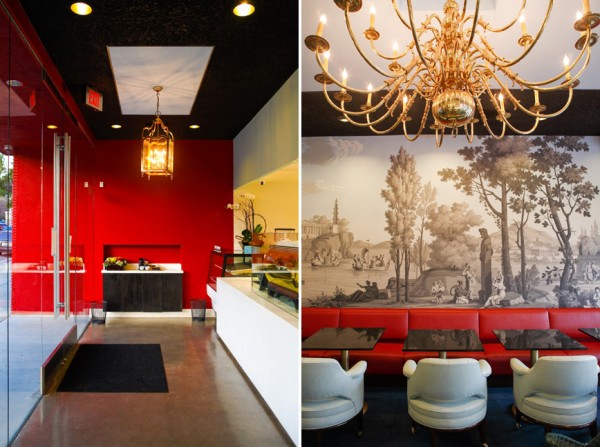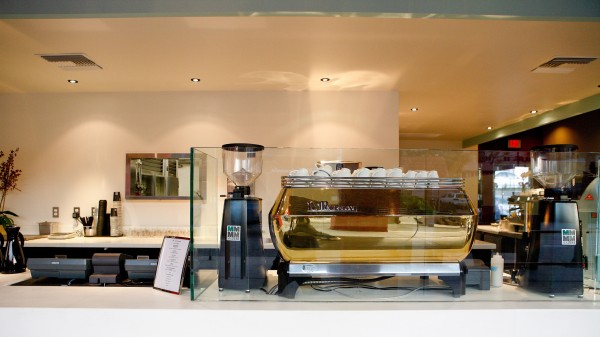 Local designers, Rubbish Studio say they wanted to embrace the area's vibe: "ironic, intricate, and retro -- but still modern." The result is a fun take on a midcentury country club complete with crocodile vinyl, animal skins, faux ostrich chairs, and hand-painted wallpaper that looks like a bright blue sky. Oh and, the coffee's really good.
1636 Silver Lake Boulevard Los Angeles, CA 90026. Map.
AIA Coffee & Restaurant by Inês Aia - Porto, Portugal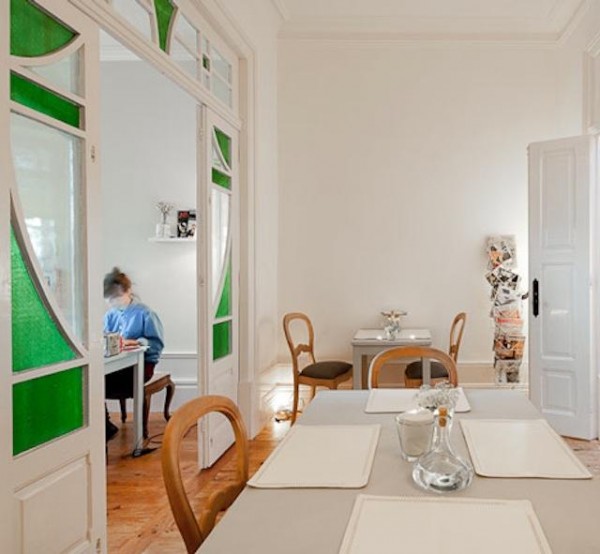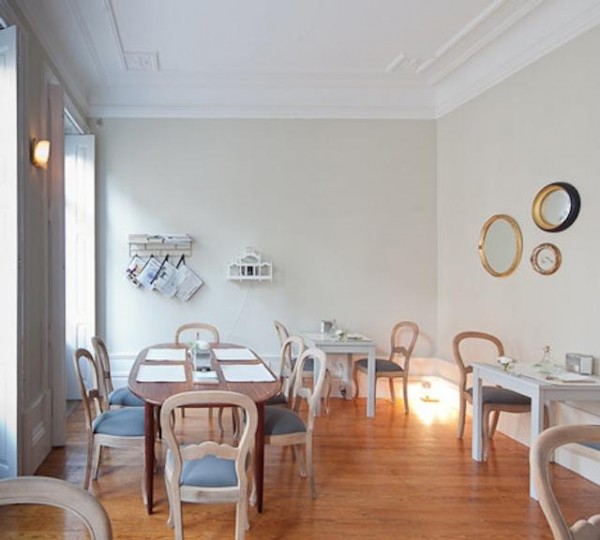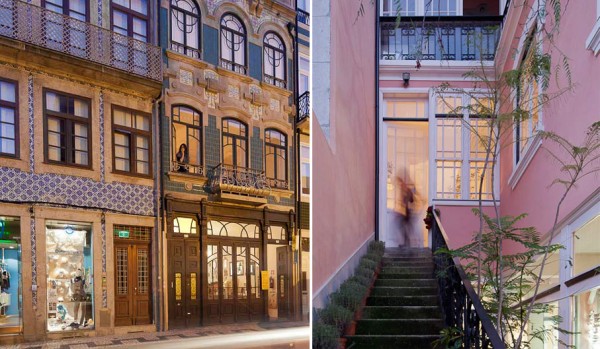 Furnished with a mismatched selection of vintage chairs and tables, this coffee shop (and restaurant) can be found in the most gorgeous 19th-century Portuguese townhouse. Simple, but unbelievably charming, the walls are covered with assorted convex mirrors and picture frames. Newspapers are hung on the walls for your reading pleasure.
Rua Rosário 274, 4440-452 Porto, Portugal. Map.
Confiserie Bachmann by HHF Architects - Basel, Switzerland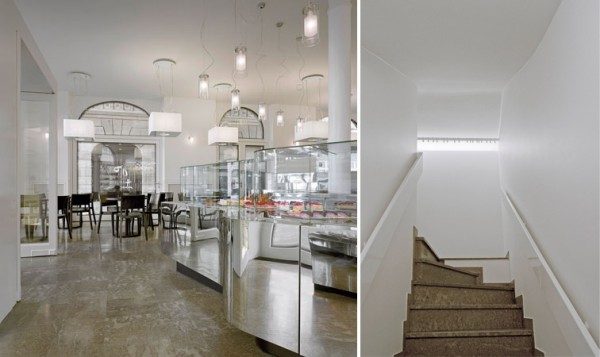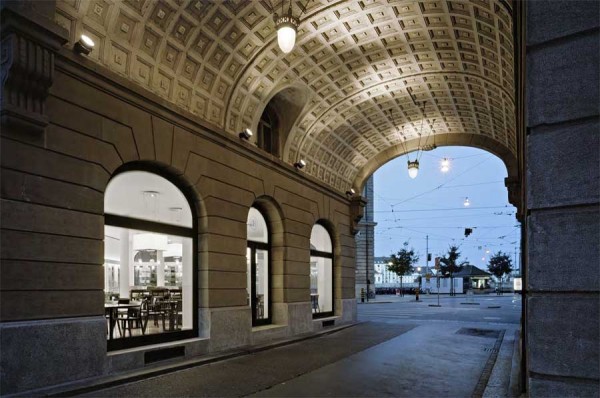 Swiss perfection covered in mirrors with strong coffee and delicious sweets.
Blumenrain 1 4051 Basel, Switzerland. Map.
Starbucks Coffee Shop by Kengo Kuma and Associates - Dazaifu, Fukuoka Prefecture, Japan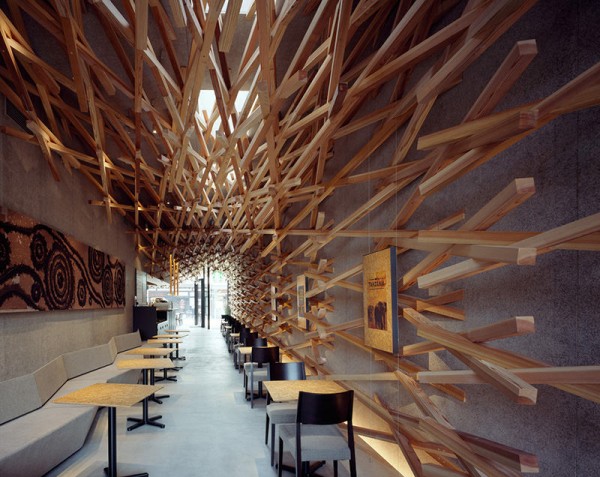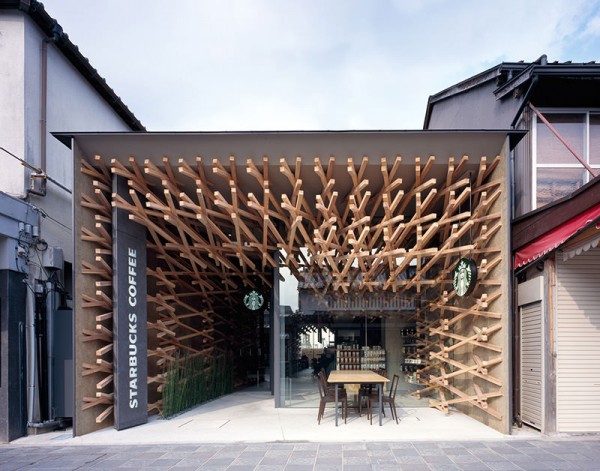 Officially the coolest Starbucks in the world, it sits on the main approach to the Dazaifu Tenmangu, one of the major shrines in Japan. Um, why don't they all look like this?
1丁目-10−20 Mukaizano, Dazaifu, Fukuoka Prefecture 818-0135, Japan. Map.
Balzac's Coffee Roastery - Toronto, Canada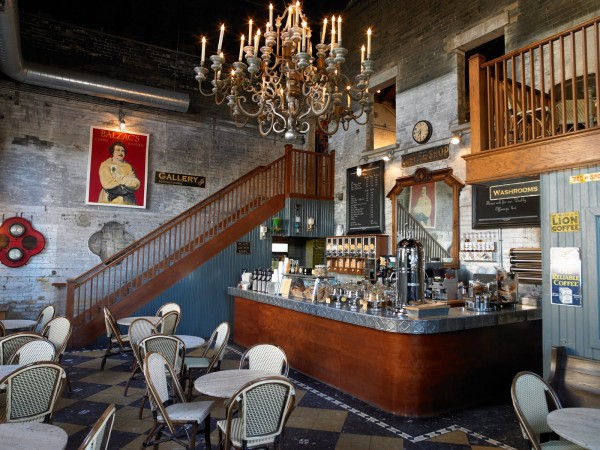 Located in an old warehouse in Toronto's Distillery District, this is considered to be the most spectacular coffee shop in all of Canada.
55 Mill St, Toronto, Ontario M5A 3C4, Canada. Map.
---
A version of this post also appears on Flavorpill, an Atlantic partner site.