Who Benefits From Food Stamps?
Government data show food stamp rolls have reached a record high. Where is all that money going?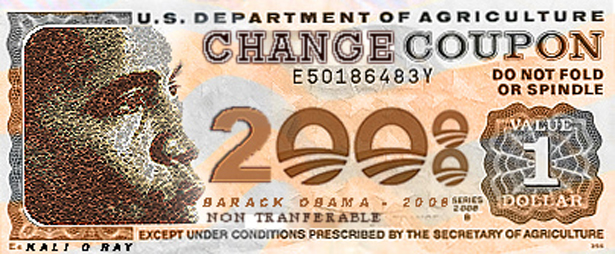 Oraysion/Flickr
We've hit a major new milestone on food stamps: As many as 46.7 million Americans received benefits from the Supplemental Nutrition Assistance Program (SNAP) in June, at a cost of $6.2 billion, a USDA report out this week shows. That's a new record, outpacing by 56 percent the number of Americans who were on food stamps at the depths of the recession in 2008.
The new figures are especially sobering against the backdrop of recent congressional attempts to take benefits away from SNAP recipients. Earlier this summer, the Senate proposed trimming $4 billion from the food stamp budget. Not to be outdone, the House called for a cut that was four times as deep.
You can look at the enrollment numbers in one of two ways: either it's a sign that more Americans than ever are in need of help, or that more Americans than ever are receiving benefits who don't need them. Where you stand often falls along partisan lines, but it doesn't have to. Unlike most questions of ideology, this is one where the facts exist.
Who actually benefits from SNAP? Statistics gathered by the USDA and issued in its newest report show the following:
Some 43 percent of SNAP recipients live at or below half the poverty line. Only 15 percent can say they live above the poverty line.
Children under 18 account for 47 percent of all food stamp recipients. Eight percent are seniors.
Forty-one percent of beneficiaries lived in households with partially- or fully-employed workers.
The share of SNAP recipients that also receives welfare benefits is at historic lows; in 2010, that number was less than 10 percent.
SNAP recipients spend most of their food budget on meals at home, with grocery items like red meat and dairy products accounting for the top two food groups.
Administrative costs for the food stamp program are at the lowest they've been since the 1990s.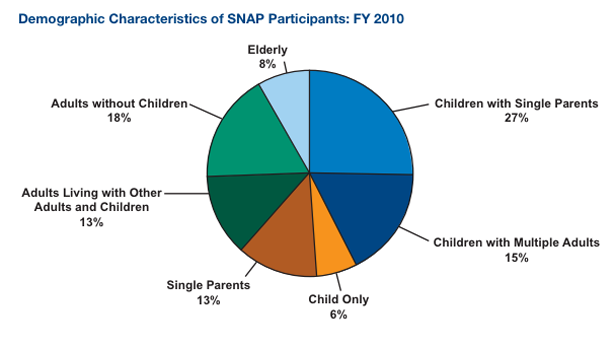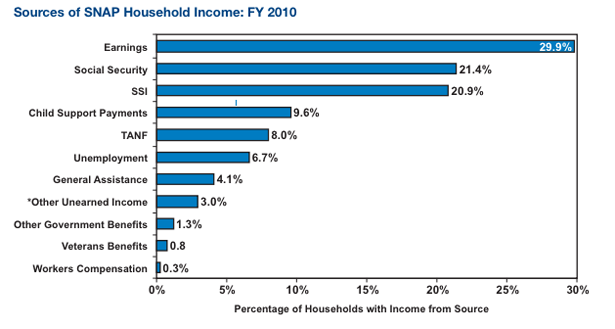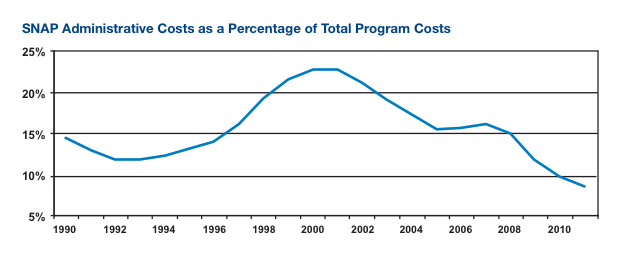 What these numbers imply is that those who get benefits are unquestionably poor; many of them aren't old enough to work or care for themselves; many recipients who are of working age are employed; and that SNAP runs on a shoestring, leaving the vast majority of its funds to providing benefits.
Add to that the research by both public and private outfits suggesting food stamps can actually generate wealth by juicing GDP, and what you've got is a reasonably strong argument for giving needy people the benefit of the doubt at a time of slower-than-expected economic recovery.