"If seven friends in turn rapidly told him their phone numbers, he could calmly wait until the last digit was spoken and then, from memory, key all seven friends' numbers into his phone's contact list without error."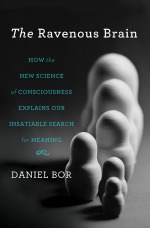 It seems to be the season for fascinating meditations on consciousness, exploring such questions as what happens while we sleep, how complex cognition evolved, and why the world exists. Joining them and prior explorations of what it means to be human is The Ravenous Brain: How the New Science of Consciousness Explains Our Insatiable Search for Meaning (public library) by Cambridge neuroscientist Daniel Bor in which, among other things, he sheds light on how our species' penchant for pattern-recognition is essential to consciousness and our entire experience of life.
The process of combining more primitive pieces of information to create something more meaningful is a crucial aspect both of learning and of consciousness and is one of the defining features of human experience. Once we have reached adulthood, we have decades of intensive learning behind us, where the discovery of thousands of useful combinations of features, as well as combinations of combinations and so on, has collectively generated an amazingly rich, hierarchical model of the world. Inside us is also written a multitude of mini strategies about how to direct our attention in order to maximize further learning. We can allow our attention to roam anywhere around us and glean interesting new clues about any facet of our local environment, to compare and potentially add to our extensive internal model.
Much of this capacity relies on our working memory -- the temporary storage that holds these primitive pieces of information in order to make them available for further processing -- and yet what's most striking about our ability to build such an "amazingly rich" model of the world is that the limit of our working memory is hardly different from that of a monkey, even though the monkey's brain is roughly one-fifteenth the size of ours: Experiment after experiment has shown that, on average, the human brain can hold 4 different items in its working memory, compared to 3 or 4 for the monkey.
What makes the difference, Bor argues, is a concept called chunking, which allows us to hack the limits of our working memory -- a kind of cognitive compression mechanism wherein we parse information into chunks that are more memorable and easier to process than the seemingly random bits of which they're composed. Bor explains:
In terms of grand purpose, chunking can be seen as a similar mechanism to attention: Both processes are concerned with compressing an unwieldy dataset into those small nuggets of meaning that are particularly salient. But while chunking is a marvelous complement to attention, chunking diverges from its counterpart in focusing on the compression of conscious data according to its inherent structure or the way it relates to our preexisting memories.
To illustrate the power of chunking, Bor gives an astounding example of how one man was able to use this mental mechanism in greatly expanding the capacity of his working memory. The man, an undergraduate volunteer in a psychology experiment with an average IQ and memory capacity, took part in a simple experiment, in which the researchers read to him a sequence of random digits and asked him to say the digits back in the order he'd heard them. If he was correct, the next trial sequence would be one digit longer; if incorrect, one digit shorter. This standard test for verbal working memory had one twist -- it took place over two years, where the young man did this task for an hour a day four days a week.