Study: Chocolate Works Like Morphine on the Brain
Enkephalin -- an endorphin-like peptide that activates cerebral opioid receptors -- contributes to what can be an intense drive to keep eating, by the same mechanism that narcotics kill pain.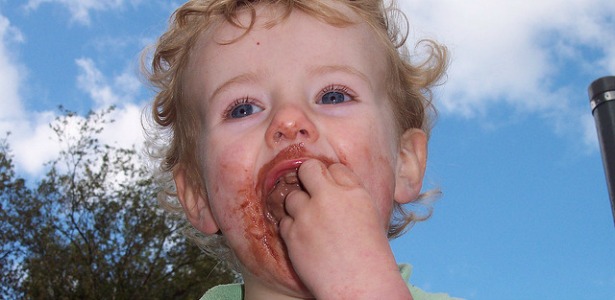 lynnsta/Flickr
PROBLEM: Binge-eating and addiction are both centered around the compulsive overconsumption of something that triggers the brain's reward center. But we do not yet fully understand the system of neurotransmitters that motivate us to eat to binge eat.
METHODOLOGY: Researchers injected rats with an artificial drug that activated the neostriatum -- an area of the brain previously associated with movement, habit, and the response to learned cues. Then, they watched to see how activating that region of the brain affected the rats' eating behaviors.
RESULTS: The rats' chocolate consumption increased by over 250 percent, to an average of about 10 M&Ms in a period of twenty minutes (considering they were human-sized M&Ms, that's comparable to us eating about six pounds of chocolate in an hour). Their eating frenzy triggered a surge in enkephalin -- a natural peptide that resembles opium -- which remained elevated throughout the binge.
CONCLUSION: Encephalin, an endorphin-like peptide that acts on opiate receptors in the brain, is released when rats (and presumably humans) eat chocolate, which contributes to what can be intense motivation to keep going.
IMPLICATIONS: The rats didn't appear to be enjoying the chocolate any more than they had before their neostriatums were stimulated; rather, their binging behavior seemed to be all about the urge to consume -- and this study newly demonstrates how there are more systems in the brain implicated in motivation and overeating than previously thought. Lead author Alexandra DiFeliceantonio links the effects seen in rats to the way the brain lights up in binge eaters and drug addicts when confronted with their "reward" of choice, warranting further study in these two populations.
The full study, "Enkephalin Surges in Dorsal Neostriatum as a Signal to Eat," is published in the journal Current Biology .