Oh, the Margaritas You'll Deep Fry
Twenty-five fascinating fried foods from the Texas State Fair
For years, county fairs have been at the forefront of deep-frying science, splicing and creating mutant "foods" that are all at once monstrous and wondrous. The Texas State Fair -- the largest state fair in the country -- holds a yearly competition for the most innovative deep-fried foods. Here are 25 fried Frankenfoods from fairs past:
Bubblegum
Collin Harvey/Flickr
It's actually bubblegum-flavored marshmallows, battered and deep fried and sprinkled with Chiclets. Do you chew this? Eat it? Who knows, but you can buy it.
---
Butter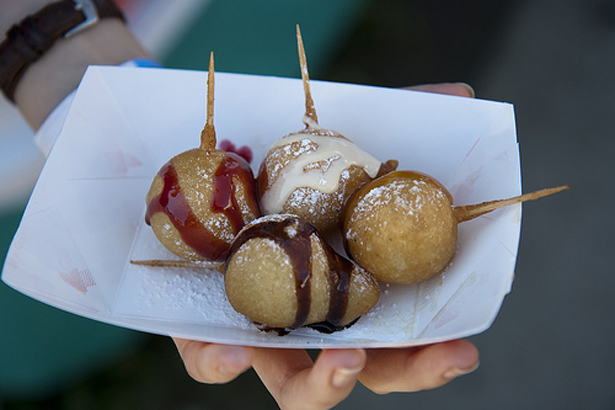 mgerskup/Flickr
Frozen balls of butter, battered and fried and served with four sauces. Because why not.
---
Beer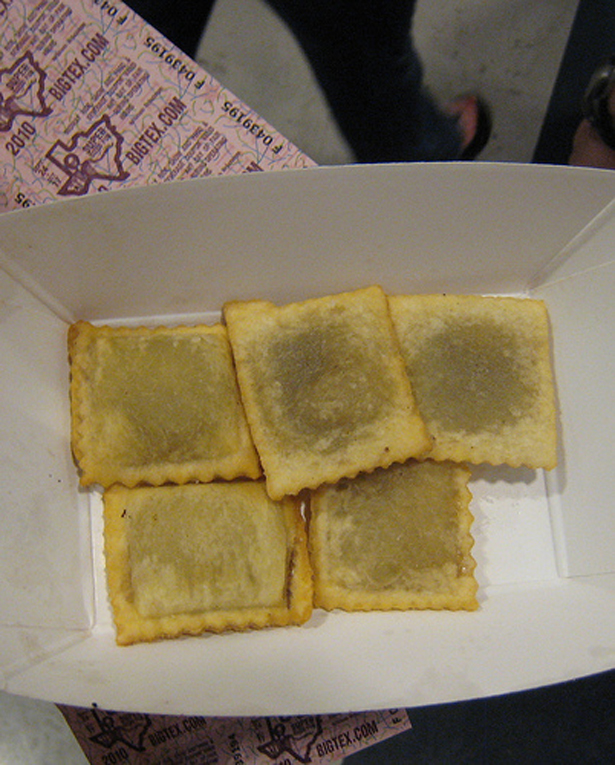 Stacy Huggins/Flickr
Nope, this isn't beer battered. This is beer: battered and fried. The beer is poured into little ravioli pockets which burst with scalding suds upon first bite.
---
Peanut Butter Banana Cheeseburgers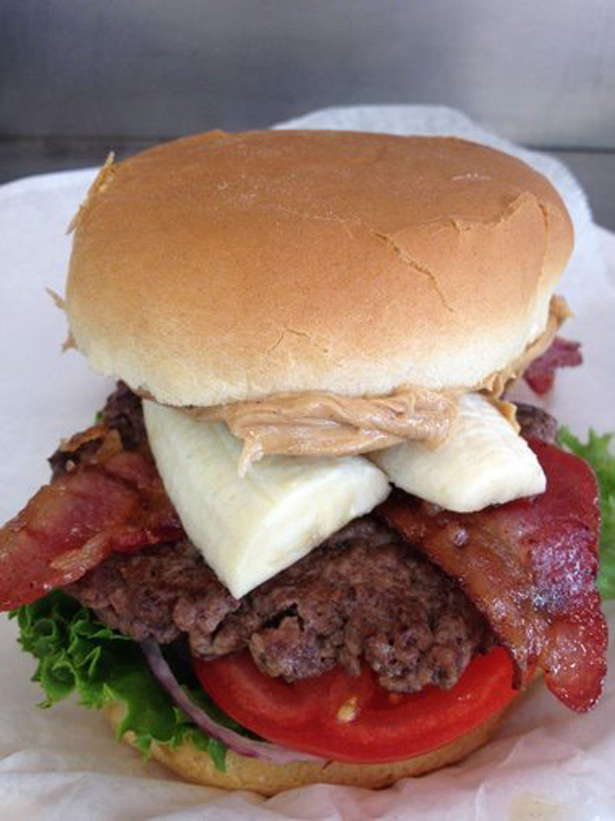 Cheryl Reas via NBC
Elvis would probably make a special trip to Texas just to see this.
---
Coke
L. Richarz/Flickr
An enterprising chef found a way to deep fry soda without the 3rd degree burns.
---
Chicken Fried Bacon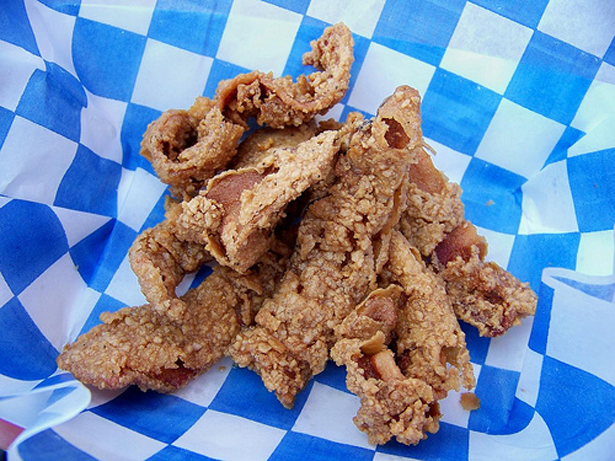 ladybugbkt/Flickr
This is self-explanatory. And probably delicious.
---
Jelly Belly Jelly Beans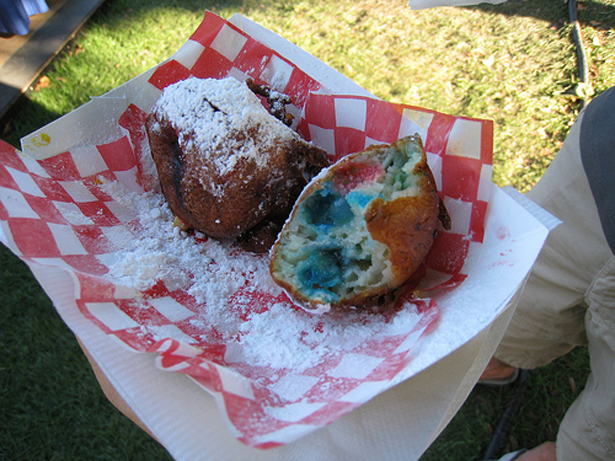 RosieTulips/Flickr
It's really just batter with some Jelly Belly jelly beans mixed in, like a fritter on a sugar high.
---
Cadbury Creme Eggs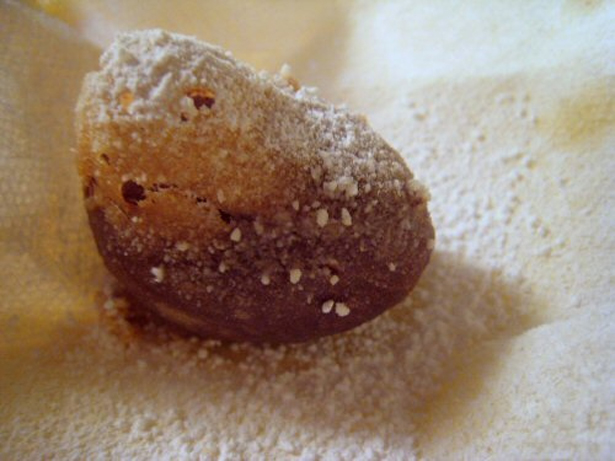 Easter doesn't have nearly enough fried foods... until now.
---
Pizza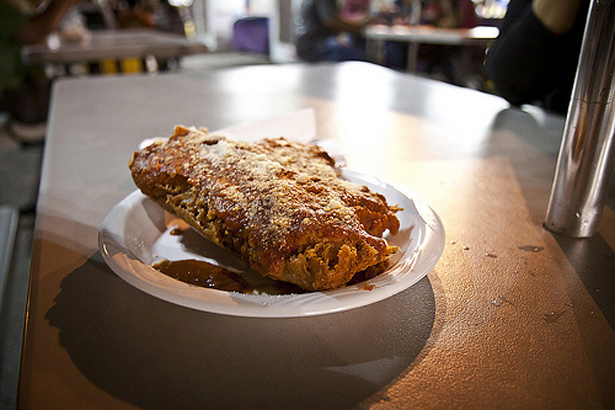 Siggi Churchill/Flickr
It's not just pizza ingredients inside a ball of dough. No. It's an actual slice of pizza, breaded and fried.
---
Kool-Aid
nineminutes/Flickr
With an extra sprinkle of Kool-Aid powder over the top instead of powdered sugar.
---
French Fry-Coated Hot Dog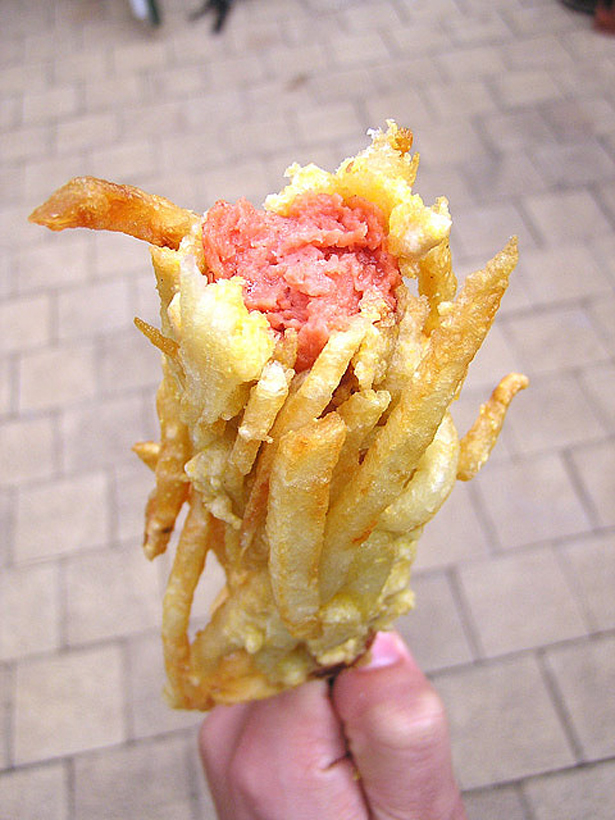 phil.lees/Flickr
See? It exists.
---
Pecan Pie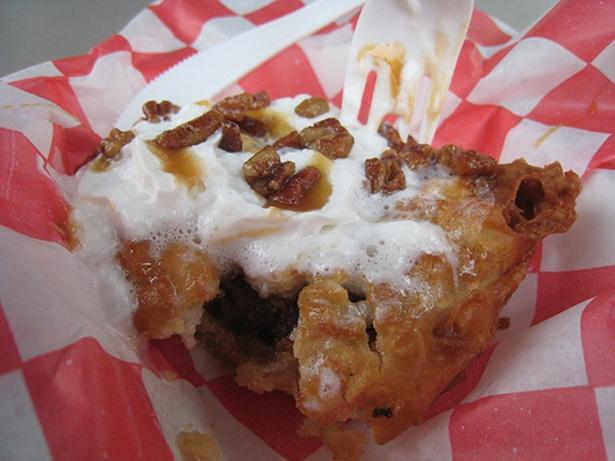 erichcpeters/Flickr
There's probably not a more delicious way to gain five pounds.
---
Lattes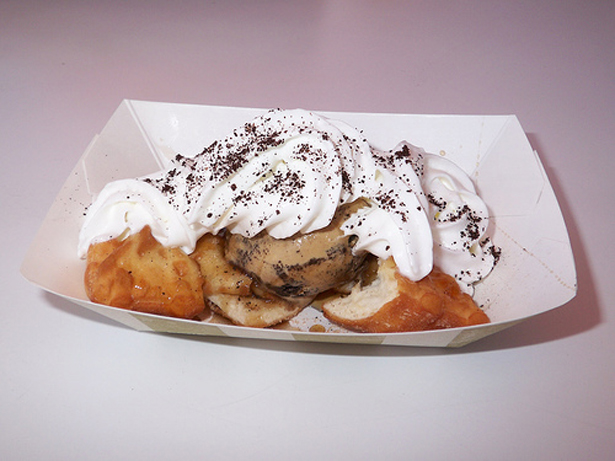 Traveling Fools of America/Flickr
This one is a bit of a misnomer, it seems; the fried part is a sweet dough, which is topped with coffee-flavored ice cream, whipped cream and shaved chocolate.
---
PB&J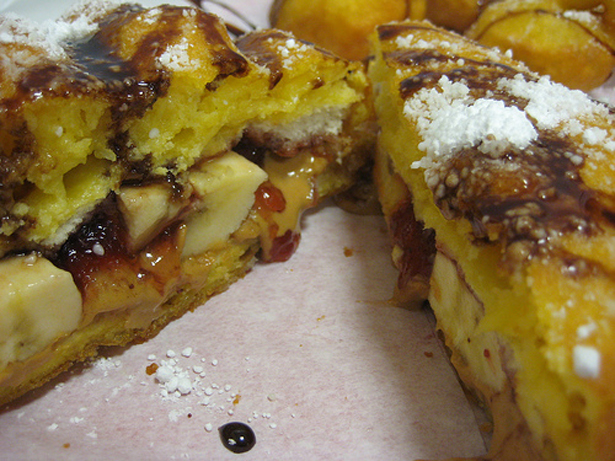 bittermelon/Flickr
With a banana thrown in for good measure.
---
Salsa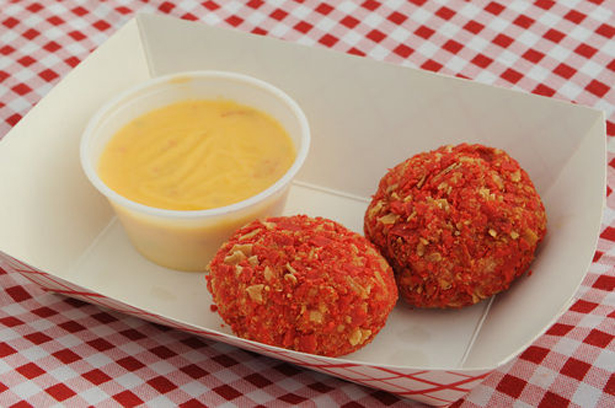 thestir.com
Deep-fried condiments can't be a good thing, but according to some people, this is the best-tasting item at the fair. It's salsa mixed with masa, then rolled in crushed tortilla chips before frying.
---
Pop Tarts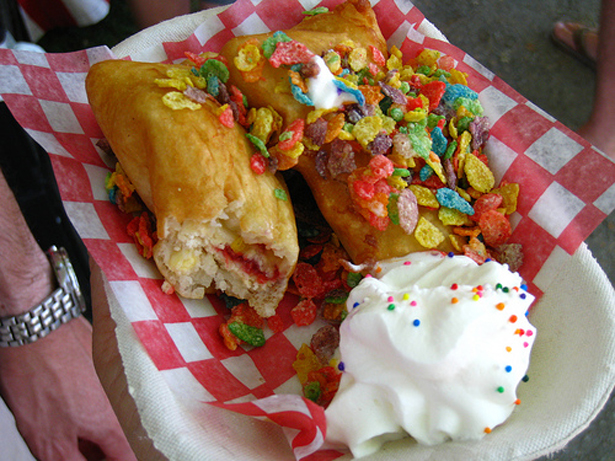 RosieTulips/Twitter
It's hard to see, but there's a pop tart in there.
---
Margaritas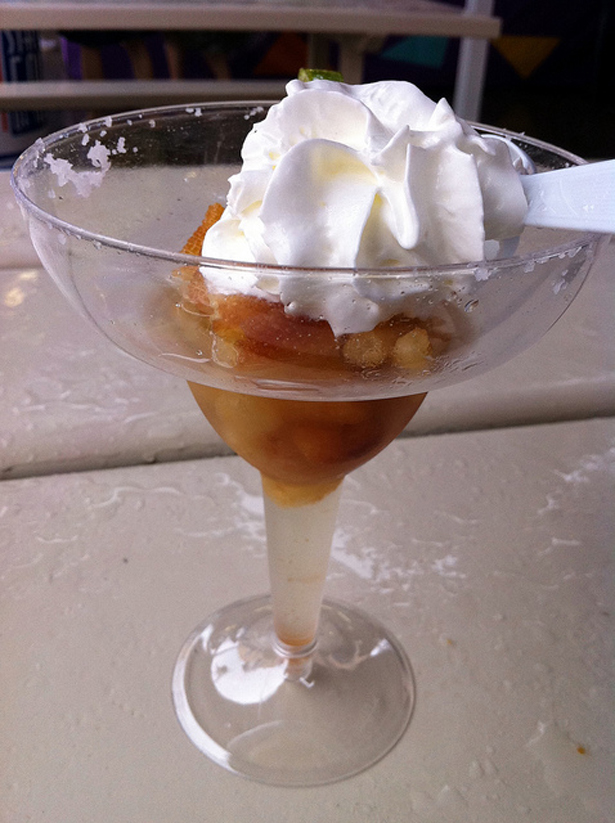 David Berkowitz/Flickr
Funnel cake batter made with margarita mixer, fried and soaked in more margarita, all served in a salt-rimmed glass.
---
Club Salad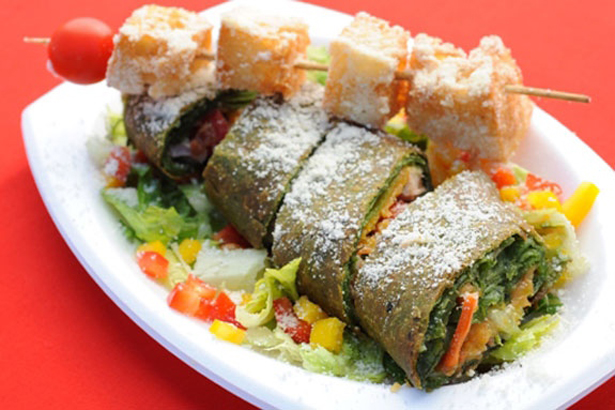 New York Daily News
The thing about salad is that it's good for you, usually. Not this time. This is a spinach wrap filled with ham, bacon, cheese, chicken, tomatoes, shredded lettuce and carrots, fried and served on a bed of lettuce.
---
S'mores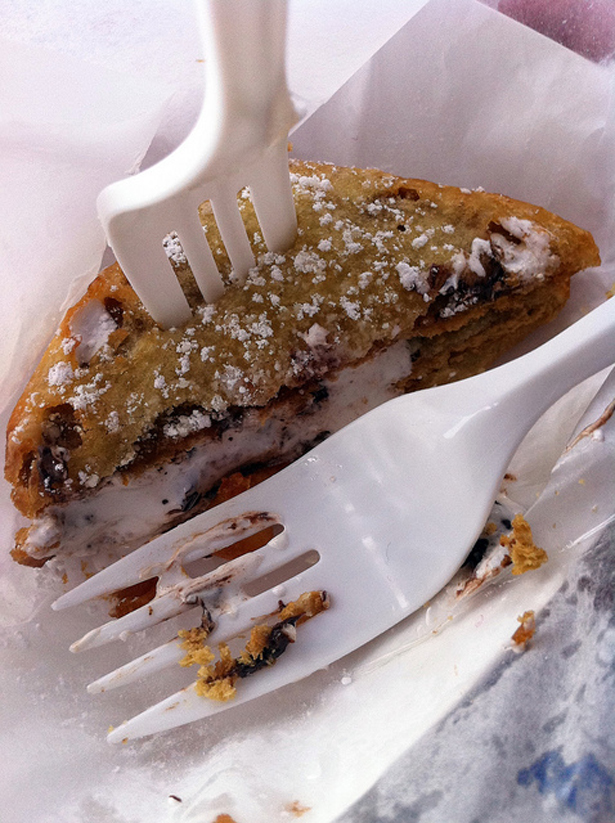 David Berkowitz/Flickr
It was only a matter of time.
---
Pumpkin Pie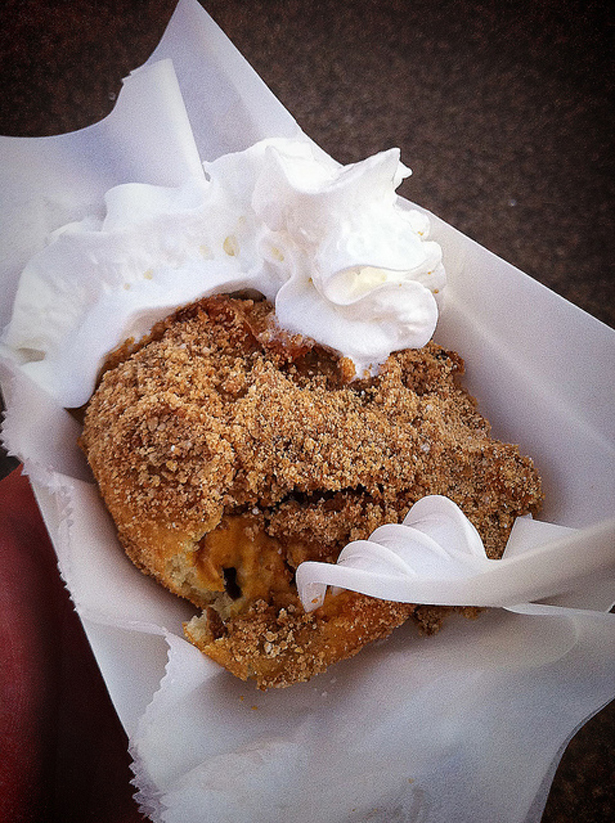 It's a pocket filled with pumpkin pie, rolled in cinnamon and ginger snaps, fried and served with whipped cream.
---
Pineapple Upside Down Cake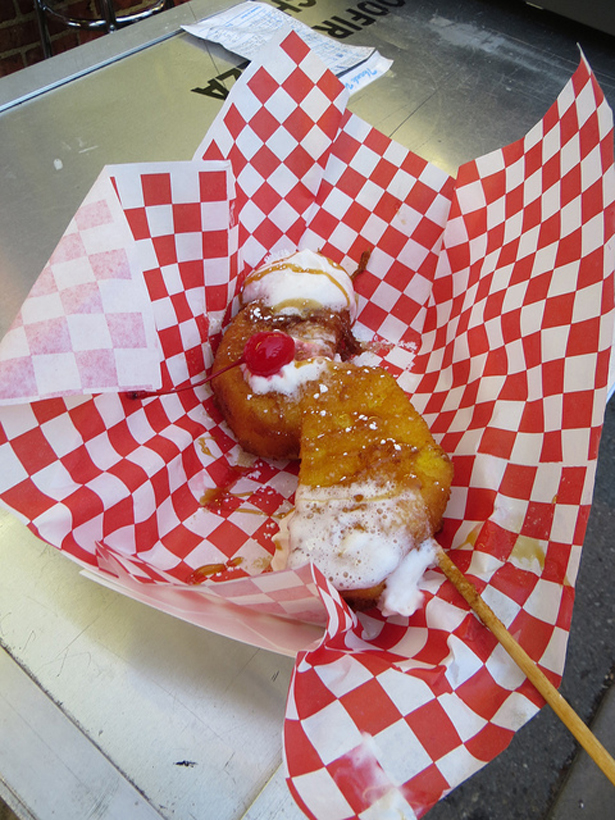 Blazenhoff/Flickr
Each item is battered and fried individually, skewered and served with whipped cream and a cherry. The "upside-down" part is up to you.
---
Deep-Fried Cheesecake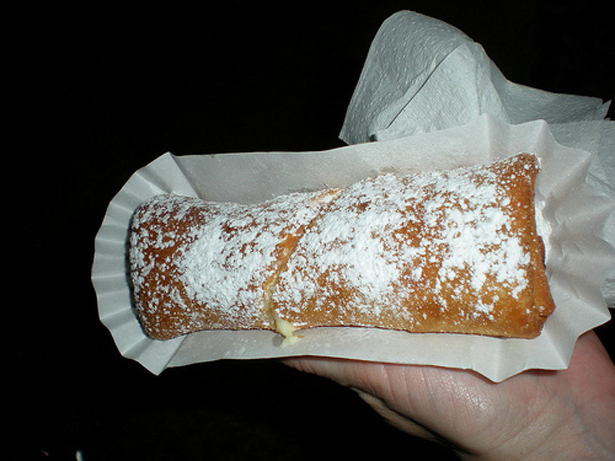 Stacey Higgins/Flickr
Cheesecake filling wrapped in a tortilla, fried.
---
Oreos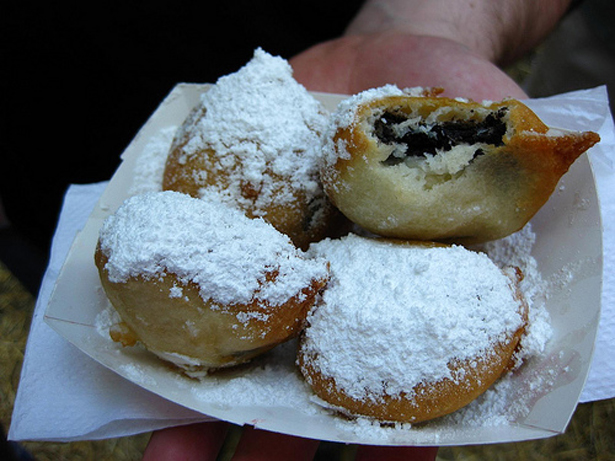 Jenn Larsen/Flickr
These are amazing, actually.
---
And this year's winners, announced this week:
Fried Jambalaya: Best Taste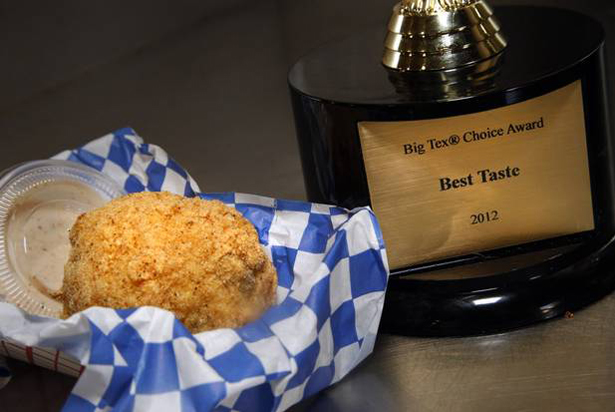 The Dallas Morning News
---
Fried Bacon Cinnamon Roll: Most Creative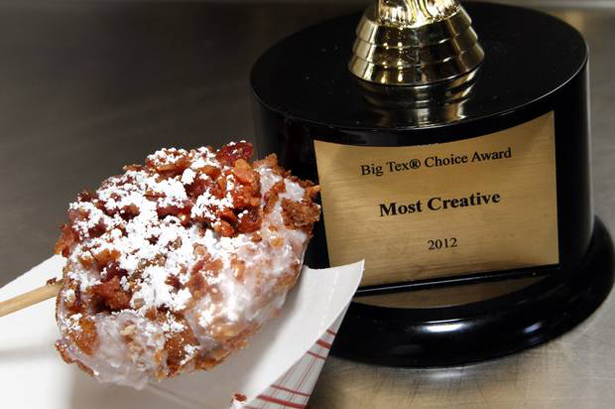 ---

MORE FROM MENTAL FLOSS
---
---
This post also appears on Mental Floss, an Atlantic partner site.