How to Cook With Lavender
Lavender is touted as a natural remedy for everything from acne to insomnia. It also smells nice, of course. Here are a few simple ways to get more lavender in your life.

Even if the health benefits aren't exactly substantiated, there's definitely an inherent sense of fanciness to lavender in food that has, at least, psychological value. The blossom lends such a novelty to whatever it's in -- lavender soda, lavender jam, or lavender syrup drizzled over pound cake -- that it invariably intrigues.
We all seem to be finding new ways to use jump on the lavender bandwagon. The other weekend comedian Jim Gaffigan tweeted about gorging himself on a lavender doughnut in the same moment I was stocking my Trader Joe's shopping cart with lavender drier sheets and dish soap.
Even though lavender is trendy, it's also no big deal to cook with, as it's quite accessible and versatile. Here are some gateway recipes to learn how to cook with the pretty bloom.
***
Simple Lavender Syrup
This unsweetened syrup recipe works well when you want to incorporate lavender flavor into already-sugary recipes. This works well for jam, marshmallows (recipes for both are below), flavoring ice cream and incorporating into sodas or lemonades.
But, for a standalone syrup to drizzle over shortbreads, vanilla ice cream, or you name it, add 1 1/2 cups sugar to the boiling water before you add the lavender. Heat on low until the sugar melts. Once the sugar dissolves and the mixture is clear, turn the heat up and bring to a boil. Simmer for 10 or so minutes until a very light syrup develops. Then add the lavender and follow the forthcoming steps.
Ingredients:
1/2 cup dried lavender blossoms
3 cups water
Vanilla bean (optional)
1 ½ cups sugar (for sweetened syrup only)
Yield: 1 ½ pints
Directions:
The first step for these recipes--and for most any dish you will use that incorporates lavender--is to start by making simple syrup. Directions to make a standalone, sweetened version will follow.
1. If you don't have the luxury of harvesting your own buds, (and if you do, make sure it hasn't been treated by pesticides) most health food stores will sell dried lavender blossoms. Add the dried blossoms to the boiling water. You can add vanilla bean seeds to enhance the flavor if you like.
2. Turn off the heat after the buds have boiled for a minute, and quickly cover the pot.
3. Once cooled, strain through a sieve and store for three months or more.
***
Blueberry Lavender Jam
Not too sweet and with plenty of lavender flavor, this jam is exquisite with cheese or alone on a buttered biscuit.
Ingredients:
1/2 cup to 1 cup of lavender syrup (to taste)
2 cups fresh blueberries
Half cup to 1 cup granulated sugar (to taste)
Zest and juice of half a lemon
Yield: Two half pint jars (Note: For those who want to make a larger yield and store the jam, instructions for preserving and sterilization follow this recipe.)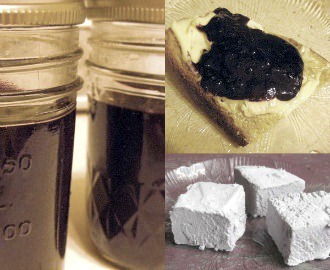 Directions:
1. Pulse blueberries in the blender until crushed.
2. Combine blueberries, lemon zest and juice in a large saucepan. Stir in the sugar and lavender syrup to taste.
3. I found that the flavor of the blueberries warranted less sugar and more syrup in favor of a stronger lavender taste. Bring to a boil over high heat, stirring constantly.
4. Stir jam continuously for 20-30 minutes, or until it is thick and no longer runny when cooled. Remove the jam from heat. When completely cool, spoon into jars.
The finished product is delicious on toast with creamy brie.
For preservation: If you are going to preserve jam, prepare jars and lids: place four half-pint jars on rack in large pot. Add enough water to cover jars, and bring to boil over high heat. Boil for 10 minutes, then turn off heat and allow jars to rest in the hot water. Meanwhile, put bands and lids in small saucepan and cover with water. Heat over medium heat until the water is simmering, then remove pan from heat and allow bands and lids to rest in hot water until ready to use.
After the jam is prepared, ladle it into the hot sterilized jars, leaving 1/4-inch space at the top. Wipe the rims of the jars, cover with lids, and screw the bands on until just barely fitted. Set the jars on the rack in pot and immerse in water, then boil over high heat for 10 minutes. Turn off the heat, and let the jars sit for five minutes. Remove the jars allow them to cool for at least six hours.
***
Lavender Marshmallows
Try a dark-chocolate version of a s'more with these 'mallows for heightened flavor.
Ingredients:
1cup confectioner's sugar
½ cup unsweetened lavender syrup
Purple food coloring (optional)
2 Tablespoons plus 2 ½ teaspoons unflavored gelatin
½ cup cold water
2 cups granulated sugar
½ cup light corn syrup
½ cup hot water (about 115 degrees)
¼ teaspoon salt
2 large egg whites
1 teaspoon vanilla
Yield: about 30 full-sized marshmallows
Directions:
1. Prepare a 9 by 13 by 2 inch pan by spraying it with nonstick cooking spray and dusting with powdered sugar.
2. In a large bowl or in the bowl of a standing mixer, sprinkle gelatin over the cold water and let it stand and become firm.
3. In a 3-quart saucepan cook the granulated sugar, corn syrup, hot water and salt over low heat, stirring with a wooden spoon until sugar is dissolved. Increase the heat to medium and let I boil without stirring until a candy thermometer reaches 245 F (this should take about 10 minutes). Remove the pan from the heat and pour the sugar mixture over the gelatin, stirring until dissolved.
4. When the candy thermometer reads 245 F, put the egg whites in the clean bowl of a stand mixer fitted with the whisk attachment, and beat the egg whites. The ideal is to have them reach firm peaks around the same time the sugar syrup reaches 260 F. If they are at firm peaks before the syrup is ready, stop the mixer.
5. Once the sugar syrup is at 260 F, take it off the heat. Mix the gelatin mixture into the sugar syrup, and beat on medium speed until just combined.
6. Pour the marshmallow mixture into the prepared pan and smooth the top flat with an offset spatula. Dust with the ¼ cup powdered sugar. Let the marshmallow set overnight, or at least three hours, before cutting it.
7. Cut the marshmallow into squares using a large sharp knife. As necessary, dust the sides of the knife with the sugar mixture, or clean it off under hot running water.