How the U.S. Health-Care System Wastes $750 Billion Annually
As we approach health-care system reform, a breakdown of our biggest losses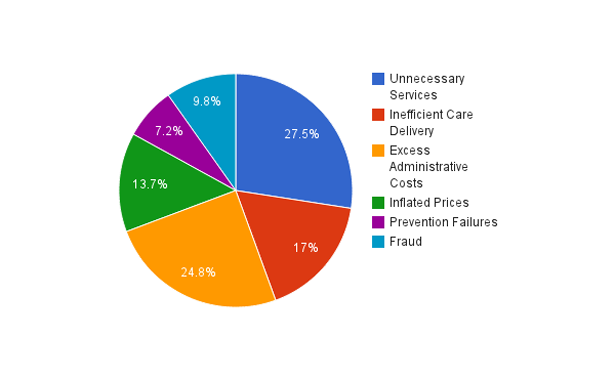 Brian Fung
Every year, the United States spends eight times as much money on unnecessary health-care costs as the Pentagon spent for each year of its operations in Iraq.
The massive annual waste is the takeaway from a new report by the Institute of Medicine (IOM), which estimates that the country loses some $750 billion annually to medical fraud, inefficiencies, and other siphons in the health-care system. In comparison, the Defense Department budgeted $757.8 billion for the war in Iraq over the eight years it was there.
The IOM's analysis acknowledges a little bit of overlap among the categories, so it altogether adds up to slightly more than $750 billion:
More than 18 months in the making, the report identified six major areas of waste: unnecessary services ($210 billion annually); inefficient delivery of care ($130 billion); excess administrative costs ($190 billion); inflated prices ($105 billion); prevention failures ($55 billion), and fraud ($75 billion). Adjusting for some overlap among the categories, the panel settled on an estimate of $750 billion.
By far the biggest black hole when it comes to waste has to do with how we practice medicine -- over half of it is accounted for by unnecessary services, inefficient care, or the failure to prevent problems that require expensive intervention.
The report underscores how much we could save just by encouraging doctors to order fewer procedures and, on the patient side, by taking a more active interest in lifestyle monitoring. The IOM offers a few specific examples:
Patients don't need to get more than one colonoscopy every 10 years. 
If you had a fainting spell but it didn't come with a seizure, you can safely forego a $2,000 MRI. 
Avoiding expensive imaging studies for early complaints of back pain.
Industry giants are already moving beginning to catch on to these ideas on their own, even independently of the Affordable Care Act, so chances are looking good that we'll soon cut down on at least some of these inefficiencies and wastes.