A Community Success Story: Combining Public and Private Sectors for Health Care and Education
How a local government, university, hospital, medical school, non-profit, and corporation in Bethlehem, Pennslyvania are working together in an approach to education that encompasses health and well-being.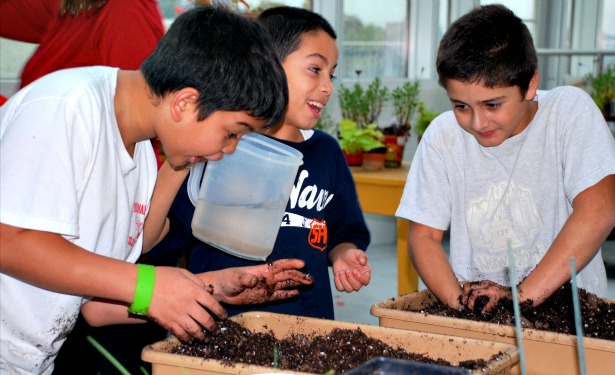 Students at Broughal Middle School grow produce in an after-school garden club (George White)
Just getting to school each day, for the students of Broughal Middle School in the south side of Bethlehem, PA, was a strike against their ability to achieve in the classroom.
When undergrads from Lehigh University spent a week following students to and from school with hand-held devices that measure air pollutants, they found that the kids' daily walks could be contributing to the high rates of asthma that were keeping them out of the classroom.
Redirecting their path through the major intersections of downtown Bethlehem, the city joined forces with community partners to repurpose an old railroad line into a safer path to school. It's lined with trees, ends half a block away from Broughal's front doors, and, if those hand-held monitors are to be believed, contains significantly cleaner air.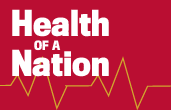 Medical providers, local communities, and the public wellness movement
See full coverage
Such are the small changes that the national community school initiative aims to bring about, aided by mutually beneficial partnerships. "We think that health and education go together," said Martin Blank, President of Institute for Educational Leadership and Director of the Coalition for Community Schools. "While some people in the education reform business don't want to acknowledge the linkage -- they think it's all academic -- the reality is that kids who are sick miss school time." Among other initiatives, the Coalition works closely with the National Assembly for School-Based Health Care to address the high rates of chronic absence that often occur in areas where diseases like asthma are common among students and good primary care is unavailable to them.
In Bethlehem, the government (the department of Parks and Recreation), the university (Lehigh), the hospital (St. Luke's), the medical school (the St. Luke's campus of Temple University), a non-profit (the United Way of Greater Lehigh Valley), and a locally-owned corporate sponsor (Just Born, Inc) work together on goals tailored to the community's unique needs, and to the willingness of its partners to help meet them. With the public school as its hub, the partnership focuses everyone's efforts on common goals.
"If kids are growing up in an environment where they are healthy and eating well, and where their parents are committed to their own growth and development, and have opportunities for good jobs, the chances of our students being able to learn better go up significantly," said Dr. George White, Iacocca Professor of Educational Leadership and Director of Center for Developing Urban Educational Leaders (CDUEL) at Lehigh University.
The community health initiative is only one part of the larger project, which also emphasizes literacy and numeracy and adult education and job training. And the Greenway, as they're calling the new route to school, arose from the simple realization that students can't thrive if their basic health needs aren't met. The students, 94 percent of whom qualify for free or reduced lunch and many of whom are at a high risk of diabetes, are also benefiting from healthier meals. Their breakfasts and lunches -- along with the community's two new farmer's markets -- include items grown in the after-school organic gardening club's greenhouse, which itself will soon be supporting by a composting program via Lehigh's engineering department. A fitness center is open both before and after school. According to Blank, schools often work to integrate such practical health education into their classroom curriculum.
There's also a dental office right in the school building -- twice a month, St. Luke's sends a dentist to perform fillings and extractions. The community college, for its part, sends over people from its dental hygienist program for cleanings. Once a month on Saturdays (and soon to be twice a month) for the past year and a half, the Temple University medical students have run a free clinic for un- and under-insured families. The school provides the space, physicians volunteer their time, and undergraduates at Lehigh who are just starting to explore the field of medicine are trained to work as "health coaches." The students follow-up with patients by giving them rides to pick up their medication, for example, or showing them how to use blood pressure cuffs.
"It's not just do-gooder work," said White. "In each of these cases, the partners gain as much as they give." The medical students, for example, get valuable real-world experience from their work at the clinic. In the long-term, the hope is that the wellness initiative's focus on prevention and healthy lifestyles will strengthen the health of the overall community. The potential benefits for all of Bethlehem are wide-ranging.
As for the school, Broughal has so far seen a 40 percent reduction in disciplinary referrals and suspensions, along with an increased attendance rate. This early on in the school year, they already have 350 of their 580 students participating in after-school activities. The partners have recently added on the elementary school that feeds into Broughal, which will allow them to start working with students at an earlier age.
"The goal is to provide students a fair shot, an equal opportunity to be able to effectively learn and grow just like a kid in a suburban community would," said White. It's too soon to measure student achievement, but the hope is that, as the community efforts take effects, that, too, will follow.