Study: Jogging Suppresses Urges for Sweet, Sweet Nicotine
Instead of a cigarette, even "just this once," jump on the treadmill. The urge to take a trip to flavor country will pass.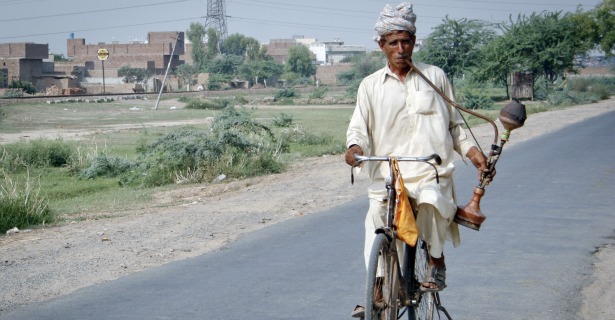 Fayyaz Hussain/Reuters
PROBLEM: It's one thing to know that you should quit smoking, but actually being able to is a different matter. The American Cancer Society reports that 40 percent of U.S. smokers will attempt to quit this year, but only 4 to 7 percent are typically able to do so unaided by medications. So how to help those who want to go it alone (or don't have access to health care!) succeed?
METHODOLOGY: This meta-analysis of 19 studies looked at the relationship between short bouts of physical activity, the desire to smoke, and the strength of said desire (both of which were assessed on a seven-point scale). The types of physical activity that had been included in these studies were moderate-intensity walking, running, light, moderate, and vigorous-intensity cycling, and isometric exercise. Researchers used raw individual participant data instead of just aggregating the results from primary studies in order to standardize their results, making their findings particularly reliable.
RESULTS:  Both the desire to smoke and the strength of desire decreased by about one third after participants in all of the studies broke a sweat, as compared to sedentary control groups.

CONCLUSION: After extensive analysis of the data by various methods, the researchers consistently found that short bouts of physical activity acutely decrease cigarette cravings.
IMPLICATONS: While this review strongly indicates that a single session of physical activity can help reduce nicotine cravings, it's yet to be determined if exercise is a viable long-term strategy for quitting. As weight gain is a common side effect of quitting, though, these results can be taken as yet one more reason why those giving up cigarettes might want to start boxing. Or just get a treadmill desk.
The full study, "The acute effects of physical activity on cigarette cravings: Systematic review and meta-analysis with individual participant data (IPD)," will be published in the journal Addiction.