Study: Babies Shun Altruism, Prefer Bouncing
Re-evaluating evidence that infants can tell right from wrong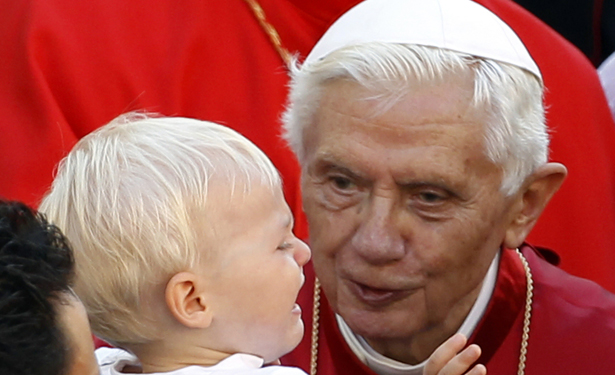 GiampieroSposito/Reuters
PROBLEM: It's evolutionarily advantageous for babies to be able to discriminate friends from enemies. We already know they're great at pegging us by our subtle facial cues. What else do babies know about us that they're not saying? Are they born with a pristine sense of morality and justice and then gradually broken by the cold, cold world? They do always seem to know who the bad guys are in movies.
If we could prove that infants act in accordance with a moral code, the implications would resonate across scientific, philosophical, and religious communities. A widely-cited landmark study published in Nature in 2007 concluded that infants have the ability to tell good from bad based on observing behaviors. And that they actually prefer good over bad. But some fans at University of Otago in New Zealand felt that discerning the true motives of the babies in that study may not be so straightforward.
METHODOLOGY: The 2007 Nature study involved six and ten-month-old babies watching toy "climbers" as they ascended a toy hill. Some of other toys were "helpers" (they aided the climbers in ascending), and some where "hinderers" (they kept the climbers from ascending and sometimes caused jarring collisions). When the climbers made it safely to the top (in the helper trials), they would bounce around.
The babies later consistently chose to play with the helpers over the hinderers.
So now researchers in New Zealand have recreated the Nature study under the hypothesis that the babies may not have been responding to the altruistic behaviors of the toys, but rather to bouncing climber (like!) and the noisy collisions (dislike!). So this time they had the jumping and colliding occur independent of the helping or hindering.
RESULTS: The infants had no preference based on the helper/hinderer behavior of the toys. The did prefer the once that bounced, in either scenario.
CONCLUSION: The findings in the prior studies may have been the result of simple association, i.e. we may not have the possible evidence for moral judgement nativism that we previously thought.
IMPLICATION: It doesn't mean that babies are necessarily amoral or unable to evaluate social behaviors, or that we can yet discount the notion that they're able to identify and prefer good people, but it factors into the larger discussion that their behaviors in this instance may have been the result of simple association. Let's do more baby experiments.
SOURCE: The full study, "Social Evaluation or Simple Association? Simple Associations May Explain Moral Reasoning in Infants," is published in the journal PLos ONE.