If soda bans take an implicitly cynical view of human nature, food labels that give consumers the impression of freedom might be their opposite.
Massachusetts General Hospital
From New York City's point of view, humans are notoriously bad at making good decisions. That's what makes a ban on large sodas necessary: the idea that Americans can't be trusted with their own health. But maybe there's a middle ground between letting people gorge themselves on junk food and making it illegal. The key to making it all work is creating an environment where consumers still believe they're in control.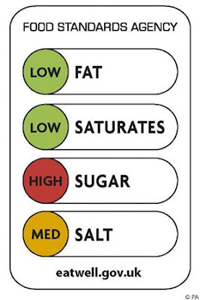 The British government has also tried adopting a similar red-yellow-green food labeling model. (UK Food Standards Agency)
Data released this week by the Massachusetts General Hospital describes the efficacy of a stoplight-style color-coding system that researchers applied to foods and beverages sold to hospital cafeteria-goers. Products were labeled as red, yellow, or green according to three main indicators:
How many of the item's main ingredients contained either fruit, vegetables, whole grains, or low-fat dairy?
Did the item have a lot of saturated fat?
Did the item have a high caloric content?
Items that had healthier ingredients and less of the bad stuff were given a green label that advised diners to "consume often." Items that had good and bad in equal proportions were given a yellow label; customers were told to consume these products "less often." Items with a great deal of calories and saturated fat were given a red label. "There is a better choice in green or yellow," diners were told. After launching the labeling system, the researchers then took the added step of moving things around so that the green-labeled items were more accessible.